UW-PARKSIDE COLLEGE OF NATURAL AND HEALTH SCIENCES DONATES PPE
Published: March 31, 2020
By:

UW-Parkside Marketing & Communications
SOMERS – The UW-Parkside College of Natural and Health Sciences donated personal protective equipment (PPE) to Emergency Operations Centers in Kenosha and Racine counties. Dr. Emmanuel Otu, dean of the College, coordinated the effort with UW-Parkside science lab manager Joy Kizior and lab technician Vince Shaff.
"Because we are moving all classes online for the remainder of the semester, that reduced our need for PPE in the labs," Dr. Otu said. "These items can be used best in the community where we have shortages and need."
The College of Natural and Health Sciences donated approximately 50 Tyvek disposable lab coats, 20 N95 filtering face-piece respirators, 7,000 vinyl disposable gloves, and 10,000 nitrile disposable gloves. The donation was split between the Emergency Operations Centers in each county. The EOCs identified the greatest needs with emergency responders – given the high volume of calls; care providers at nursing and group homes, and hospitals.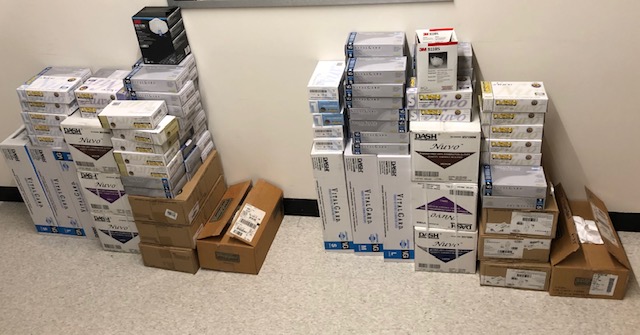 The UW-Parkside nursing program also contributed to PPE donations coordinated by UWM School of Nursing.
"We donated PPE to Froedtert Hospital, Children's Hospital, and the Village of Somers Fire Department," said Rochelle Nelson, Assistant Clinical Professor and Coordinator of the UWM/UWP Consortial Nursing Program. "Our initial donation was combined with the UWM nursing lab. Gowns, masks and gloves were donated. I discovered N-95 masks and other shielded masks last week and gave those to the Somers Fire Department. I'm happy we were able to combine the efforts."
###
Media contact:
John Mielke
mielkej@uwp.edu
262-595-3226; 262-902-9355 cell