Congressional Hearing: Chancellor Ford's Testimony
Published: April 12, 2022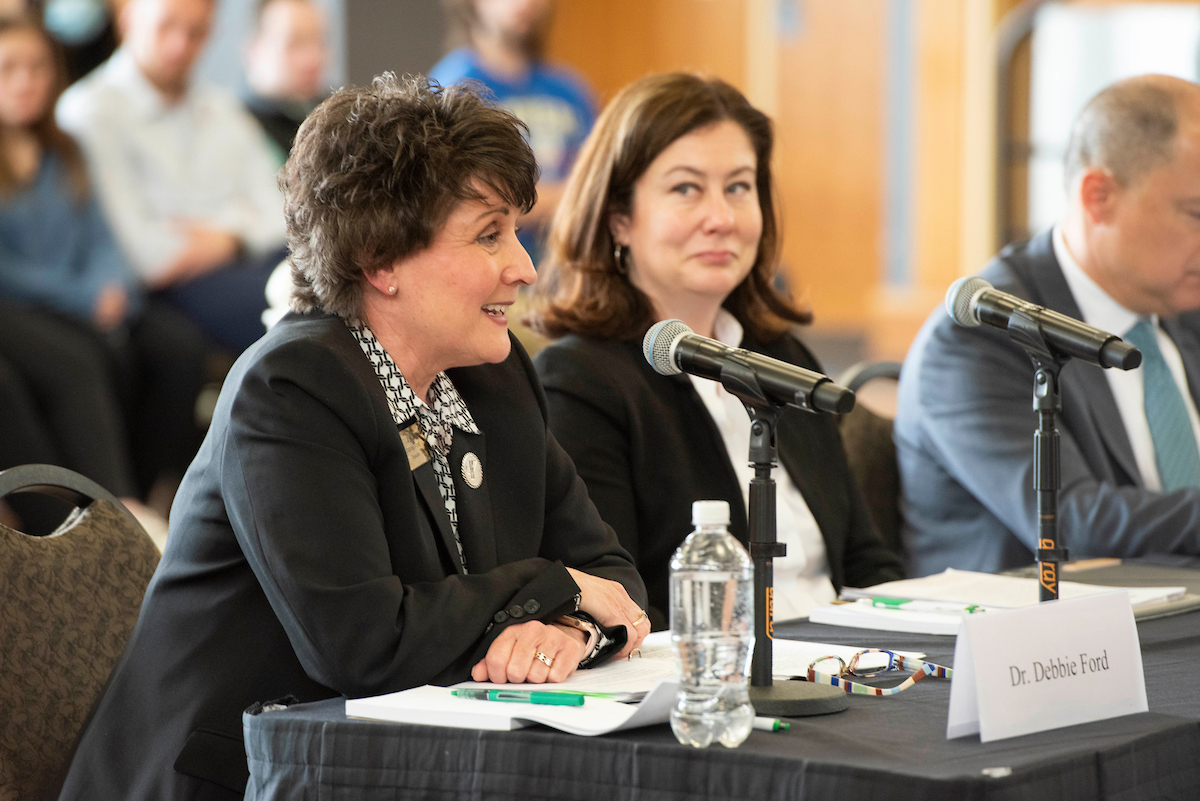 Chancellor Debbie Ford called it an honor to testify before the U.S. House of Representatives Select Committee on the Economy on Monday. The field hearing, which was held at the University of Wisconsin-Parkside's Student Center, highlighted the efforts of area businesses and the university to create a climate that helps graduates move successfully into the workforce. It marked the first time a Congressional Hearing was held in Wisconsin.  
The House Select Committee on Economic Disparity and Fairness in Growth has been holding hearings across the nation to explore education pathways to opportunity and economic prosperity.   
Reflecting on the historic event at UW-Parkside, Chancellor Ford said, "It was very appropriate that the committee met in southeastern Wisconsin -- the most diverse region of our state and what is today an epicenter of vibrant economic growth."  
In a Cabinet meeting on Tuesday, she praised the efforts and support of the UW-Parkside campus community in working together to ensure the success of Monday's hearing. "It was a great day to showcase who UW-Parkside is and what UW-Parkside can do."  
During her testimony at Monday's hearing, Dr. Ford stressed the importance of education in transforming lives, highlighting the fact that the region needs more graduates. "Our mission has been and will always be to provide affordable access to higher education for all." She pointed out that Kenosha and Racine historically have been centers for innovation. "To continue that trend, our region needs more graduates."  
Chancellor Ford pointed to UW-Parkside's Bold Goal to increase the number of graduates by 50% by 2025, highlighting that despite the pandemic, UW-Parkside is making notable progress toward that goal.  
"During the past two years – pandemic years – UW-Parkside set records for the number of graduates, and based on current projections, the May 2022 class of UW-Parkside graduates will set another record." 
She noted the Moon Shot for Equity initiative as an example of meaningful efforts that UW-Parkside is taking to serve the needs of all students. "On a national scale, with our partners Carthage College, the University of Wisconsin-Milwaukee, and Milwaukee Area Technical College, we formed the nation's first regional consortium to eliminate equity gaps in higher education by 2030 with EAB's Moon Shot for Equity. "  
She continued, "At UW-Parkside, we actively seek input from regional employers to modify, design, and add academic programs. Over the past five years we have added or modified more than 40 new academic programs—master's programs, undergraduate majors, concentrations, certificates, and minors."  
Chancellor Ford also emphasized the importance of partnerships, noting that Parkside's long-standing partnerships with Gateway Technical College have been recognized across the state as innovative and forward thinking. "In October, the UW Board of Regents approved a first-of-its-kind academic pathway that allows Gateway, together with UW-Parkside, to offer associate of arts and associate of science degrees," she said.  
"We are the innovators, educators, and leaders who are transforming lives and preparing for what is on the horizon. We are committed to this charge because we recognize that a college or university education is crucial to building equity in a competitive, 21st-century, global economy. "