UW-Parkside Hosts Second Annual Nontraditional Student Week
Published: November 2, 2023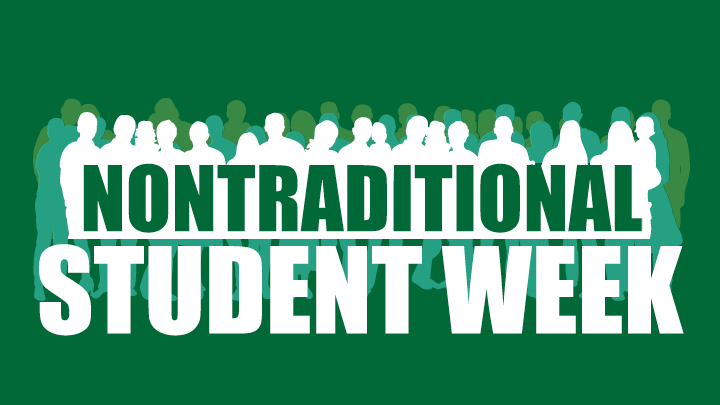 Somers, Wis.- The University of Wisconsin-Parkside, led by the Center for Adult and Returning Students (CARS), will sponsor events for Nontraditional Student Week from Nov. 13-18 in recognition and appreciation of our diverse and growing adult and nontraditional student population. These events are free and open to both current and prospective students.
CARS serves adult students and prospective students age 25 and over as well as nontraditional and post-traditional students. Among UW-Parkside students, 20% are 25 or older and 19% are part-time students. Additionally, 88% of Parkside seniors work an average of 21 hours per week and 64% of first-year students work an average of 13 hours per week. CARS also serves as a resource for implementing best practices for teaching and supporting nontraditional students.
Nontraditional Student Week events will begin on Monday, Nov. 13, with Coffee and Cookies with CARS in the Student Center Hickory Room from 11 a.m.-1 p.m. Students can pick up an agenda for the week and get to know our CARS staff better while enjoying refreshments.
On Tuesday, Nov. 14, CARS and UW-Parkside's Library staff will sponsor a Child-Friendly Study Session on the library's second floor from 5-8 p.m. Library staff will provide story time and an activity designed for children ages 4 and up, while students can study nearby. Story time and activities start on the hour at 5, 6, and 7 p.m. Scheduled study breaks at 5:50 p.m. and 6:50 p.m. will include tours of the library's family-friendly resources. Children of all ages are welcome to attend with their parents or caregivers.
CARS will host a Nontraditional Student Resource Fair on the Student Center Bridge from 11 a.m.-1 p.m. on Wednesday, Nov. 15. Attendees will learn about services to help post-traditional students succeed and connect at UW-Parkside. This year, CARS invites both enrolled and prospective students to attend the Resource Fair to learn what Parkside has to offer. Attendees will have the opportunity to learn how to complete their degrees in a flexible format. Families of students and prospective students are also encouraged to attend this event for a snack, a photo with Ranger Bear, and a tour of campus. Prospective students can register at https://your.uwp.edu/register/NTSW2023.
On Thursday, Nov. 16, all adult and nontraditional students are invited to stock up on UW-Parkside gear at the Student Center Bookstore with a celebratory 20% off coupon. Coupons will be distributed by CARS during Wednesday's resource fair.
UW-Parkside's TRIO-funded Educational Opportunity Center will host a workshop on Friday, Nov. 17, titled Maximizing Time for Student Parents. The workshop will take place in Molinaro D132 from 12-1 p.m. and will include games, discussions and strategies to help busy student parents find time to study. Attendees will receive a FREE student-parent survival kit.
Nontraditional Student Week concludes on Saturday, Nov. 18, with UW-Parkside's Women's (1 p.m.) and Men's (3 p.m.) basketball games in De Simone Arena. Adult and nontraditional students and their families are invited to visit campus and #DefendTheDen with FREE admission to a game. Coupons for free admission will be distributed by UW-Parkside Athletics at Wednesday's resource fair. To learn more visit https://www.uwp.edu/learn/continuingeducation/centerforadultandreturningstudents/
---
The University of Wisconsin-Parkside is committed to high-quality educational programs, creative and scholarly activities, and services responsive to its diverse student population, and its local, national, and global communities. We are a dynamic learning community grounded in academic excellence and focused on student success, diversity, inclusion, and community engagement. The campus serves as a premier comprehensive public institution and a destination of choice, serving as a focal point of local, regional, and global progress.