Andrew Gavin Named NACDA Athletic Director of the Year
Published: March 15, 2022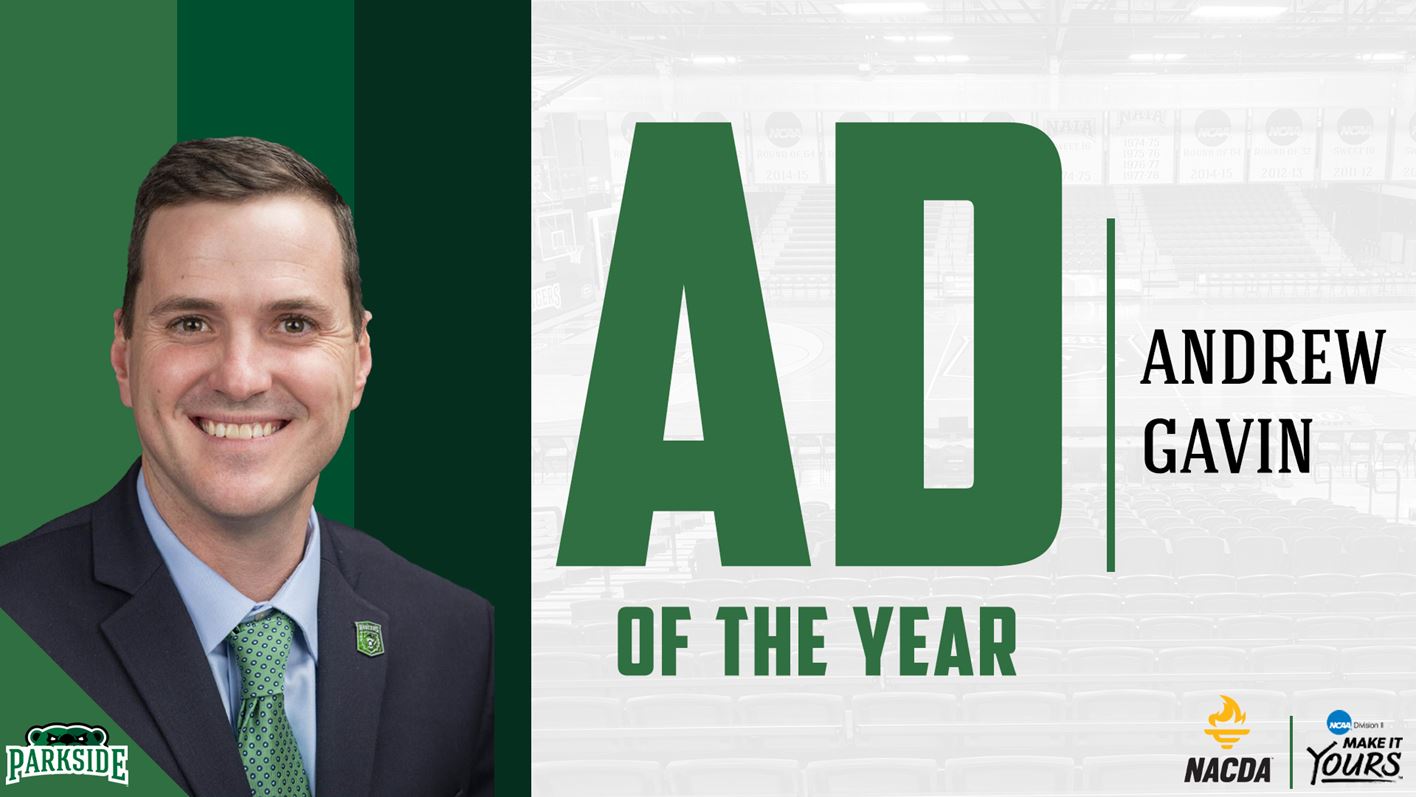 Parkside Director of Athletics Andrew Gavin has been named a 2021-22 National Association of Collegiate Directors of Athletics (NACDA) Cushman & Wakefield AD of the Year, which was announced on Wednesday, March 15, 2022.
"I am honored and humbled to be chosen as an AD of the Year among this distinguished group of award winners at all levels," Gavin said. "While this is an individual award, my belief is that this is a recognition for the entire Parkside family. This is true for this past year more than ever, as so many members of our community have played an integral role in our resilience and our progress. Chancellor Ford, our University leadership, faculty and staff, coaches and departmental staff, donors and supporters, and, of course, our student-athletes displayed a perseverance and optimism that was inspiring during a year that regularly presented challenges. It is my privilege to lead Parkside Athletics and serve our student-athletes, coaches and staff, University, and community."
Gavin, who joined Parkside in August of 2017, will be honored in conjunction with the 57th Annual NACDA & Affiliates Convention on June 28 in Las Vegas, Nev. He is one of the four winners from NCAA Division II, along with Joseph Clinton (Dominican College), Clyde Doughty (Bowie State) and Bren Stevens (U of Charleston).
Parkside's Latest Accomplishments
Through the midst of a global pandemic, Parkside Athletics was still able to complete RangerVision 2020, a $5 million facility and fundraising campaign, the largest in Parkside Athletics history.
De Simone Arena - Alfred and Bernice De Simone Gymnasium was renovated with new bleachers, two state-of-the-art video boards and two new premium seating areas (Educators Credit Union Suite and The Bear Club), and the facility was rededicated as De Simone Arena on December 14, 2021.
Rick Kilps Center – The former pool in the Sports & Activity Center was renovated to the Rick Kilps Turf Center, a multipurpose facility for soccer, baseball, softball and the strength and conditioning team to utilize year round. On Sept. 26, the facility was officially dedicated in honor of Parkside Hall of Famer Rick Kilps.
Mark Olsen Indoor Golf Center – The Mark Olsen Indoor Golf Center was a 100% donor funded project transforming a former dance studio into one of the best indoor golf facilities in the region. The facility was dedicated in honor of former head coach Mark Olsen on February 3.
Gavin continued to excel in building mutually-beneficial partnerships with local, regional, and global companies
RangerVision Community Champions – Parkside secured multiple partnerships with RangerVision Community Champions, a group of business partners that built mutually-beneficial relationships with Parkside Athletics and supported the RangerVision 2020 campaign.
Jockey Parkside Player Pack – Gavin collaborated with Jockey, a Kenosha-based company, to provide every student-athlete, coach and staff member with the Jockey Player Pack. The partnership with Jockey, which included collaboration and support of Jockey Being Family, was recognized as the conference winner and a national finalist for the NCAA Award of Excellence.
Kenosha.com – Parkside Athletics teamed up with Kenosha.com, a local online media company that produces high-quality positive news in the area. Kenosha.com assists with marketing and storytelling efforts for Parkside Athletics and is the proud home of the Kenosha.com Ranger of the Week.
D2ADA 3rd Vice President - Gavin was elected to serve as the D2ADA 3rd Vice President in 2021-22.
Athletics Department Staff and Coaches – While many athletics departments struggled through the pandemic, Gavin continued to restructure and promote from within to ensure Parkside Athletics continues to progress.
Former Deputy AD Chris Barker landed the Director of Athletics job at Southern Connecticut State
Gavin restructured his leadership team, including the promotions of five employees
He created two new positions and welcomed Jake Sutter (Assistant AD/Advancement and Partnerships) and Robyn Elliott (Athletics Marketing and Ticketing Coordinator).
Parkside Wrestling welcomed back 3-time National Champion Nick Becker as the Head Coach.
Gavin utilizes his communications background to tell the story of the Parkside community both internally and externally, including his From the AD series.
Make Green Choices –https://parksiderangers.com/news/2020/12/31/athletics-from-the-ad-make-green-choices.aspx
From the Deputy to the Director –https://parksiderangers.com/news/2021/6/24/athletics-from-the-ad-the-deputy-becomes-the-director.aspx
New Year's RE-Solutions –https://parksiderangers.com/news/2022/1/4/athletics-from-the-ad-new-years-re-solutions.aspx

What they are saying about Andrew Gavin
Dr. Deborah Ford | UW-Parkside Chancellor
"UW-Parkside celebrates with AD of the Year, Andrew Gavin. AD Gavin has positively impacted Parkside Athletics, the student experience, and our joining the GLIAC conference. In the past two years, he successfully completed Ranger Vision 2020 and transformed the learning environment in the Sports & Activity Center. Thank you Andrew and we salute you!"
Hayley Treadway | Senior Associate AD for Compliance & Student Success | Parkside
"Andrew Gavin being named NACDA Athletic Director of the Year 21-22 was the least surprising great news I've heard in a long time. Those of us that work alongside him are inspired by his tenacity and authenticity daily, but for him to be recognized by his peers on the national stage is truly deserving, and I couldn't be more proud to call him our "Director".
Luke Reigel | Head Men's Basketball Coach | Parkside
"I am sure there are a lot of deserving candidates this year but I cannot imagine one who could have outperformed Andrew, regardless of the circumstances. The community has begun to notice Parkside Athletics due to his fundraising and ability to tell our story during a Pandemic. He made sure that one of his top priorities was to keep the young and promising staff moving forward and made sure they had what they needed to be successful both on the playing surface and off. And leading an athletic department in Kenosha, Wis. that was experiencing so much civil unrest, his steadiness will be looked back upon as a major contributor to Parkside's future success."
Brendan Collins | Baseball Student-Athlete & Ranger Student-Athlete Advisory Committee President | Parkside
"Mr. Gavin is the textbook definition of what it means to be a leader. Each and every day, he encourages togetherness, positivity, and success throughout our athletics department and puts the needs of the student-athletes first. Andrew has an awe for serving the Parkside community without expecting anything in return. Most importantly, he helps the ones around him grow to their full potential, learn how to achieve success with humility, and adapt to overcome any obstacles that lie ahead."
Chris Barker | Director of Athletics | Southern Connecticut State
"I was fortunate to serve as Andrew's Deputy AD from 2018-2021 and I can tell you that he lives and breathes to make Parkside a great place for student-athletes. Andrew demonstrates his commitment to the development of student-athletes daily, through advocation and articulation of the student-athlete experience. I have been able to watch Andrew communicate the value of a positive student-athlete experience to all facets of the university, and more importantly implement and collaborate with the university."