UW-Parkside's Gia Gutierrez recipient of 2021 Outstanding Women of Color in Education Award
Published: November 5, 2021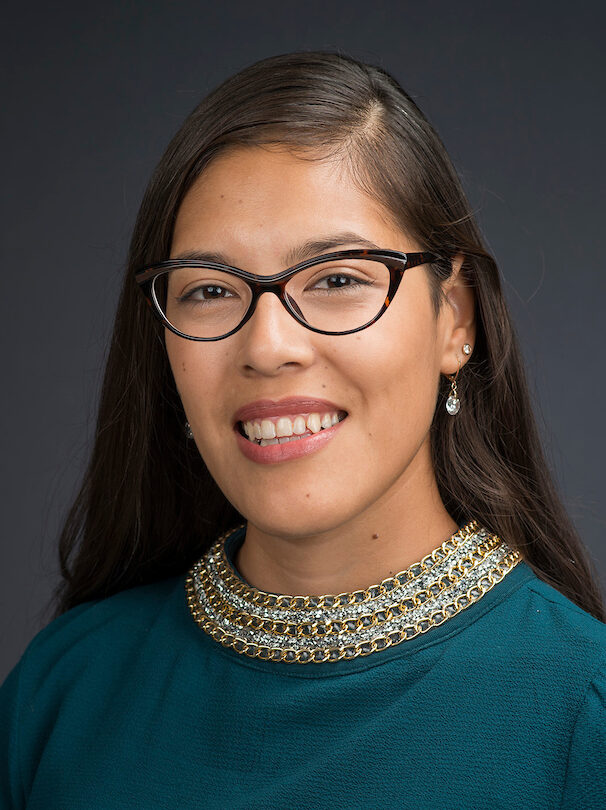 MADISON, Wis. –  
Giovanna Gutierrez, a UW-Parkside outreach program manager and assistant to the dean of the College of Social Science & Professional Studies, is one of 14 recipients of the University of Wisconsin System's 2021 Outstanding Women of Color in Education Award. The award is an annual honor given to faculty, staff, students, or community members to recognize their achievements in advancing equity and inclusion for people of color within the UW System as well as communities across the state.
This year is the 26th anniversary of the award through which more than 400 women of color have been recognized for their transformational work.
"The UW System is proud to recognize the tremendous achievements of this year's award recipients," said UW System Senior Equity, Diversity, and Inclusion Officer Warren R. Anderson. "They are enhancing opportunities for our students and benefiting our communities through their leadership, scholarship, and outreach."
Recipients were formally recognized Thursday in Madison at an awards ceremony and reception hosted by Anderson. The ceremony and reception will be held in conjunction with UW System's presentation of the Dr. P.B. Poorman Awards for Outstanding Achievement on Behalf of LGBTQ+ People.
"Congratulations to Gia on this great achievement!" said UW-Parkside Chancellor Debbie Ford. "We are proud of all that she has accomplished in the name of equity, diversity, and inclusion, and very fortunate that she is part of our Parkside team!"
In addition to Gutierrez, the 2021 Outstanding Women of Color in Education honorees also include:
Winnifred Bryant, Professor of Biology, Department Chair, UW-Eau Claire
Renita Robinson, Vice President of Diversity and Inclusion, Prevea Health, selected by UW-Green Bay
Monica Yang, Outreach Program Manager I, Multicultural Student Services, UW-La Crosse
Sami Schalk, Associate Professor, Department of Gender & Women's Studies, UW-Madison
Brittany Ochoa-Nordstrum, Graduate Teaching Assistant, UW-Milwaukee
Doris Johnson Browne, Counselor/Therapist, UW-Milwaukee
Elisabeth Arguello, PreCollege Programs Coordinator, UW Oshkosh
Angela Yang, Interim Assistant Director, TRIO Student Support Services, UW-Platteville
Natasha Rayne, Assistant Professor, Plant and Earth Science, UW-River Falls
Kaia Fitzgerald, Student, UW-Stevens Point
Wei Zheng, Professor and Program Director, Plastics Engineering Program, UW-Stout
Salisa Hochstetler, Assistant Director for Equity, Diversity, and Inclusion, UW-Superior
Ana Caballero Mengibar, Associate Director, Undergraduate Research Program, UW-Whitewater
UW institutions submit nominations for the award, which highlight each recipient's contributions to improving the status and climate for women and people of color and to advancing the work of diversity, equity, and inclusion.
For more information about the award and past recipients, see wisconsin.edu/grants-awards/women-of-color/.
---
The University of Wisconsin-Parkside is committed to high-quality educational programs, creative and scholarly activities, and services responsive to its diverse student population, and its local, national, and global communities. We are a dynamic learning community grounded in academic excellence and focused on student success, diversity, inclusion, and community engagement. The campus serves as a premier comprehensive public institution and a destination of choice, serving as a focal point of local, regional, and global progress. 
---
Media contact:
Andrew Savagian
Communications Director
University of Wisconsin-Parkside
savagian@uwp.edu