Jacklyn Haas Named Assistant Vice Chancellor for Enrollment Services / Admissions Director
Published: May 8, 2023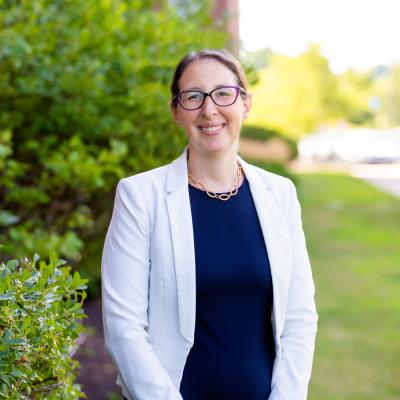 We are pleased to announce that Jacklyn (Jackie) Haas will be joining the UW-Parkside community as the Assistant Vice Chancellor for Enrollment Services / Admissions Director on June 5, 2023. In her role as AVC/Director, Jackie will provide strong leadership, strategic direction, and fiscal oversight for the areas of Scholarships & Financial Aid, Registrar's Office, and Military & Veteran Success Center, and will provide direct operational oversight for the Office of Admissions.
The AVC will report to Dr. Tammy McGuckin, Vice Chancellor for Student Affairs & Enrollment Services, and will have primary responsibility for advancing UW-Parkside's enrollment management goals in alignment with the university's mission, vision, and strategic plans. The AVC will work collaboratively with senior university leadership to develop and sustain a campus-wide enrollment management philosophy/culture that integrates all aspects of recruitment, retention, and persistence in support of enrollment growth and student success.
Jackie comes to UW-Parkside with over 15 years of experience in higher education. She earned her Bachelor of Arts in Social Studies Education from Ithaca College in New York and her Master of Education in Higher Education Administration with a graduate certificate in Leadership from Northeastern University in Massachusetts. Most recently, Jackie served as the Associate Director of Admissions (2014-18) and Director of Admissions (2018-2023) at Salem State University in Salem, MA.
Jackie is eager to begin her work at UW-Parkside and will be starting early next month. Her family will be joining her in July after school is out. We will be scheduling a meet-and-greet for mid-June with details to follow.
Welcome, Jackie!
---
Thank you, Dr. Janice Harring-Hendon!
As we welcome Jackie to campus, much thanks must be given to Dr. Janice Harring-Hendon who has served as our interim Executive Director of Enrollment Services since January 2022. Janice initially agreed to an 8-month contract, but has been with us for over 17 months now. She has been instrumental in hiring/training the Admissions team, developing a territory management plan, updating the admissions recruitment plan, establishing an enrollment management work group, and creating a data-informed/data-driven framework for recruitment. Campus visits have increased dramatically, we've instituted Admitted Student Days, and enrollment numbers are looking positive. Dr. Harring-Hendon has graciously agreed to stay on in a part-time capacity for a period of time to assist with the upcoming leadership transition and to support on-going projects.
THANK YOU, JANICE!