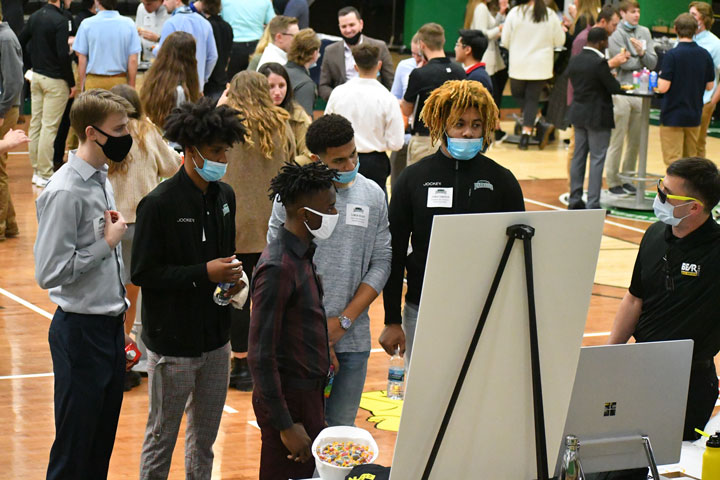 In March, the inaugural Parkside Athletics Career Networking Night was held in Alfred and Bernice De Simone Arena. Over 100 Parkside student-athletes were in attendance for the networking event, which included a young alumni panel and a business panel.
The University of Wisconsin-Parkside and the community around it are growing together. New companies are setting roots in Southeastern Wisconsin and established companies are expanding their workforce to bring more jobs to the community. These same businesses are investing in Parkside and are excited to tap into the phenomenal students and student-athletes that are looking for internship and career opportunities.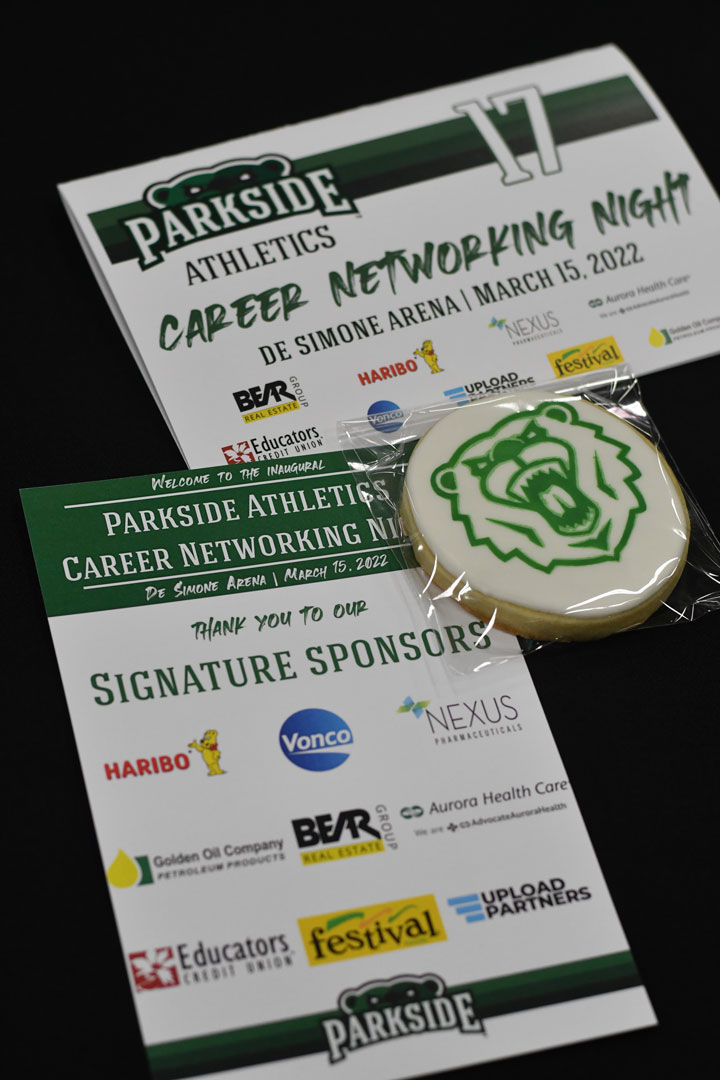 The Parkside Athletics Career Networking Night was created as a professional development opportunity for our 250+ student-athletes to network with the partners that are enhancing their student-athlete experience. Companies invited to participate in the event were RangerVision Community Champions that helped make RangerVision 2020 a reality, and other partners that are providing resources for student-athlete success. The businesses in attendance for the networking event included Aurora Advocate Health, Bear Real Estate Group, Educators Credit Union, Enterprise Holdings, Golden Oil Company, HARIBO of America, Jockey International, and Nexus Pharmaceuticals.
"This unique experience for our student-athletes and partners alike yielded opportunities for the student-athletes to showcase themselves as future professionals and practice networking while the partners shared information about their companies and their overall industry knowledge," Assistant AD for Student-Athlete Success Ashley Beaton said. "We strategically assigned everyone to tables based on their current occupation, major, and career aspirations, which helped to facilitate meaningful connections. Overall, it was an amazing event to bring our alumni, current student-athletes, and community partners together to connect and learn from each other!"
Track & field student-athlete Brandon Wilson was one of the student-athletes who was offered a job through this event with Enterprise Holdings. "Going to a career and networking event for Parkside student-athletes gave me the confidence and perspective I needed to take advantage of this opportunity and network myself to companies that can appreciate my dedication and hardworking mentality," said Wilson.

To provide a well-rounded experience, two panel sessions were hosted.
The first was the business panel including:
Omair Ahmed | Nexus Pharmaceuticals | Chief Strategy Officer
Toni Hansen '90, '99 | HARIBO of America | Human Resources Director
S.R. Mills | Bear Real Estate Group | Chief Executive Officer
Keith Smith | Vonco Products | President
Nick Smith '05 '11 | Advocate Aurora Health | VP-Medical Group Operations
These industry leaders were given the platform to share information and advice about their companies, what they look for in new employees, and their experiences as college students and professionals.
The second panel included a group of young student-athlete alumni:
Lauren Cox, Ph.D. '17 | Aurora Medical Center | Physical Therapist
Ronzel Darling, CPA '17 | Specialized Accounting Services LLC | Senior Accountant
AK Hall '20| Parkside Athletics | External Relations Graduate Assistant
Mason Martin '19 | Intuitive | da Vinci Clinical Territory Associate
Kaela Smoronk '16 | iRhythm Technologies | Clinical Operations Manager