Learning is a Lifelong Experience
UW-Parkside is well known for the diversity of its student body and for the number of "non-traditional" students on campus. But you may have noticed, and wondered about, the number of older adults on campus on a pretty regular basis. They don't seem to be in many of your classes but appear regularly in the Student Union, often in Molinaro Hall, and quite often in the theater and Bedford Hall.
Adventures in Lifelong Learning
They probably are members of a learning-in-retirement group on campus called Adventures in Lifelong Learning, known familiarly as ALL.  As our name suggests, our purpose is to provide opportunities for creative learning experiences in a variety of forms: twice-a-month lectures, many short-term classes, at least monthly day trips, and about a dozen "focus groups" in which smaller numbers of members gather to pursue common interests.  Subject matter for all these programs is wide-ranging, as we go from ancient history to some of the latest developments in technology and civilization's crises.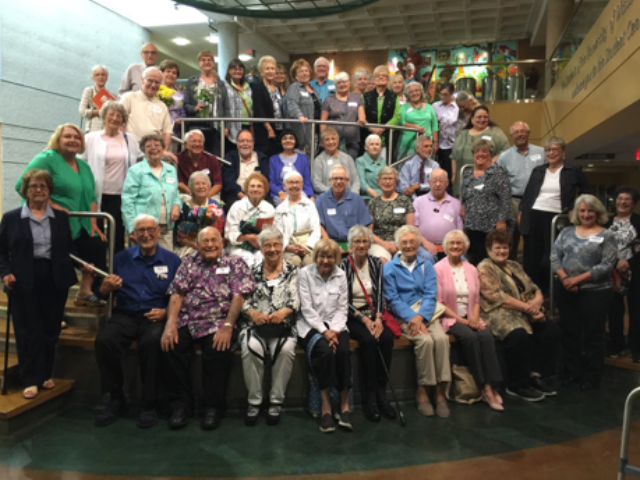 Many of our ALL members who attended the June 2017 annual (officer election) meeting.
Weeks of Learning
We also have an annual "Week of Learning" early in June, in which we pursue one topic for a full week, again incorporating lectures by experts in their fields, field trips to relevant sites, and dining options that are somehow related to the topic. We have explored archaeology, architecture, humor, India, music, the Middle East, the Great Lakes, and 2017's look at wine and beer.  It is always amazing what can be learned, how difficult it is to find speakers on some areas of each Week's focus, what a great experience it is to work with people who really are experts in their fields, and how nice those experts tend to be. 
ALL belongs to a rather informal grouping of learning in retirement groups related to the national Road Scholar program.  ALL is unusual in that our members do all the planning and organizing of our programs with the very able, and much appreciated, support of our half-time office manager who makes the rest of us look good.
Nearly 20 Years
ALL began at Parkside in 1998, and continues to operate within the auspices of the Office of Continuing Education.  In 2018 we will be celebrating our 20th year, as Parkside is celebrating its first 50.  We currently have about 550 members, mostly from the Racine and Kenosha areas.  ALL has found a happy home at Parkside and we are pleased with the comfortable relationships with everyone from Chancellor Ford, to the faculty members who present lectures and teach classes for us, to the students who operate the AV system for our lectures in the Cinema, and to the food service staff who create special lunches for our Weeks of Learning. 
We especially want to thank Parkside students for your warm friendliness, courtesy, and helpfulness, offered with a smile.  It is a pleasure for us to be among a group of such fine young people. 
Our twice-a-month lectures are open to the public and we certainly invite all members of the Parkside campus to join us when topics sound interesting.  ALL's activities and lecture schedules can be found on our website.   
Stop in and see what ALL is all about!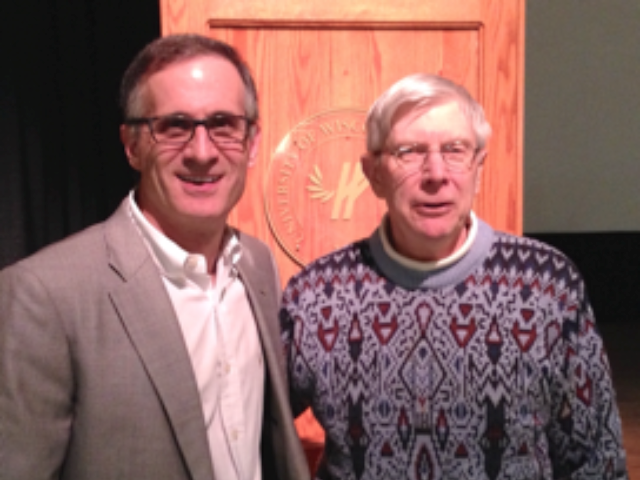 ALL member Terrence Constant visiting with guest Rick Schlesinger, Chief Operating Officer, Milwaukee Brewers, after an ALL lecture.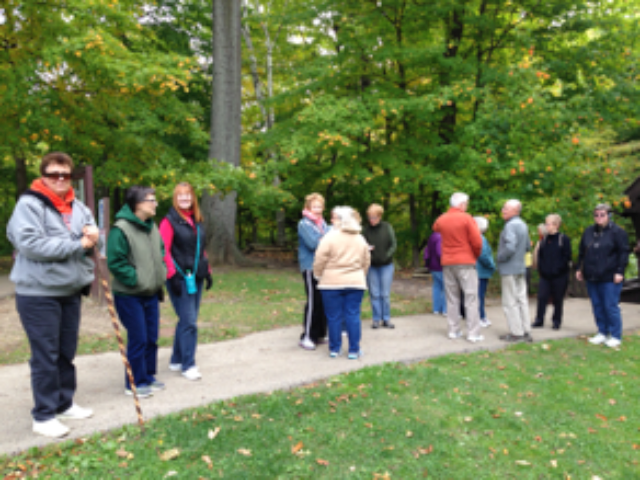 Folks from the "Over the Hill" hikers focus group, enjoying an early fall walk at Grant Park in Milwaukee.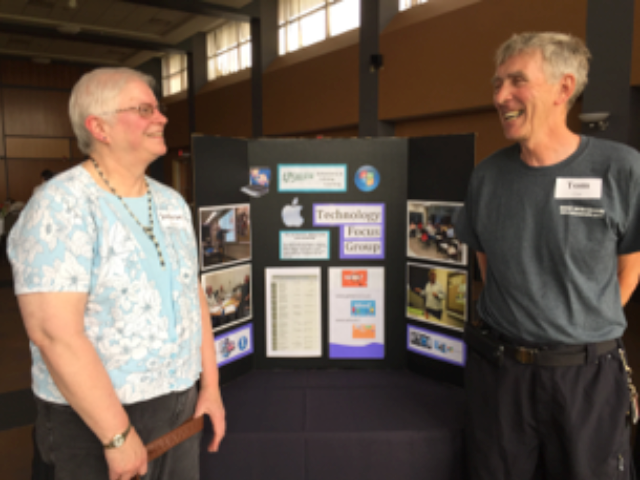 Leaders of the Technology focus group at ALL's annual meeting, displaying information about the tech review meetings, attended by about 30 people each month.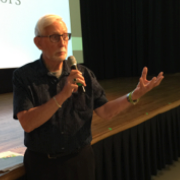 Moreau (Mac) MacCaughey
ALL Memeber
Guest Writer
Mac is pictured introducing a guest speaker for our bi-monthly lecture series held in the Student Cinema – UW-Parkside staff and students welcome!