Student Profile: Catherine Kleinofen
Majors: Theatre Arts and English
Expected Graduation Date: May 2018
Passion, dedication, and confidence. As you get to know Catherine Kleinofen '18, it's easy to see that these three words sum up her experience with the UW-Parkside Theatre Arts Department pretty well. Catherine is passionate about her theatre roles, dedicated to mentoring younger students, and confident in the skills and abilities she's learning at UW-Parkside.
After learning that she had the chance to graduate early, Catherine walked away from the meeting with mixed feelings. Most people would cheer at this news, but Catherine's thirst for knowledge and dedication to the UW-Parkside theatre community left her in a predicament. So, instead of taking the easy road out, she tacked on an English major and extended her time at UW-Parkside.
Throughout her time at UW-Parkside, Catherine has acted in and managed dozens of performances, including Macbeth, Almost Maine, A Christmas Carol: On the Air, and A Funny Thing Happened on the Way to the Forum. Thanks to this experience, mentorship from faculty, and the diversity in curriculum, she was prepared to take on a large responsibility this summer -- managing the Sesame Street Bay of Play program at Sea World in San Antonio. Catherine was in charge of presetting the show, doing sound checks, supervising up to 30 performers, and so much more. An experience she'll surely never forget!
 
CRUCIAL SCHOLARSHIP SUPPORT
Catherine truly is a rock star student and she gives a lot of credit to the scholarships she's received from UW-Parkside. "It was crucial for me to receive scholarships. They've enabled me to expand my majors and experience all I have here." Scholarships allowed Catherine the time she needed to take on additional roles and responsibilities within the theatre department. Without her scholarships, Catherine might not have been able to take on her English major, be president of the Drama Club, or live on campus.
"UW-Parkside is the hidden gem of the Midwest. We create consistently professional level shows and that helps us build a reputation in the area," explains Catherine. She's incredibly thankful for the amazing faculty who have taught and mentored her, the scholarships that opened up opportunities for her, and the community she's created at UW-Parkside.
Catherine performed in Don Juan in October. To learn about the full 2017-18 performance schedule, visit our Theatre Performances page. Break a leg this year, Catherine!
BE THE OPPORTUNITY
Catherine is one of nearly 300 students receiving scholarships from UW-Parkside. Alumni and donor support makes scholarships, study abroad experiences, research opportunities, and more possible for students.
Interested in making an impact at UW-Parkside? Visit our website to learn more about how you can give to an area that matters most to you. Whether you support scholarships, unrestricted funds, or a college program -- every gift matters!
To support student success today, please consider making a gift to the Fund for UW-Parkside. Thank you for your support!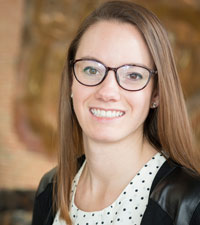 Molly Moore
Donor Relations Coordinator
Editor, Writer