Ed's View from Commencement
A FAMILY COMMENCEMENT
30 YEARS IN THE MAKING
There are those who believe university students finish high school, choose an institution of higher education, study intently for four years, earn a degree, and then make their way in the world.
For many, this model works – but it is not for everyone.
Take Ed Kubicki, for example. After losing his mother to a stroke while he was still in high school, Kubicki started his UW-Parkside education in the early 1980s so he would be eligible to receive his mother's Social Security benefits. Kubicki took afternoon and evening classes at Parkside while he finished his high school education at St. Joseph's in Kenosha.
Kubicki continued at Parkside until 1987 when he began training to become a firefighter and paramedic. "I always had an inkling that I wanted to help others," he said. So he put his Parkside education on hold and concentrated on becoming the best firefighter and paramedic he could be.
Unfortunately, the firefighter's schedule of working 24 consecutive hours every third day did not fit with a university schedule – classes at least twice a week.
How close was Kubicki to earning his degree? Just 15 credit hours – five, three-credit courses.
Fast forward 30 years to 2015. Kubicki's fiancée, Mary, (to whom he is now married), found out he was just 15 credits short of a degree and encouraged him to finish.
"We both felt that it would benefit me in my future endeavors after I retired as a firefighter," Kubicki said.
One of the great things about waiting 30 years is that Kubicki could now take the classes he needed online. Two years after re-enrolling at UW-Parkside, Kubicki completed the necessary courses to earn a liberal studies major and graduated this past May.
To put his multi-decade, classroom-to-online educational journey into perspective, consider that the person Kubicki followed across the commencement stage was his great nephew Jake Hansen.
"In the early '80s when I first attended UW-Parkside, Jake wasn't even born," Kubicki said.
Kubicki described the experience of graduating with his great-nephew as emotional and gratifying. "I am very proud of my accomplishment and sharing it with my great-nephew Jake was awesome," Kubicki said. "What I shared with him, my family and friends, is that although it is never too late to get an education, or complete one, it is much easier to complete your degree in your early 20s – not your early 50s."
Kubicki is the first in his family to earn a degree. "I had the best opportunity to do so out of my four brothers," he said. Kubicki's brothers were born in Poland before and during World War II. When Nazi Germany invaded Poland in 1939, Kubicki's father was taken prisoner, separated from his family, and forced to work for the Nazis.
"When my dad was taken, my mom was pregnant with my brother Ted," Kubicki said. "My father didn't even know if he had a son or daughter."
After the war, Kubicki's dad traveled to the U.S. and worked various jobs in the Midwest, including at Nash-Kelvinator in Kenosha, before saving enough money to bring his wife and four sons to Wisconsin.
Kubicki's advice to others considering a return to school to complete a degree: "An education is an important achievement and it is something no one can take away from you," he said. "Knowledge is power and a means for you to grow as an individual … learning will enhance your life exponentially."
If online courses are the path to achieving the goal, Kubicki says time management is key. "Manage your time wisely," he said. "Time management is not only for getting your work done, but for answering quiz and test questions."
And what would he have done differently? "Complete my degree at an earlier age," Kubicki said. "If I had known online classes were available I probably would have started taking more classes to complete my degree years earlier. There are always challenges in life, but there is no reward better than the sense of accomplishment one feels when they have completed the ultimate challenge in getting their degree."
Even when the degree is 30 years in the making.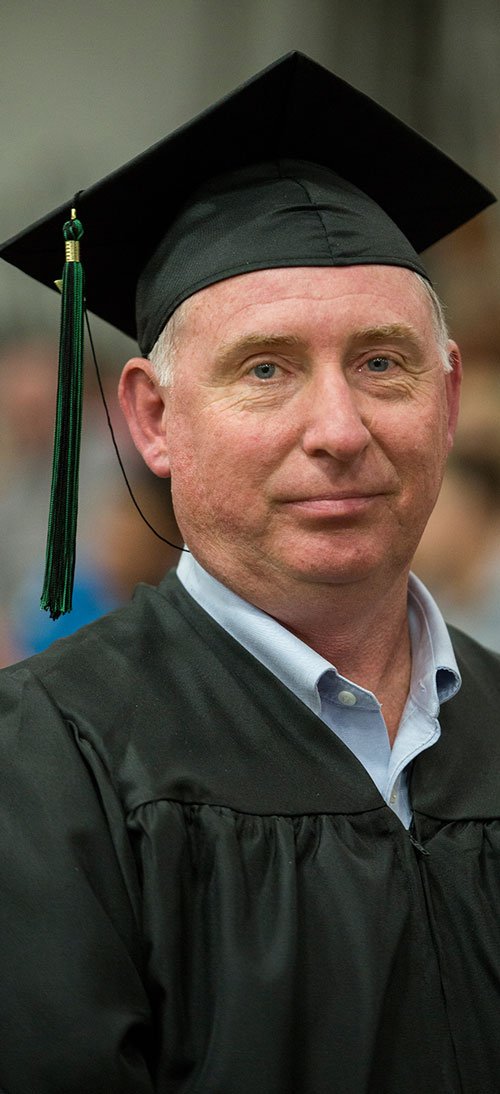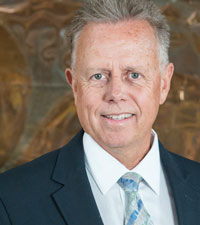 John Mielke

Director of Strategic Communications
Editor, Writer