Monday Update | College of Natural and Health Sciences Update
Published: September 28, 2020
By:

UW-Parkside Marketing & Communications
Dear Colleagues: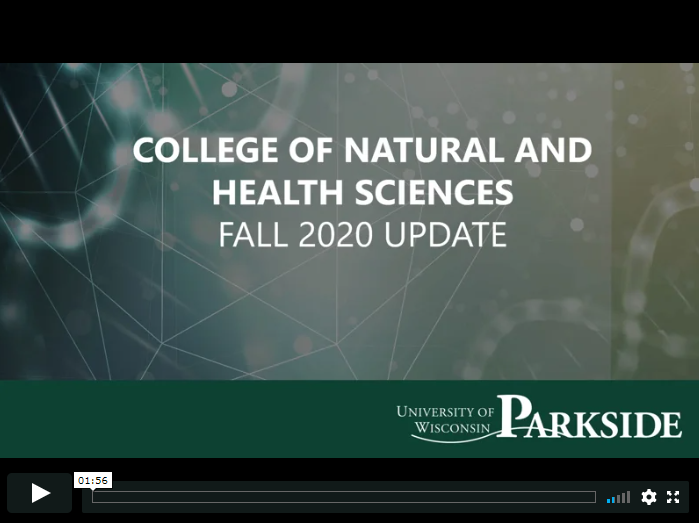 Here are some highlights in the College of Natural and Health Sciences:
Bill Miller, Department Chair of HKSM, gave a presentation titled "Current Issues in Sports Facility Naming Rights" at Marquette University Law School which was co-sponsored by the State Bar of Wisconsin Sports & Entertainment Law Section on September 18th.
Dr. Francis Mann, Department Co-Chair of Chemistry, and her student, Leah Poulos, filed an invention disclosure with WiSys: Production of E,Z,E-GGPP: a potentially bactericidal non-natural product from Mycobacterium tuberculosis.
Dr. Natalia Taft and Dr. Francis Mann were awarded a WiSys Ignite grant ($49676.00) to explore the possibility of using microbes to generate pigments and antioxidants required for aquaculture.
Elizabeth (Betty) Rockendorf, Program Director HIMT, received the Wisconsin Health Information Management Educator Award – This award identifies and honors those who demonstrate excellence in preparing the next generation of professionals for their HIM careers. It recognizes those who teach in a health information administration, technology and other related programs and who are involved in WHIMA's activities at the state and local levels. Congratulations Betty!
The new CNHS Retention Initiative, UWP 101-First Year Seminar: College of Natural and Health Sciences launched this Fall 2020 semester. Eight (8) faculty/IAS/AS are teaching ten (10) sections of this course, with over 160 students enrolled.
The college forged a relationship with Beyond Organic, LLC (BO). BO secured a space of land on campus for integrated agriculture that will enable research collaborations and internship opportunities for our faculty and students, especially those pursuing degrees in BIOS, CHEM, ENVS and GEOS. As well as serve as outreach for/to K-12.
Administrative protocols were completed for the articulation partnership with Yanka Kupala State University of Grodno, Republic of Belarus for Mathematics, Physics and Psychology.  
CNHS welcomed the following new Faculty and Instructional Academic Staff members: Dr. Scott Batcheller, Visiting Assistant Professor in Chemistry; Dr. Robtrice Brawner, Assistant Professor in Psychology; Dr. Bom Soo Kim, Assistant Professor of Physics; Dr. Amelia Ray, Lecturer in Chemistry.
Certainly a lot going on in CNHS this semester! Be safe and be well.
Sincerely,
Emmanuel Otu
Dean of the College of Natural and Health Sciences
**
COVID-19 Update:
As some of you are aware, numerous email notifications were sent to instructors last week from the Dean of Students Office. A large student gathering was held last weekend which resulted in a number of positive COVID-19 cases and approximately 55 close contacts, all of whom have been quarantined. Additionally, we received notification of a handful of other residential/commuter students who either tested positive or were close contacts.
Upon notification of a positive case or identification of a close contact, the Dean of Students Office will inform the student's in-person instructors by email providing them with the period of time the student will be physically absent from class due to being quarantined (typically 2 weeks but in some cases this may be extended). If potential exposure within a classroom is a possibility (based on Public Health contact tracing protocols), instructors will be contacted separately by Dr. Renee Kirby or one of our Contact Tracers for information about seating charts, attendance, and classroom activities. In most cases, these students are able to continue with their coursework and participate virtually if that is a feature of the course while quarantined.
Please keep in mind that students are also experiencing the normal illnesses seen during this time of year – allergies, sinus infections, strep throat, influenza, etc. – and instructors may be receiving notices from the Dean of Students Office about these absences as well. Please do not assume that every absence is related to COVID-19 and keep in mind that we are encouraging students (as well as faculty & staff) to stay home if they are feeling ill.
As with any student notification from the Dean of Students Office to instructors, this information is not to be shared with others. If anyone in the class needs to be contacted, the staff from the Student Health Center or trained Contract Tracers will do so. Finally, we are finding that students are informing their instructors in a timely manner, sometimes even before the Dean of Students Office is aware of a positive test result or close contact. If you are notified by a student, please encourage them to fill out the Student COVID-19 Reporting Form if they haven't already done so. 
**
An Important Message from Chancellor Ford
Welcome Andrew Savagian!
I am pleased to announced that Andrew Savagian has agreed to join our UW-Parkside team as interim communications director as of October 1. Andrew currently serves as the UW System Internal Communications Manager, which he will continue to do half time and will work with us at 50% time until June 30, 2021. He will spend some time on campus and some remotely like the rest of us. 
Andrew's background includes serving over 20 years in communications at the Wisconsin Department of Natural Resources (DNR). He most recently served as a section chief with the DNR's Office of Communications, and before that worked in communications in the non-profit sector and as a reporter. He is a UW-Stevens Point alum (B.S.) and UW-Madison alum (M.S.), and lives with his family – wife Jen, son Logan, daughter Sophia, and their black lab Bella – in Sun Prairie.
Andrew will be part of the Advancement Team reporting to Tom Krimmel and supervise the work of Robyn Elliot and Tim MacKenzie when he joins us in this role October 1. His experience and knowledge of the UW System will be a great help to us as we continue to inform our stakeholders of the important work we are doing.