Sustainability Spotlight: UW-Parkside Takes Stock of Recycling Initiatives Ahead of National Recycling Day
Published: November 8, 2023
By:

Emily Reed, UW-Parkside Sustainability Coordinator
In an era marked by growing environmental concerns, the University of Wisconsin-Parkside is reaffirming a commitment to sustainability and recycling as National Recycling Day approaches on Nov. 15. The university is working to lead by example, with an array of recycling initiatives aimed at minimizing waste and encouraging sustainable living across the campus.
One of the key features of UW-Parkside's recycling efforts is the strategic placement of recycling bins throughout the campus. These conveniently located bins make it easy for students and faculty to dispose of recyclables properly. To further simplify the process, the university has adopted a single-stream recycling system, offered through their partnership with Waste Management. This approach allows users to mix all recyclables in a single bin, making recycling a breeze for everyone on campus.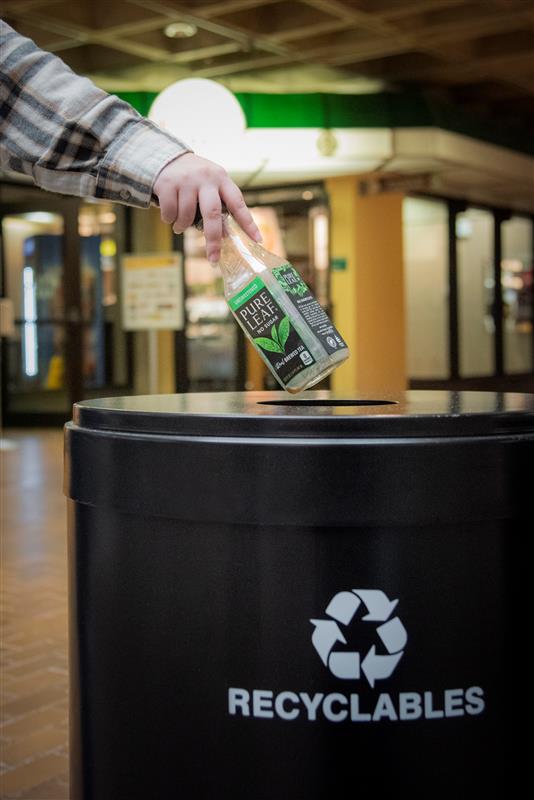 The commitment to recycling at UW-Parkside doesn't stop at the bins. During the spring semester's move-out week, UW-Parkside's Housing and Residence Life collaborated with local partners to provide drop-off locations for unwanted items and electronics. The results from the spring of 2023 were impressive, with students diverting almost 2,000 pounds of materials from the landfill, giving them a second life through recycling or reuse.
The Campus Technology Services department also plays a vital role in the university's recycling efforts. They work with staff to properly recycle old and obsolete technology. By doing so, UW-Parkside ensures that electronic waste is disposed of in an environmentally friendly manner, preventing harmful chemicals and materials from leaching into the environment.
The facilities management department is actively contributing to the university's recycling mission. During renovation projects and daily maintenance, they divert materials from landfills by recycling metals and responsibly disposing of spent lightbulbs and other hazardous materials. The department also receives regular training to ensure safe material handling and disposal. This approach to maintenance not only demonstrates the university's commitment to sustainability but also presents a model for responsible resource management.
The University of Wisconsin-Parkside's dedication to recycling stands as an excellent example of how members of a community can work together to address pressing environmental issues. By making recycling easy and accessible for everyone on campus, UW-Parkside continues to explore opportunities to improve recycling rates and also nurture a culture of environmental responsibility that will benefit both the university and the wider community.
---
The University of Wisconsin-Parkside is committed to high-quality educational programs, creative and scholarly activities, and services responsive to its diverse student population, and its local, national, and global communities. We are a dynamic learning community grounded in academic excellence and focused on student success, diversity, inclusion, and community engagement. The campus serves as a premier comprehensive public institution and a destination of choice, serving as a focal point of local, regional, and global progress.
---
Media contact:
Derek Fye
Communications Manager
University of Wisconsin-Parkside
Fye@uwp.edu | (262) 771-5419