UW-Parkside and Radom Corporation Announce Partnership to Bring Cutting-Edge Spectrometer to Students
Published: April 19, 2023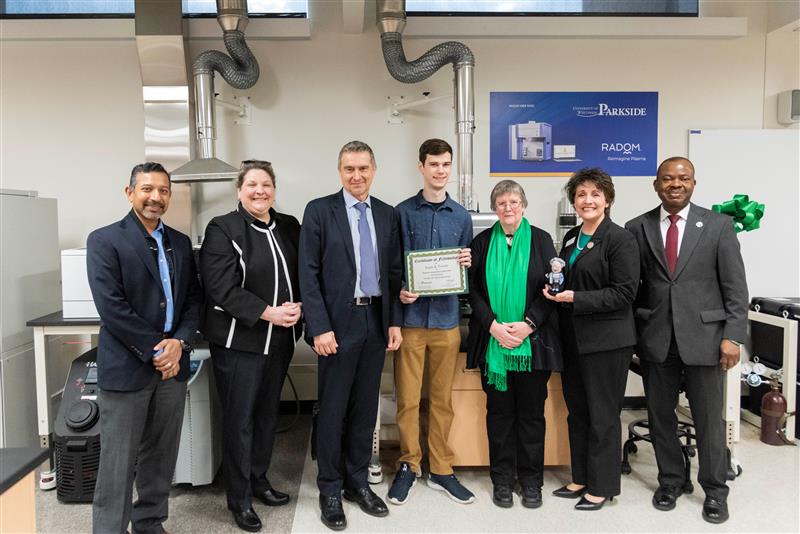 The University of Wisconsin-Parkside and Radom Corporation (Radom) have announced a partnership that will allow students to utilize Radom's advanced MICAP-OES 1000 (Microwave Inductively Coupled Atmospheric Plasma - Optical Emission Spectrometer) for research and will add this technique to the analytical curriculum for elemental trace analysis. UW-Parkside is one of four universities in the world with MICAP-OES 1000 capabilities for student and research advancement.
The other locations are:
University of Alicante: Analytical Atomic Spectroscopy. Department of Analytical Chemistry, Nutrition and Food Sciences, Faculty of Sciences (Alicante, Spain)
ETH Zurich: Trace Element and Micro Analysis (Zurich, Switzerland)
University of Wisconsin Madison: (Cyclotron (Evaluation))
MICAP-OES 1000 is the world's smallest ICP that runs on nitrogen instead of traditional argon, resulting in significant cost savings and the lowest carbon footprint of any ICP instrument. Radom's innovative technology, Cerawave™, harnesses RF (radio frequency) energy, providing robust and sustainable plasma, and allowing MICAP-OES 1000 to achieve outstanding trace metal results in any matrix.
"We are excited to partner with UW-Parkside and share our innovative spectrometer MICAP-OES 1000 to support students and staff members in their trace metal analyses. MICAP-OES 1000 will save them time and money with simultaneous measurement as well as improve the lab's environmental footprint. UW Parkside's collaboration and feedback are critical to the continued growth in the market adoption of MICAP-OES 1000," said Roman Bensen, CEO of Radom Corporation.
This collaboration includes multi-semester funding for several students through the Radom Corporation Fellowship in Chemistry.
All UW Parkside chemistry students will gain real-world research experience on the latest optical emission spectrometer and Radom Corporation will gain invaluable user experience feedback. Through this partnership, Jonah Tetrick, one of several UW-Parkside students who applied for the Fellowship, was awarded the Radom Corporation Fellowship in Chemistry. Dr. Lori Allen, Associate Professor of Chemistry and Faculty Director of CNHS Analytical Services at UW-Parkside will oversee the use of the equipment, update UW Parkside experiments to include MICAP-OES 1000, and help guide Jonah to execute experiments to create advanced application notes and hardware/software feedback to Radom.
Dr. Allen stated, "These partnerships add extra relevance to the instructional laboratory design. Instead of the lab being aligned with top picks of interest to the instructor or labs with known outcomes, the lab is designed with projects of interest to the partner. It requires the class to design suitable controls to verify the outcomes. In many cases, these collaborations set the stage for brainstorming future projects. Almost a form of immersion learning."
---
About The University of Wisconsin-Parkside
The University of Wisconsin-Parkside is committed to high-quality educational programs, creative and scholarly activities, and services responsive to its diverse student population, and its local, national, and global communities. We are a dynamic learning community grounded in academic excellence and focused on student success, diversity, inclusion, and community engagement. The campus serves as a premier comprehensive public institution and a destination of choice, serving as a focal point of local, regional, and global progress.
About Radom
Radom Corporation is a global leader in advanced plasma technologies. Radom develops and commercializes sustainable and innovative plasma solutions for industries in analytical instrumentation, organic fertilizer, clean tech, and hydrogen generation. Our products and instruments lead to safer processes, faster performance, and reduction of pollution with the promise of detoxifying the Earth.
---
Media Contacts:
UW-Parkside
University Relations
University.relations@uwp.edu  
Radom
Yvette Cuello
Sr. Director of Marketing
Email: ycuello@radomcorp.com
Tel: 954-592-7799