Rising Student Stars in Root-Pike Basin Restoration
Published: October 5, 2020
By:

UW-Parkside Marketing & Communications
SOMERS - Several students from various high schools, colleges, universities, and community groups in the area have volunteered their time to work with Root-Pike Watershed Initiative Network (WIN) on Pike River projects. 
Katie Loesl-Dunk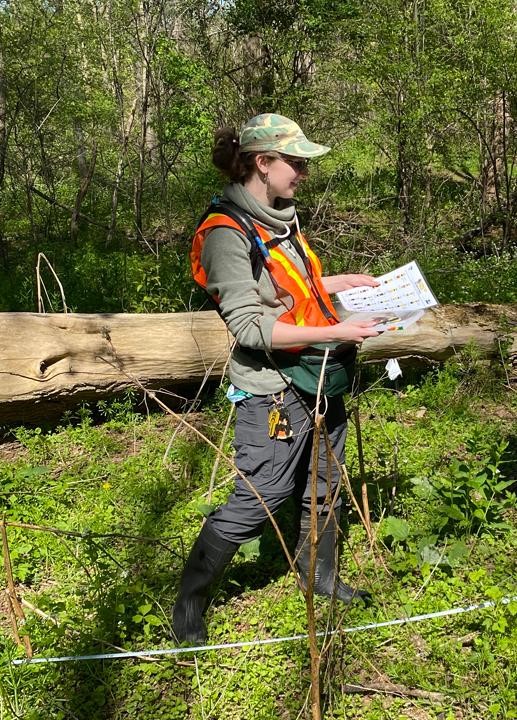 Katie Loesl-Dunk is currently beginning her second semester of her graduate program at the University of Wisconsin-Parkside. She is pursuing a Masters in Biological Sciences with a concentration in Ecology, Evolution, and Conservation. She recently discovered a driving fascination and passion for insects and conservation while finishing her undergraduate degree. Her research examines the effect urbanization has on bumblebee foraging, nesting, and overwintering habitat in Southeastern Wisconsin. She believes that it is possible for people and pollinator populations to coexist in a way that benefits all parties and hopes to continue to research exactly how human society is affecting these important ecological contributors.
Katie Simone Sorenson
Simone Sorensen is currently studying at UW-Parkside, working towards her Bachelor's in Biology with a minor in Environmental Science. Her passion for learning about the environment and love of getting her hands dirty made her a perfect fit for Root-Pike WIN's work. She hopes to work in habitat restoration, animal rehabilitation, or a similar field in the future, so she can bask in the great outdoors every day taking in the splendor of nature.
Kailyn Daum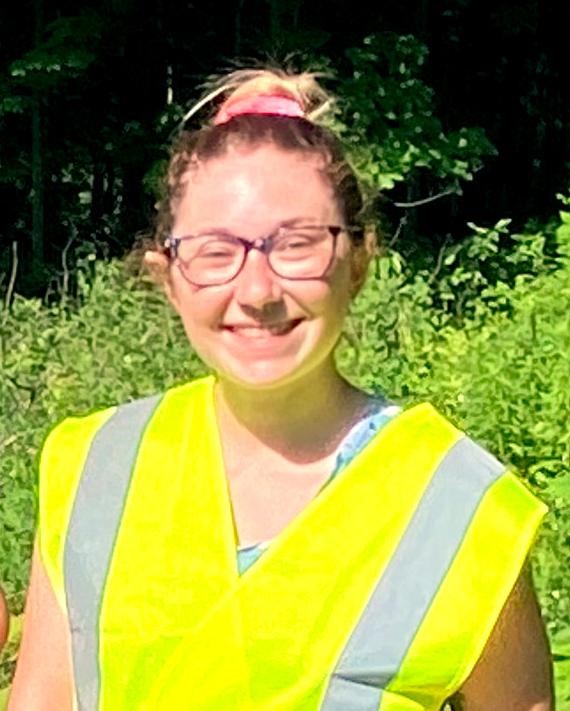 Kailyn Daum is a senior at UW-Parkside, majoring in Environmental Studies with a minor in Geography. She serves as President of Parkside's Environmental Club, which participates in local trash and invasive species cleanups. Kailyn found Root-Pike WIN after helping them clear garlic mustard at their offices. She was hooked. To her, the work is not only fulfilling, but helps her gain valuable real-world skills and experiences she can use in her future career in either environmental education or restoration. She looks forward to her next adventure with Root-Pike WIN and hopes to continue leaving a positive impact for the next generation.
Carter Sura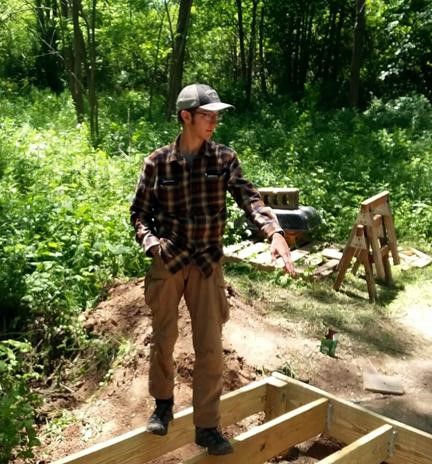 Carter is currently a junior in high school at Walden III in Racine and member of the Boy Scouts of America. In collaboration with Root-Pike WIN, Carter completed his Eagle Scout Service Project, building a new bridge with concrete bases for the UW-Parkside Cross Country Course. Carter was responsible for planning, design, fundraising, volunteer labor and construction, which are valuable life lessons. Carter loves the outdoors and wants to continue Root-Pike WIN's mission to conserve Wisconsin's natural resources. 
Ray Mentzer


Ray Mentzer is a junior at the University of Wisconsin-Madison pursuing a degree in Wildlife Ecology with a certificate in Environmental Studies. He has always been passionate about the natural world ever since he has been young when he was the crazy kid that brought snakes and insects to "show and tell". Currently, he is hoping to make his passion into a career working for the state or an NGO in conservation. He reached out to volunteer for Root-Pike WIN because he wanted to do his part to protect the freshwater systems in his community, which is a part of the Oak Creek Watershed. So far through Root-Pike WIN, Ray has aided in natural landscaping at the office, eliminating invasive Japanese Knotweed at UW-Parkside, pollinator surveying, and has attended project meetings for prairie restoration at Pritchard Park. He wants to continue to have a positive impact on his community by example.
Ellie Havland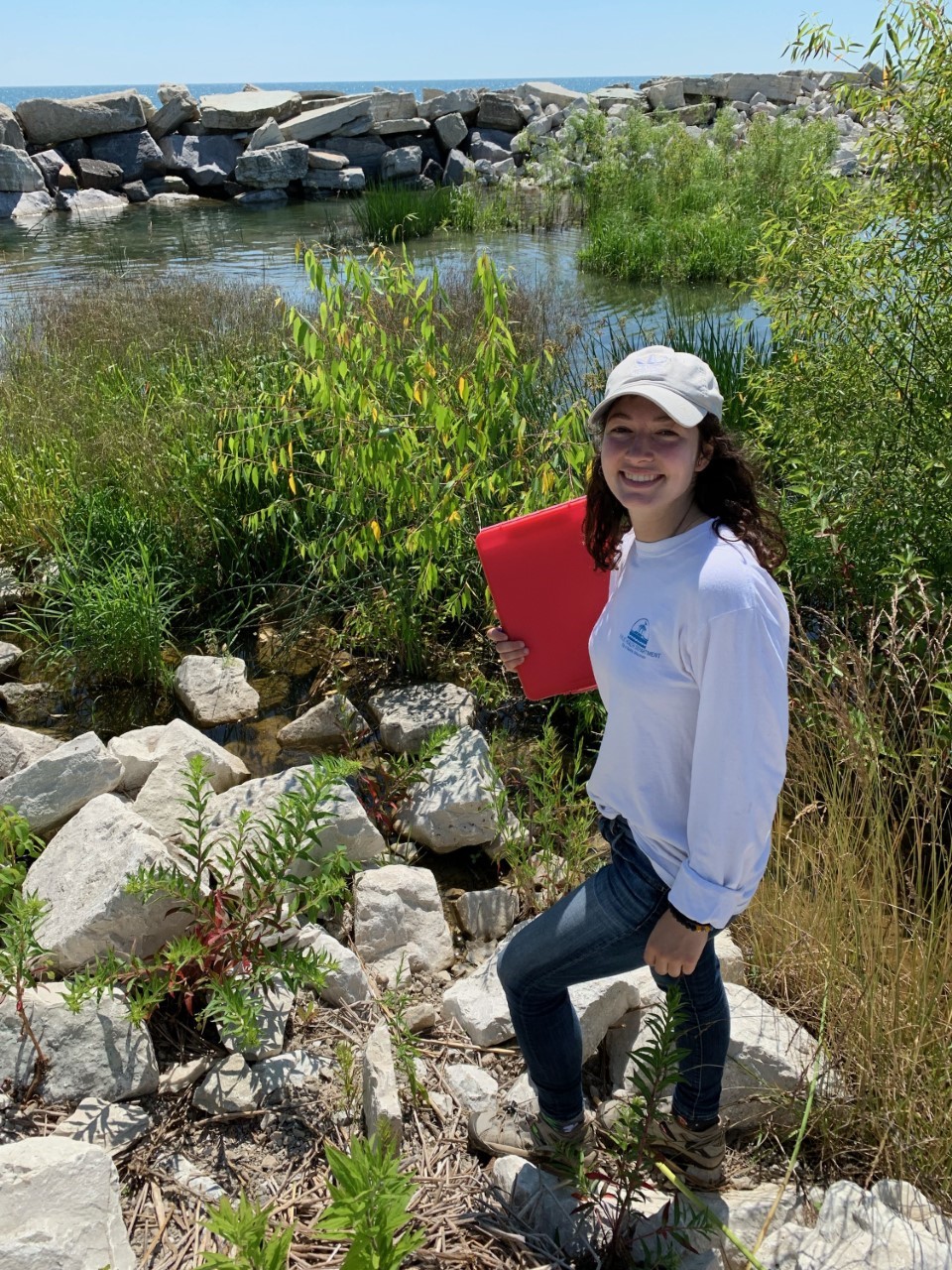 Ellie is a Carthage College senior. She has helped remove invasive buckthorn at the North Zoo Beach Pathways. Ellie is studying a chemical known as Polycyclic Aromatic Hydrocarbons (PAH) in the Pike River in order to explore if this is a problem within the watershed. Her research is still ongoing and has been shared with Root-Pike WIN leadership. Just like Root-Pike WIN, Ellie is passionate about conserving and restoring the environment in the southeastern Wisconsin community so future generations can experience a healthy ecosystem.
Keonte Edwards, Roy Jines, Jakyse Deloache, Gabriel Rodriguez
Keonte, or "Keo", is a graduate of the Great Lakes Community Conservation Corps' program, and leads these future graduates on various work projects in southeastern Wisconsin. In the mornings, team members are in class pursuing their General Education Diploma (GED), and in the afternoon, they learn various trades. Roy, Jakyse, and Gabriel are pursuing different career paths and this program exposes them to different opportunities to self-sustainability. Here, the team is learning forestry skills by clearing trees and brush to prepare the site for an oak savanna restoration next to the recently completed ravine restoration. 
The mission of the Great Lakes Community Conservation Corps is to leverage resources among Great Lakes communities to train and educate disadvantaged populations for credentials that close the skills gap, improve water quality, build habitat, grow the legacy of the original Civilian Conservation Corps of the 1930s and make the region more competitive in the global economy.