A Decade of RUSCH at UW-Parkside
Published: May 8, 2023
By:

Chase Fisk, CNHS External Relations & Marketing Graduate Assistant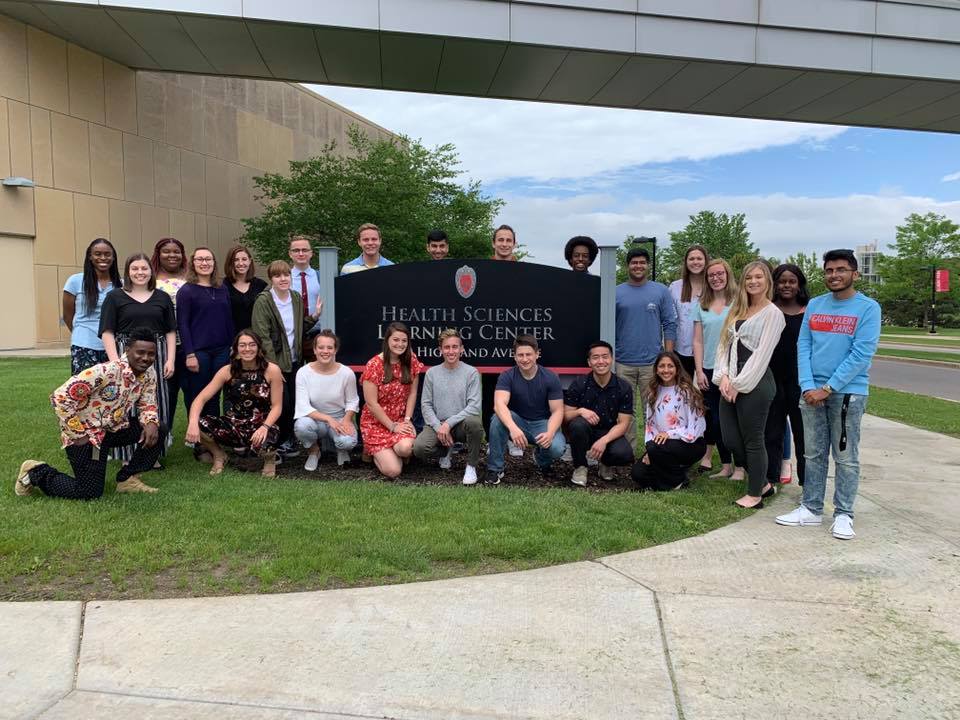 The Rural and Urban Scholars in Community Health (RUSCH) program, run by the School of Medicine and Public Health at the University of Wisconsin-Madison, encourages pre-medical students and future healthcare professionals and physicians to consider career pathways in rural and underserved areas. This program provides pre-medical students of UW-Parkside with an opportunity to assist in research with the UW-Madison's School of Medicine and Public Health as well as gain public health internship experiences in rural and urban areas that are often hard to come by for many undergraduate students.
Leaders Behind the Program
Dr. Bryan Lewis, Associate Dean and Director of Pre-Health Programs in the College of Natural and Health Sciences (CNHS) and Mary Beuscher, have been the leaders of the RUSCH program since its inception in 2012-13. Buescher and Lewis are responsible for ensuring that students are engaging in professional-development courses and that students are adequately prepared to apply for medical school upon completing their pre-med programs.
10 Years of Continued Success
2023 marks the 10th anniversary of the first UW-Parkside undergraduates to be selected for the RUSCH program. The first class featured five students from the southeastern Wisconsin region. Tom Mehner from Mukwanago, Wisconsin, and Alyssa Zimny (Maciejewski) from South Milwaukee, Wisconsin, were among the first class of pre-med RUSCH students to graduate and go on to medical school.
Zimny fondly recalls being selected as one of the first RUSCH students. "I remember feeling so honored to have been selected in this new and exciting opportunity," Zimny said. During her time in the program, Zimny completed a summer internship performing research at the UW Hospital and Clinic in the Radiology department.
Her research was selected to be presented at a national conference and was published in several medical journals. Zimny went on to be accepted into medical school where she continued to expand on her interest in radiology. Zimny is currently in the process of completing a residency in diagnostic radiology and applying to breast imaging fellowships.
"Without the support of the academic advisors at UW-Parkside and the opportunity to participate in RUSCH, I don't know if I would have made it this far. My family and I are forever grateful for all that Dr. Lewis and the rest of the Parkside Pre-Med team have done for me and my training," Zimny says.
Thomas Mehner grew up in Mukwonago, Wisconsin, where he discovered Parkside through a local physician in his hometown. Mehner knew he had a passion for medicine and had heard about the strong Pre-Med program at UW-Parkside. Mehner recalls, "I will always remember sitting down with Dr. Lewis during my campus tour and feeling his passion for education and the excellent guidance he would provide during my time at Parkside."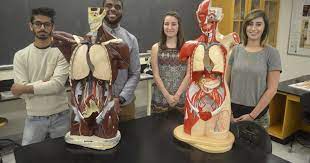 Mehner credits the RUSCH program for helping him prepare for medical school as well as his future career as a practicing physician in Wisconsin. Following graduation, he went on the attend Des Moines University where he studied in the College of Osteopathic Medicine. He is now a second-year resident in Physical Medicine and Rehabilitation at UW-Madison.
Sarah Plutchak, a Kenosha, Wisconsin native, is a current UW-Parkside student in the RUSCH program. She currently works as an Ophthalmic Technician at South East Eye in Kenosha. Plutchak chose UW-Parkside due to the smaller class sizes, high medical school acceptance rate, and the opportunity to develop strong relationships and easily communicate with her professors. "Now that I am at Parkside, I know that I could not have made a better choice!" says Plutchak. She believes the university and the RUSCH program has offered her more opportunities than were available elsewhere.
Plutchak is interested in learning how to integrate public health into her future career as a physician. She believes the RUSCH program will help her in her future endeavors. During her first summer in the RUSCH program, Plutchak completed a community health internship in Beaver Dam, Wisconsin.
"I worked on many projects, all of which related to increasing the community's access to fresh and nutritious foods. … living and working in Beaver Dam for two months allowed me to learn so much about public health problems that are especially prevalent in rural areas," Plutchak says.
RUSCH scholars also receive advising help from Melissa Harrell-Robinson, who is a coordinator for the RUSCH program. Plutchak is also matched with a mentor who is a current student at the University of Wisconsin School of Medicine and Public Health. She is very grateful for the RUSCH program, its coordinators, and the pre-med advisors for all of the amazing opportunities given to the program's student.
From Chancellor Ford
Chancellor Debbie Ford also commented on the 10-year anniversary of the RUSCH program and its importance to UW-Parkside. She emphasized the reputation of the UW-Parkside RUSCH students as the highest quality of students. Chancellor Ford has always been a supporter of the program because it demonstrates the commitment, connections, and the relationships that the students at UW-Parkside continue to establish in rural and urban communities.
From Dr. Bryan Lewis
Dr. Lewis, who has been a crucial piece of UW-Parkside and the RUSCH program since he arrived at the university, is a mentor and director of UW-Parkside's pre-med and RUSCH programs. Dr.Lewis explains, "I love the RUSCH program, I love the opportunities it gives to the students, and I love the reputation it builds for the university."
At the beginning of Dr. Lewis' time at UW-Parkside, his main objective was to rebuild the Pre-Health program. Lewis started to help advise pre-med students searching for their niche in the health stratosphere. Having been a biology major and Chemistry minor during his undergraduate career, Dr. Lewis was able to serve as a support system for UW-Parkside students in the pre-med program to meet with if they were struggling in the classroom or if they weren't quite sure where they wanted to take their careers after UW-Parkside.
As Lewis made his way from Dubuque, Iowa to Kenosha, Wisconsin, he had no connections in the area with local hospitals, doctors, physicians, or other organizations. Dr. Lewis' self-motivation drove him to picking up the phone and cold-call local hospitals in hopes of establishing opportunities for students to shadow professionals and participate in internships.
Securing these opportunities in the professional health field helped solidify UW-Parkside's reputation as a high-quality option for educational endeavors. As a result, UW-Parkside alumni were able to continue to expand their resumes by applying for medical schools throughout Wisconsin. Large medical schools including Milwaukee, Madison, and even Chicago learned of the high-quality students that the pre-med program at UW-Parkside produced because of the outstanding performance of graduates of the program. When UW-Madison noticed the success of UW-Parkside's programs, they expressed interest in UW-Parkside becoming a branch of the program.
Dr. Lewis has long been an advocate for not only the RUSCH program, but also for the pre-health program at UW-Parkside. Lewis believes the pre-med program is more than a degree; "it is about people's lives," he states. Being a mentor for young students is a passion for Lewis as he works to help each and every student to be successful in the healthcare field.
He credits the success of the program to the administrators who have shown continuous support including Chancellor Ford and Dean Otu who have given him the opportunity to recruit great leaders to work alongside him. Under his care and direction, the Pre-Med program has grown to over 700 students.
Lewis encourages other schools with pre-med programs to join the RUSCH program in Wisconsin because it is a great opportunity for students to find the medical school that is right for them. In the future, Dr. Lewis still sees himself as a crucial piece of the program, but he has high aspirations for the future of Parkside. Lewis' dream is to bring a medical school to UW-Parkside, allowing pre-med students to stay in Southeast Wisconsin long term.
Looking to the future
The Rural and Urban Scholars in Community Health program at UW-Parkside has left a lasting impact on students, alumni, administration, and the university as a whole throughout its first ten years of operation. The impact that the program has on those involved is insurmountable and will only continue to improve as long as passionate and dedicated people are involved. A decade of continuous commitment to success has left lasting impacts on those who have come and gone, but it is the commitment of the students in the program that will continue to shine across the nation with their efforts in rural and urban communities.
---
Where Are They Now?
Anmol Patel is now a third-year student at the University of Miami in Florida and is pursuing an MD/MPH degree. "I truly do not think I would have the skillset and desire for pursuing a career in public health without the RUSCH program, and it has made me a better person," Patel says.
Bianca Ruffolo is In her fourth year of the MSTP program at the University of Cincinnati College of Medicine. Working towards a PhD while doing cancer metabolism research at the Cincinnati Children's Hospital Medical Center. "Training under an MD/PhD showed me that the career I wanted was attainable. I learned many research skills that have served me well in my current research at CCHMC and will continue to motivate me in my future endeavors."
Meghan (Conley) Armellani is a registered Nurse at Seattle Children's Hospital working in the pediatric intensive care unit. RUSCH participant during Summer 2013. "I am forever thankful to both the RUSCH program and UW-Parkside for being a large part in my journey towards a career in health care," she said.
Thomas Schrauth­ is in his third year at the University of Wisconsin School of Medicine and Public Health in Madison, WI. "RUSCH was the experience that I think had the greatest impact on me and my pursuit of medicine. It provided me not only the opportunity for growth as a person and future physician, but also the ability to gain new experiences and skills that enabled me to be a more competitive applicant for medical school. RUSCH is an extremely beneficial pipeline program that has proven not only beneficial to making stronger medical school applicants, but to cultivate and build upon students' desires to work with underserved communities to overcome healthcare inequities and disparities."