UW-Parkside grads 'ahead of the game'
Published: May 14, 2022
HARIBO exec tells record class to embrace mistakes and succeed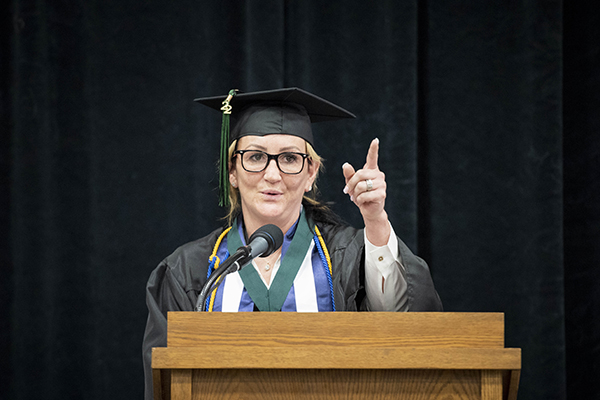 Before the Spring 2022 graduating class at the University of Wisconsin-Parkside earned their diplomas on Saturday, they heard a confession from an accomplished classmate, Kelly Burke, the Chancellor's Award recipient: "To all of my fellow graduates, I'm a little envious of you." But not in a bad way.
"You may or may not be able to tell that I am a little older than you – I am a return student. I attended junior college right out of high school, but I just couldn't decide what I wanted to do with the rest of my life," Burke told the more than 500 graduates who gathered on Haribo Court at the UW-Parkside De Simone Arena on a humid and mostly sunny day. "So, the fact that you made that decision and then stuck it out for four-to-five years in order to earn your degree – you are ahead of the game. That is truly impressive and you should be very proud of yourselves."   
Burke was honored during UW-Parkside's commencement for earning four majors: accounting, management information system (MIS), marketing and business management with a finance concentration. Burke, who graduated summa cum laude, was inducted into Beta Gamma Sigma, a business honor society, and completed a total of 128 credits, while maintaining a near perfect GPA. She achieved all this, as a married mom with a blended family of eight children and the challenges of a full-time job.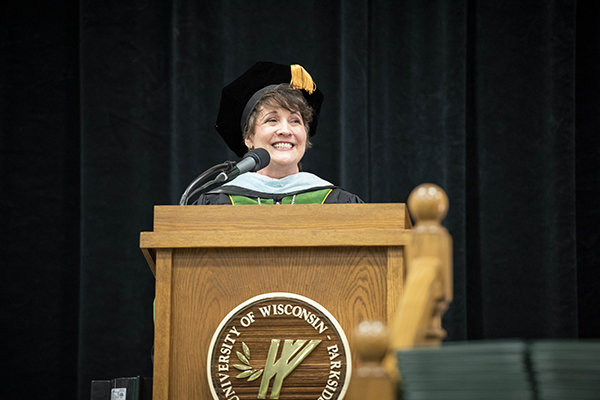 Before Burke's speech, Chancellor Debbie Ford welcomed the graduates, their families and guests, noting that this was the first in-person Spring commencement ceremony in three years. "We are together again, the way it should be." Ford also acknowledged that this is the third consecutive year that a record number of students are eligible to receive their degrees. She credited the university's Bold Goal to substantially increase the number of UW-Parkside graduates by 2025 – a key element of the university's 2025 Strategic Framework.
Ford praised the graduates for their hard work and perseverance amid the adversity of a global pandemic. "In itself, earning a university degree is a notable accomplishment. Doing so over the past three years – well, it's something I want each of you as graduates to always remember," she said. "In the face of any challenge … remember your strength … remember your grit … and remember your courage. Well done!"
UW-Parkside alumnus and current interim president of the UW System, Mike Falbo, delivered congratulations at the afternoon commencement ceremony. "You've put in the hard work. You've kept your eye on the ball and today you should be proud of yourselves."  
While it's expected that commencement speakers impart some words of wisdom to the graduating class, Burke acknowledged that her most valuable life's lessons have come from the younger generations of students whom she encountered along her educational journey at UW-Parkside.
"As I sat and thought about what I would write for my speech, it turns out that some of the most important lessons in life are those that I have learned from you – my younger generations," Burke said. "Lessons like, 'You should work to live, not live to work. … Spend just as much time playing as you do working.'"
Other important lessons Burke said she learned from her younger cohorts – open-mindedness and tolerance. She also applauded her fellow graduates for their willingness to fight against social injustice. "One thing we have witnessed over these last few crazy years, is your willingness to get involved and your sense of duty when it comes to injustice. This is how change happens, so please don't get discouraged, change will happen," Burke said.
"The things that were instilled and encouraged in us as students here at Parkside are what the world needs more of."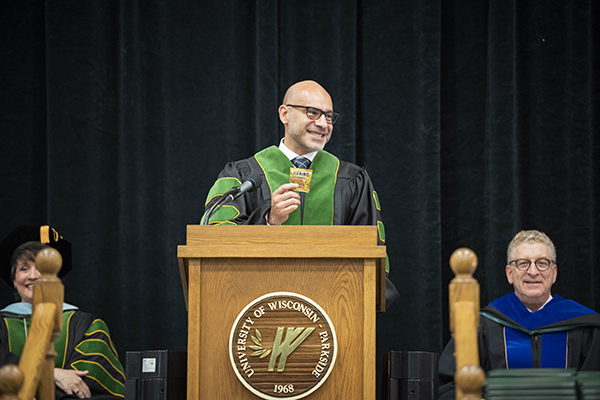 When Wes Saber took the podium for his keynote address, graduates may not have expected the Executive Vice President and Chief Financial Officer of HARIBO of America to tell them it's OK to make mistakes.
After all, making mistakes is something university students are not supposed to do. Correct answers on tests and quizzes, not mistakes, are what earn students good grades. "Look forward to making mistakes," Saber told UW-Parkside graduates. "That may make some of you uncomfortable and that's good."
Why would Saber tell them that? Well, because his extremely successful business career has taught him that mistakes are where you find success. "I've made plenty of them," he said. "I can tell you firsthand that mistakes force you to learn, grow and push the envelope."
Saber learned this all so well in leading HARBO's double-digit growth in the U.S. market. When HARIBO first entered the U.S. in 1982, it was relatively unknown, starting out in small mom-and-pop candy shops, where candy was weighed and sold by the pound. Yet, where others saw obstacles, Saber and a colleague saw opportunity. As they seized opportunities to grow HARIBO's brand, relocating to Rosemont, IL, a suburb of Chicago in 2015, they made their share of mistakes, Saber noted.
"We created a future instead of waiting for it to happen," Saber said. "Do you think in the last eight years we've never made a mistake? I'm happy to tell you that we have and without them, we wouldn't be where we are today … the #1 gummi brand in the U.S. and building our first-ever factory in North America."
The manufacturing facility represents "the largest investment in the company's history, nearly $243 million," Saber said, noting that upon completion, the project, located in Pleasant Prairie, will be one of the largest confectionary factories in the U.S. "We're bringing hundreds of career opportunities to Southeastern Wisconsin and we've already seen great talent wanting to work for us." he said.
Just as Commencement is a time of celebration, it can also bring feelings of uncertainty about the future. Saber's advice that "you don't have to know everything right now … or ever," may have provided solace for the Spring 2022 graduating class. "It's more than OK," he said, "because as you try new things, they won't always turn out perfectly. And those are the things you learn from."
Perhaps, the most valuable lesson in making mistakes is what it teaches us about ourselves, Saber said. He also stressed the importance of giving back. That can mean sharing lessons learned, he said, and encouraging others not to be afraid of making mistakes.
"As you're learning and growing in your lives and in your careers, remember to give back to those around you…. I'm standing here today because HARIBO believes that everyone deserves access to quality education," Saber said. "...I'll give you a life hack today: It is a mistake for business to not give back to your local communities. So, you never have to worry about making that one; you can learn from it today."
Saber left the Spring 2022 graduating class with final words of wisdom from Thomas Watson, former CEO of IBM: "So go ahead and make mistakes. Make all you can. Because that's where you find success. On the far side of failure."
---
Enjoy photos from each of our ceremonies. Check back as more photos are uploaded.
Morning Commencement Ceremony Photo Gallery
Afternoon Commencement Ceremony Photo Gallery