Student Perspectives: OMSA 40th Anniversary
Published: November 28, 2022
By:

Emily Shelton, Dan Dyer, and Sandra Gorall
On Oct. 27, the Office of Multicultural Student Affairs celebrated the organization's 40th Anniversary. This celebration highlights the growth and impact of the organization over theyears. Current students, employees, and alumni were all in Over the span of 40 years, OMSA hassought to support underrepresented groups at UW-Parkside in many aspects.
The organization places emphasis on their core values which include advocacy, belonging, development, and recognition. Support for these groups includes campus events such as Hispanic Heritage Month, Black History Month, Native American Heritage Month, and Asian Heritage Month.
The event took place on D1 of Wyllie Hall specifically in the Callahan Family Student Success and Learning Commons. Upon arrival, everyone had to register before formally entering theevent. Once registered, you received a nametag alongside informational packets. Following this, the event kicked off with a reception which allowed attendees to network with others. Currentstudents and employees along with alumni were able to talk and build connections with others.Throughout the event, you were greeted with smiling faces at every turn. The event welcomed the attendees as they walked through. There were many tables lined up in the Student Success and Learning Commons and provided information regarding differentcampus organizations.These organizations resulted in a significant amount of student participation. Many students were at these tables and conversing with attendees. Student organizations under OMSA are: AfricanStudents Association, Black Student Union, Latinos Unidos, Muslim Student Association,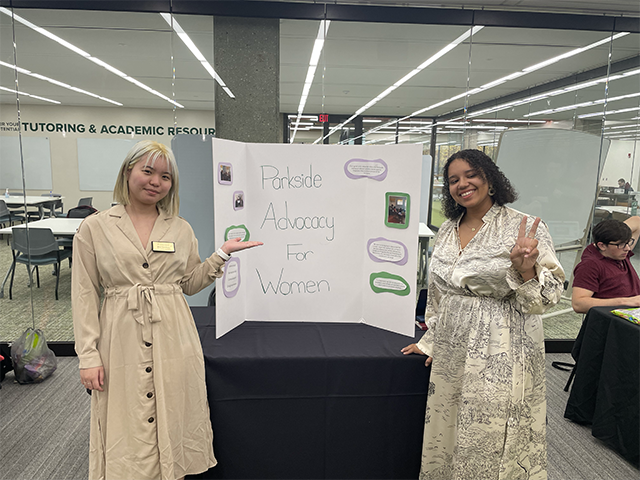 Parkside Asian Organization, and Parkside International. OMSA also has other programs including the Always Reaching Upward (ARU) mentoring program and MOSAIC (MotivatingStudents to Advocate for an Inclusive Campus). One of the tables belonged to the ARU program. At the table, a mentor and mentee for the program were the representatives. The mentor, Hydea Burks, and mentee, Joanne Cervac, both recently transferred to UW-Parkside. "When you come to OMSA, it's kinda like we are all a family," Burks says.
Burks mentions how valuable the newly renovated space is. Burks says, "We have a common area where a lot of people go in and sit on the couches. We go in with each other and study with each other." Cervac highlights the importance of this program for students. "My mentor Hydea was the onewho recommended I come and check out OMSA," Cervac says.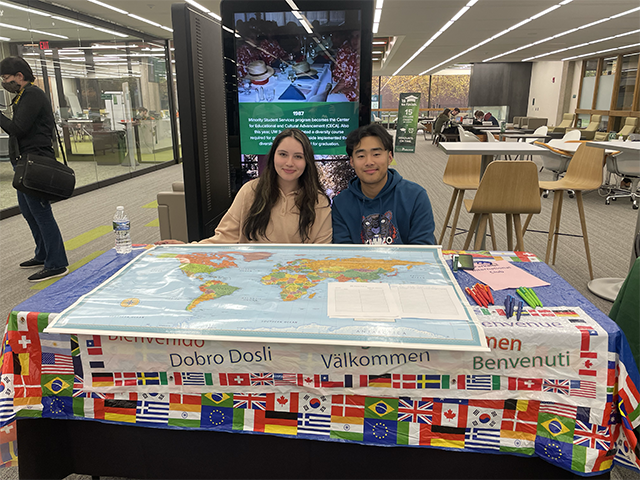 Cervac recently transferred to UW-Parkside. Cervac says, "OMSA has really opened up the possibility to make more friendshere at Parkside."The International Club was also one of the student organizations present. Maria Sosa, vice president of the club, was one of their representatives at the event. When discussing the club, Sosa emphasizes how the club is open to everyone. "It's open to everyone, not just international students," Sosa states. The club prides itself ineducation and diversity. Sosa explains, "It'sreally just about educating people on differentcultures here on campus."OMSA has played an impactful role in Sosa's life. "It just really helped me identify myself toobecause being from mixed heritage is hard to differentiate and how do I label myself," says Sosa.
Throughout the event, tours of the newly renovated facilities were also held for students, alumni, and faculty to see. These tours highlighted the new office space for OMSA amidst other features.Food was also offered through the duration of the event for attendees to enjoy while theysocialize and learn more about OMSA as an organization. The ceremony itself was introduced by the Associate Director of Multicultural Initiatives, LuisBenevoglienti, Chancellor Debbie Ford, and the Vice Chancellor for Advancement, Willie Jude II. The primary speakers for the event were Amanda Markwardt and Colette Bell who are bothMulticultural Initiatives Specialists within OMSA. Following this, the ceremony closed withremarks from Benevoglienti.