Sustainability Spotlight: De Simone Arena Lighting Project
Published: July 14, 2023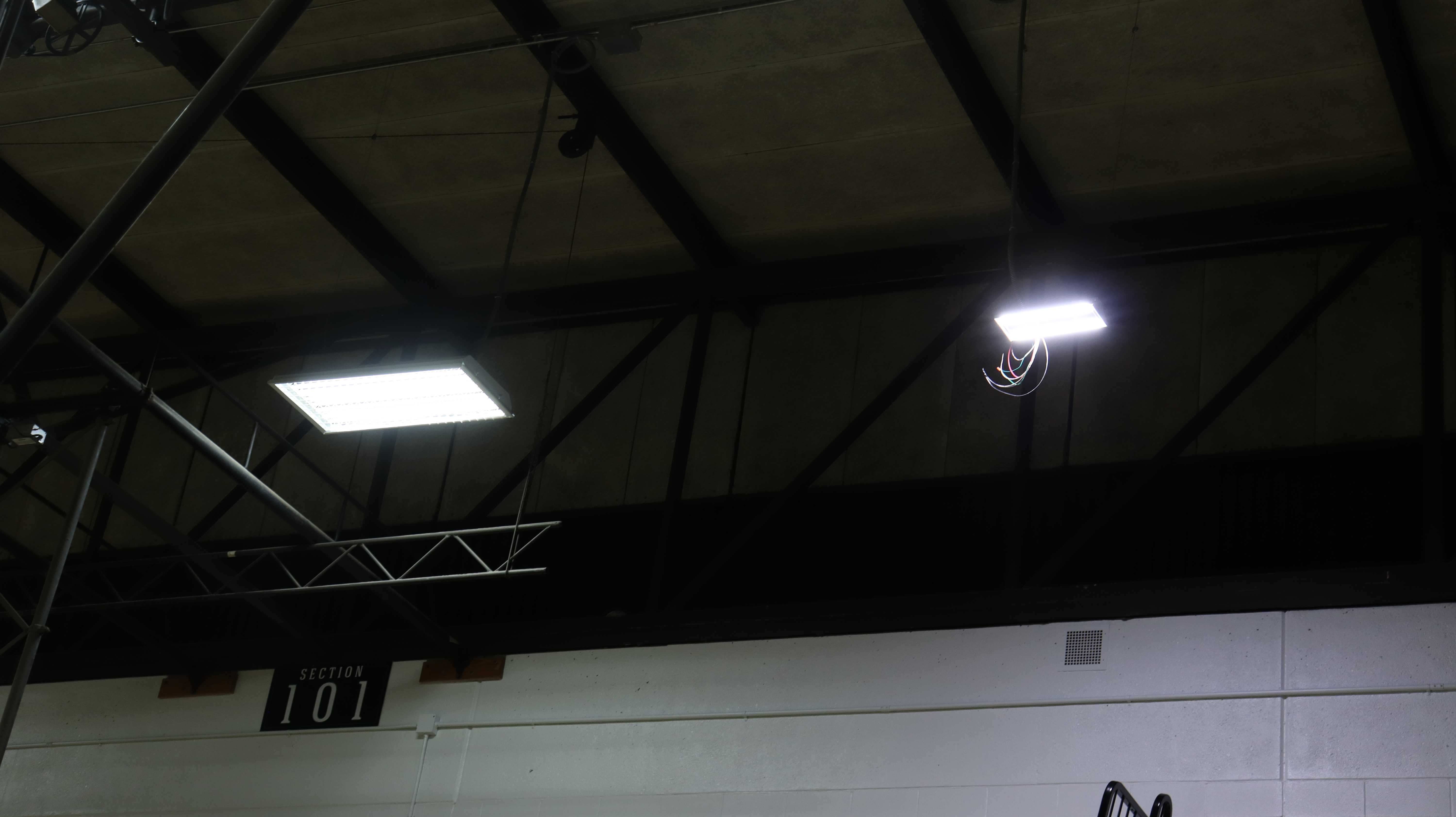 Some subtle but important changes have been occurring throughout the University of Wisconsin-Parkside campus in recent years. The facilities management department has been identifying projects on campus to help improve energy efficiency in our buildings and on campus grounds. Most of UW-Parkside's campus was constructed over 50 years ago, and improvements in technology are available to save energy and reduce utility costs.
One area of focus has been on exchanging outdated light fixtures to higher efficiency units. Most commonly, this involves swapping a fluorescent lamp for a light-emitting diode (LED). Converting lighting fixtures to LEDs has several benefits.
LEDs are typically over 50% more energy efficient than fluorescent fixtures. This means an LED will emit the same amount of light at a fraction of the energy expenditure. This reduces electricity expenses over time and reduces the school's dependence on fossil fuels for electricity needs. LEDs also last longer than most other bulbs, reducing maintenance and replacement costs.
The reduced energy use and maintenance means that changing to lower-energy bulbs typically pays back the cost of installation within a few years. After that, the lower electric bill is an added bonus to continue reducing utility expenses.
Over the years, UW-Parkside has partnered with Focus on Energy, a statewide program to promote energy efficiency upgrades, to pursue such projects. In 2022 alone, the campus completed projects that saved a total of 750,121 KWh of electricity, equivalent to powering 48.8 homes.
With these savings, the campus can continue to track down other areas of high energy use and invest in additional upgrades. The Alfred and Bernice De Simone Arena recently received a lighting upgrade that will increase brightness in the Arena while reducing electricity use by over 50 percent. The project also included improvements to lighting controls so only areas of the arena that are in use need to be lit.
Craig Becker, Associate Athletic Director of Facilities and Capital Projects stated, "The change from florescent to LED light fixtures in DeSimone Arena has instantly changed the feel of this facility.  I have already had several coaches come up to me and mention how the floor looks cleaner and the arena looks brighter.  With the recent RangerVision 2020 facility upgrades, these fixtures highlight this new space and our partners in a way that I wouldn't have anticipated.  We are also grateful that we will not be needing to have the arena offline for extended periods of time to replace burnt out florescent bulbs and ballasts."
While the campus itself is seeing energy improvements, UW-Parkside also wants to help students reduce energy use in their homes. For the Fall of 2023, UW-Parkside has enrolled in the "Higher Ed Kit Challenge" with Focus on Energy. This allows students residing off-campus to receive a free energy savings pack with the competitive goal of seeing which Wisconsin school can order the most kits. The university will be sending periodic reminders to students with details on how to receive their packs. Students with questions on how to receive their pack can email sustainability@uwp.edu for more information.