Sustainability Spotlight: Pollinator Patch Program
Published: June 19, 2023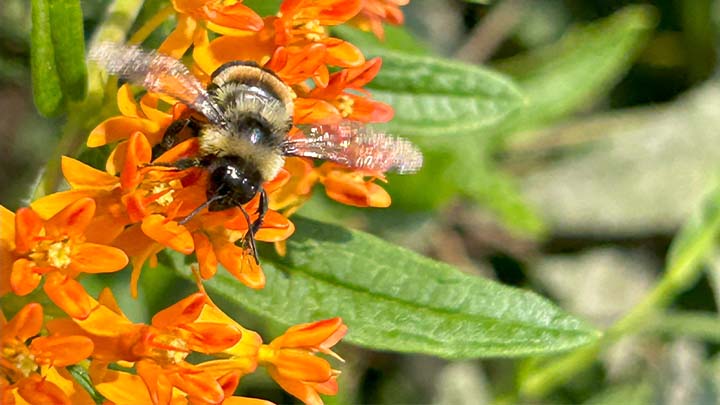 Story Update (8/11/23): Executive Director of Root-Pike Watershed Initiative Network (Root-Pike Win) Dave Giordano recently provided an update that there has been a number of federally endangered Rusty-Patched Bumble Bee sightings on the UW-Parkside Cross Country Course.
The observations were made while assessing the overall results of our restoration efforts. Other areas of the course have not be checked for the bee as of yet.
Giordano says, "As the old phrase goes, if you build it they will come. There is still more to do, but it seems our strategy and restoration tactics are starting to pay off."
---
Pollinator Patch Program Provides Tangible Learning Experience and Promotes Biodiversity on Campus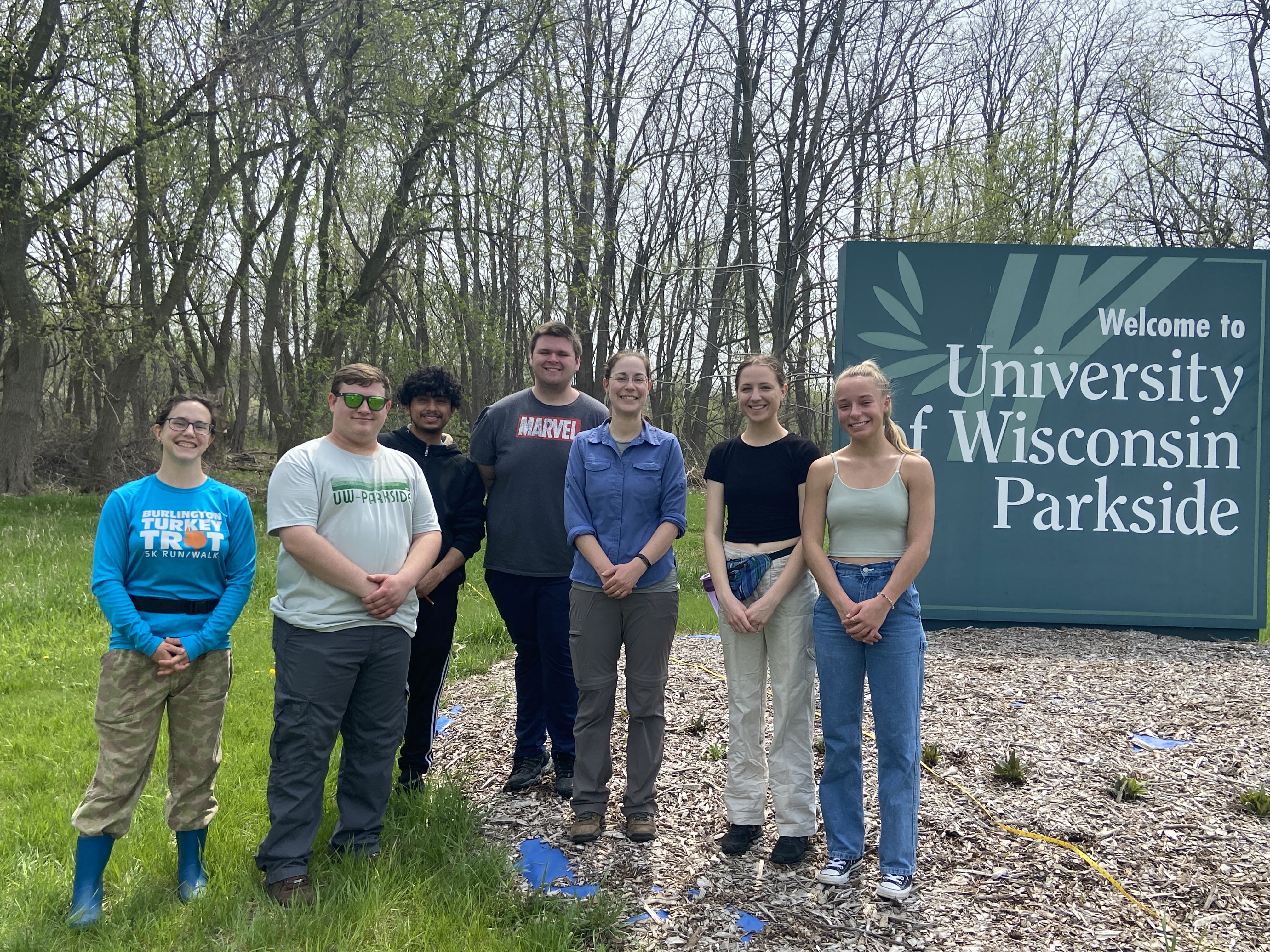 Kenosha, Wis.- Sustainability is an important issue at the University of Wisconsin-Parkside and in the state of Wisconsin as a whole. UW-Parkside is proud to be able to contribute to the progress of sustainability in Wisconsin and has committed to this common goal through a myriad of projects, initiatives, and partnerships. One such project is the Pollinator Patch Program.
The Pollinator Patch Program is a unique and valuable partnership with the Root-Pike Watershed Initiative Network (WIN). The goal was to develop a land restoration plan and create more habitat for the Rusty Patched Bumble Bee that lives on UW-Parkside's Wayne E. Dannehl National Cross-Country Course. The program began in 2019 and these sustainable "patch" practices have been replicated throughout local school districts.
The federally endangered Rusty Patched Bumble Bee (Bombus affinis) attracted attention locally as the Midwest is the only territory where the once wide-ranging bumble bee has remnant populations. The stressors to bumble bees in general, and the Rusty Patched in particular, include habitat loss, land disturbance, native vegetation loss, herbicide and pesticide use, disease, and possibly climate change.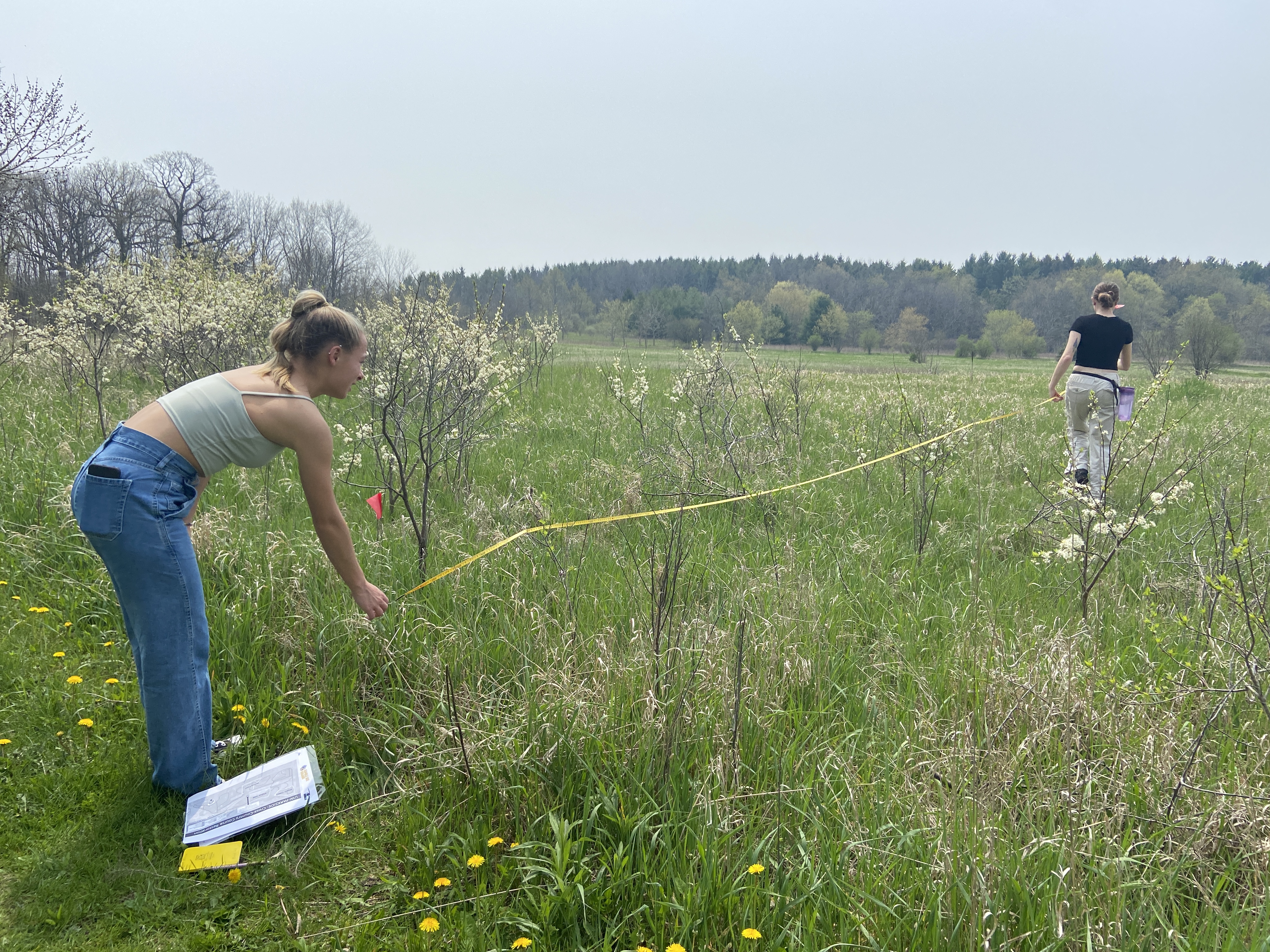 The Rusty Patched Bumble Bee is a ground nester. Plowing, mowing, removal of little patches of bare ground, construction and other soil disturbances can destroy an active underground burrow or the overwintering queen bumble bee. The Rusty Patched Bumble Bee may also be the canary in the mine, illuminating the ecological importance of pollinators, and the consequences of their decline to humans, agriculture, and the ecosystem.
Laura Buska, Root Pike WIN's office manager and communication coordinator summarizes the project saying, "Since early 2021, UW-Parkside, KCI Technologies, and Root-Pike WIN have been busy as bees collaborating on an initiative to increase backyard opportunities for bumblebee nesting sites with a focus on the Rusty-patch."
She goes on to outline the goal of the project as well as the progress made so far. "The team's hope is to determine easy-to-create habitats that individuals can recreate in their own backyards to improve bumblebee abundance. KCI has been involved in the restoration work and has been an important part of the team in providing site information. In 2023, holes were drilled to mimic traditional nesting spots and then monitored by students to survey if holes were used," she stated.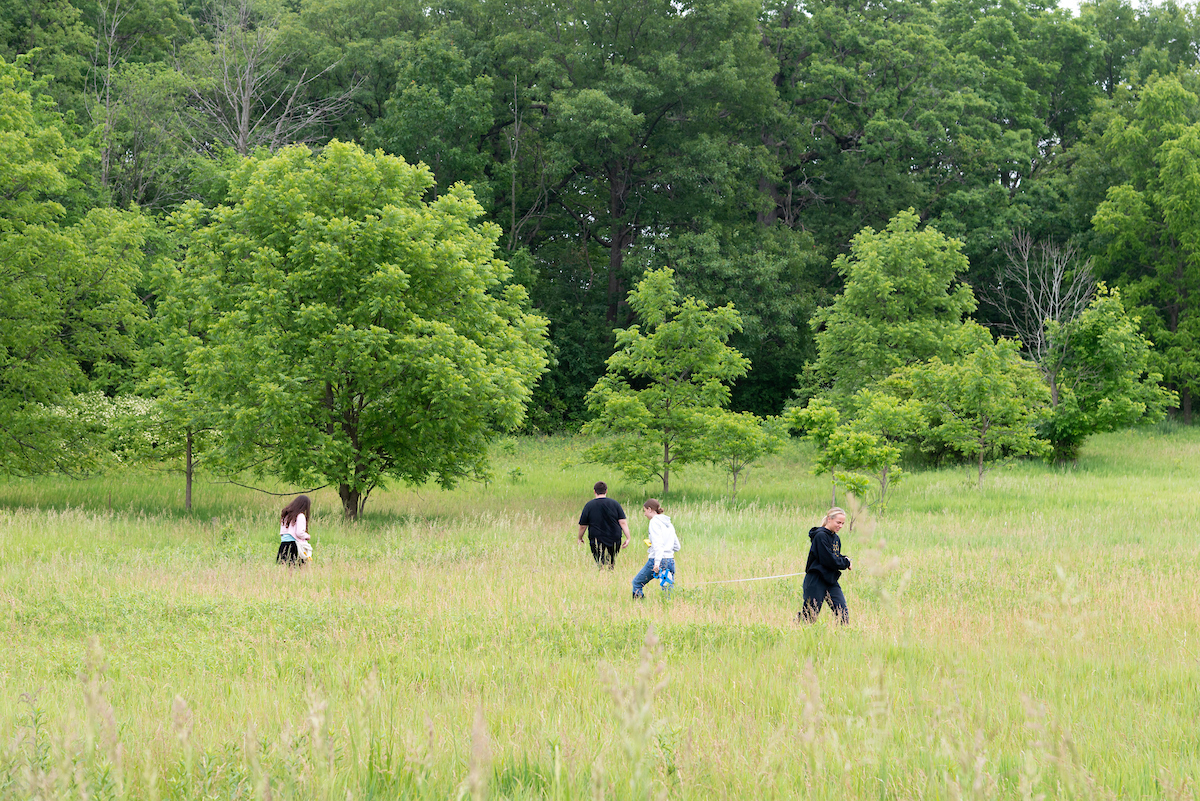 Beyond the funding, Root-Pike WIN has also brought return on other objectives through this partnership. This includes lessening the effects of stormwater runoff and climate change throughout the campus and reducing cross-country course maintenance costs among many others.
UW-Parkside's sustainability coordinator, Emily Reed, is proud of the university's efforts and is grateful for Root Pike WIN's partnership and dedication to sustainability in the region. "We are very appreciative of Root Pike WIN's partnership and dedication to sustainability and to improving and conserving biodiversity on our campus," Reed stated.
Reed notes that Root Pike WIN's restoration efforts and consistent stewardship of the patches have been invaluable to the university and have facilitated the ability for students and faculty members to use these spaces for educational and research purposes. "It is a unique academic advantage to be able to research on your own campus. Many campuses are hours away from field work location. UW-Parkside's location affords students valuable hands-on experience that helps set them apart," Reed explained.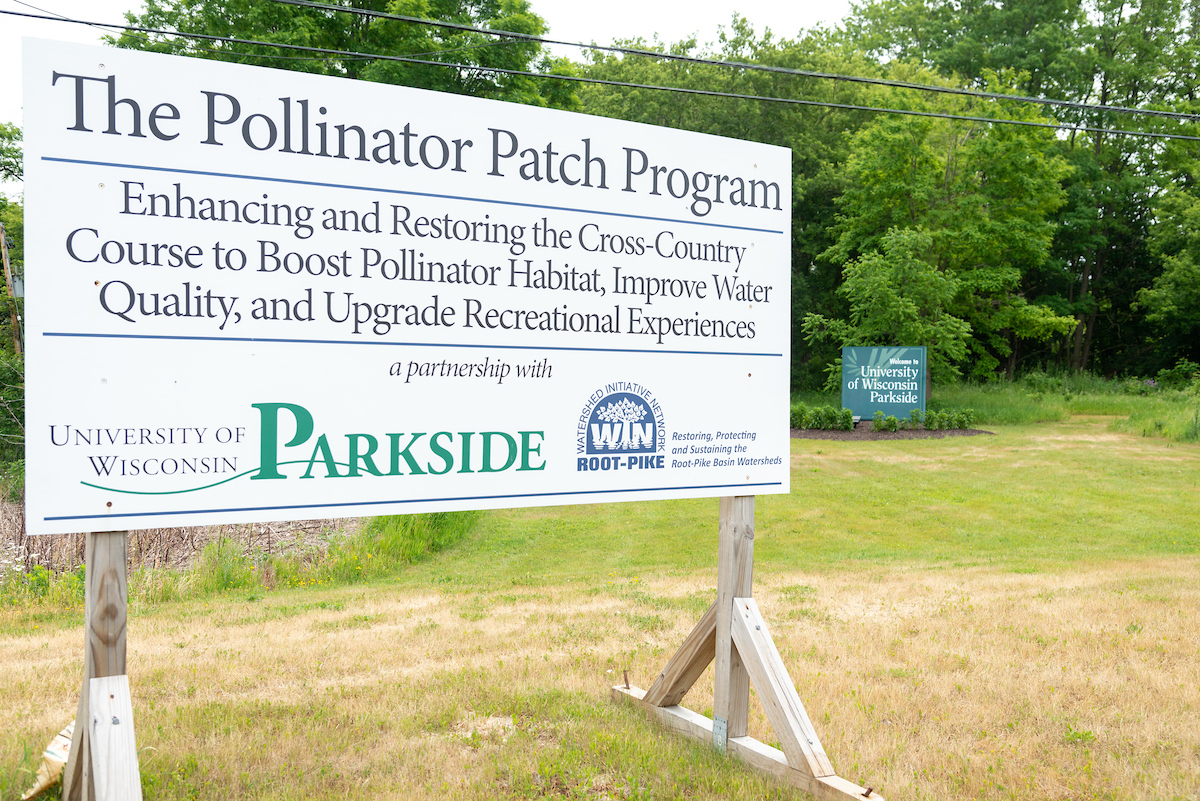 Dr. Jessica Orlofske, Associate Professor of Biology at UW-Parkside, and her "Bee Team" comprised of undergraduate student researchers, serve as a vital part of the program as they track and chart the bees on campus. They have been surveying habitat use of bees in the cross-country course to try and see what plants bees frequent and if they can find nesting sites. This has been in conjunction with the habitat improvement grants Root-Pike WIN helped UW-Parkside secure.
Student researchers Abby Lentz, Natalie Meyer, Nicholas Winter, and Hannah Palmen are members of Dr. Orlofske's Bee Team. Their project abstract states, "Bumblebees are known pollinators and contributors to healthy ecosystems. In Wisconsin, UW-Parkside is a known location for the federally endangered Rusty-patched-bumblebee (Bombus affinis) and other bumblebee species. The objective of this project was to locate and identify various members of Bombus on campus."
The project was conducted in four distinct campus restoration phases. Phases one and two were the completed restoration. Phase three is the current restoration. Phase 4 is called pre-restoration. Artificial nests were added to each phase to promote nesting and to assess feasibility of monitoring resident bumblebee populations.
The crew performed a one-hour survey in each phase weekly over the summer of 2022 using WI Department of Natural Resources methods. Sites within each phase were surveyed for Bombus activity and data regarding location, weather, and topography were recorded. During these surveys, specimens were counted and photographed for later identification. In each phase, six randomly placed artificial nests were either wood-covered or unsheltered to resemble natural nesting conditions.
During 50 surveys, 199 bumblebees were recorded on the UW-Parkside campus in 2022. However, no Rusty Patched Bumblebees were observed during the first year of this project. The pilot project provides guidelines for future artificial nesting placement and construction. The team's first season of survey data provides needed information on the current state of bumblebee activity on campus which will serve as a guide for further restoration. The team has also presented their valuable research at the UW-Parkside Student Showcase, Research in the Rotunda, and other research conferences.
---
The University of Wisconsin-Parkside is committed to high-quality educational programs, creative and scholarly activities, and services responsive to its diverse student population, and its local, national, and global communities. We are a dynamic learning community grounded in academic excellence and focused on student success, diversity, inclusion, and community engagement. The campus serves as a premier comprehensive public institution and a destination of choice, serving as a focal point of local, regional, and global progress.
---
Media Contact:
Derek Fye
Communications Manager
University of Wisconsin-Parkside
Fye@uwp.edu | (262) 771-5419