UW-Parkside Wind Ensemble Hosts Guest Speakers for Virtual Fall Course
Published: October 7, 2020
By:

UW-Parkside Marketing & Communications
SOMERS – Despite the challenges brought on by the ongoing pandemic, students in the Wind Ensemble at the University of Wisconsin-Parkside Music Department have been given the opportunity to hear from a variety of world-class guest speakers during the fall 2020 semester.
"Although COVID has drastically changed how we can make music together, I'm happy to have been able to set up some very satisfying virtual units for the musicians in the Wind Ensemble this semester," says Associate Professor Laura Rexroth. "We are able to have discussions about topics that are wonderful additions to our usual rehearsals, including: composers of color, dealing with performance anxiety, preparing for an audition, and women composers/conductors."
In normal circumstances, the University Wind Ensemble performs two to three concerts a semester and rehearses twice a week. However, because of current guidelines, community activities on campus have been cancelled until further notice.
"We are in the midst of speaking live with several world-class artists as well," Rexroth says. "Our students have been able to probe into the careers of these exciting professional musicians – asking them questions about how they got to where they are, and gaining insights into the teaching, conducting, performing, and conducting of music on a very high level. They are discovering that everyone's path is different. All our speakers so far have urged my students to be resilient and follow their passion." 
So far this fall, the students have talked with: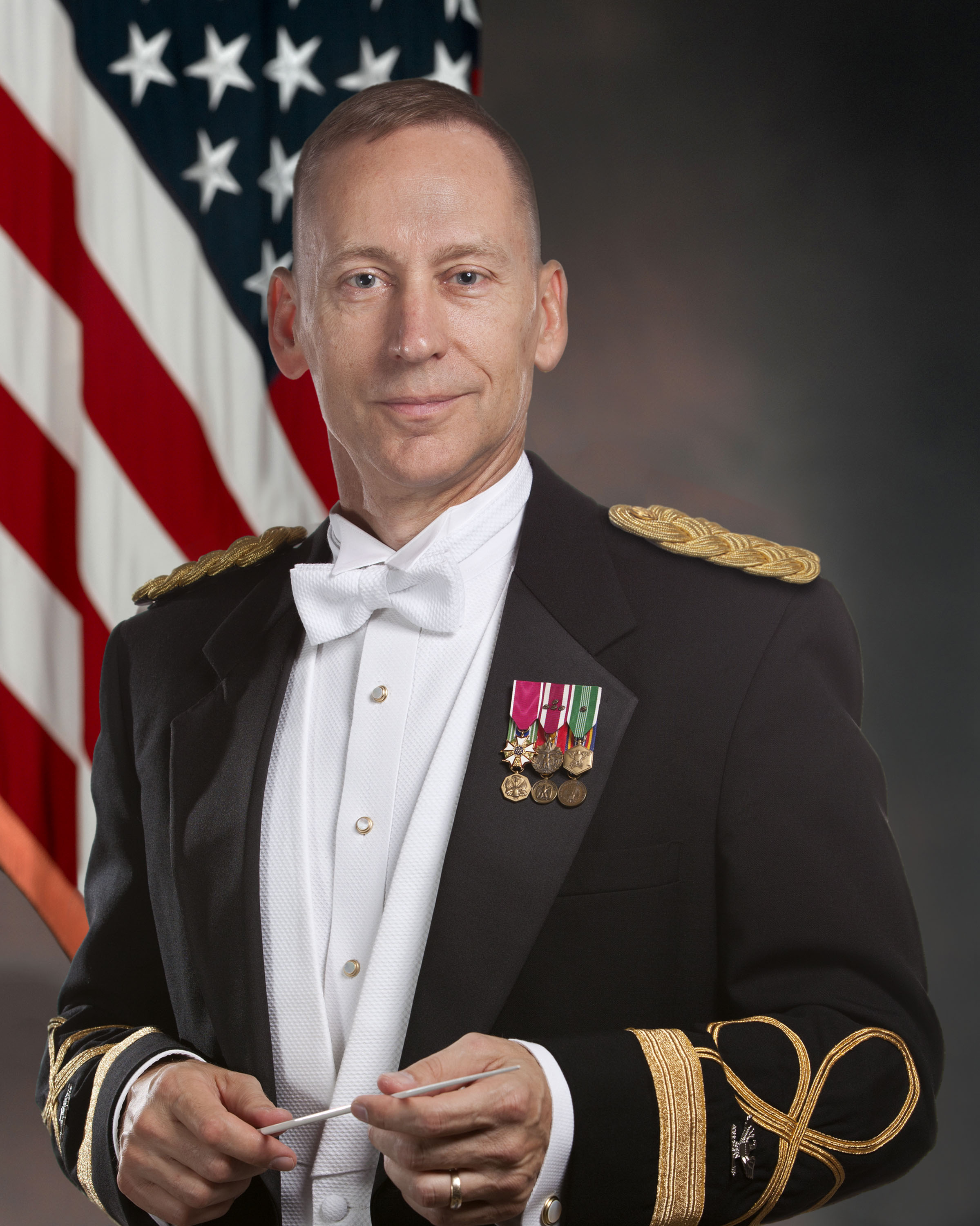 Col. Timothy Holtan, Commander of the U.S. Army Band (Pershing's Own), retired 
Colonel Timothy J. Holtan was appointed Leader and Commander of The U.S. Army Band "Pershing's Own" in December 2014 until his retirement in February 2017. He holds the distinction of being the first officer to command all three of the Army's premier bands: United States Military Academy Band, West Point, NY; the U.S. Army Field Band, and the US. Army Band.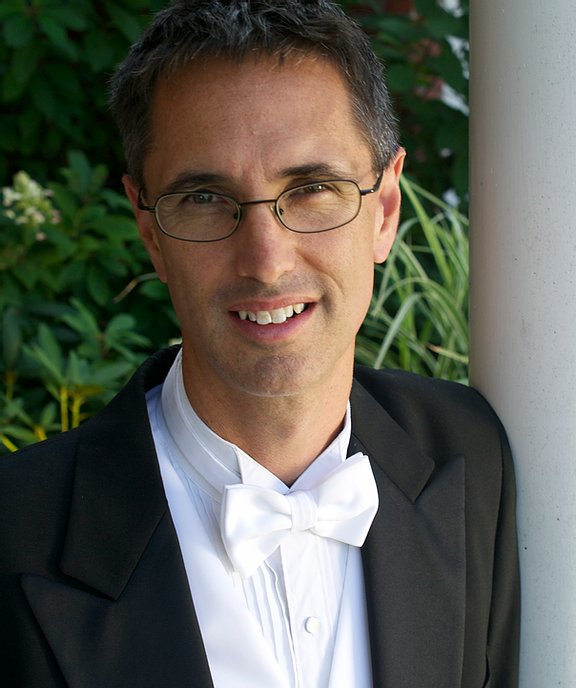 Dr. Andrew Boysen, Professor of Music, University of New Hampshire, Director of Bands, and very well-known American composer of works for wind band 
 Andrew Boysen, Jr. is presently a professor in the music department at the University of New Hampshire, where he conducts the wind symphony and teaches conducting and composition. Under his leadership, the UNH wind symphony has released six recordings and been invited to perform at regional conventions of the College Band Directors National Association and National Association for Music Education. 
 He maintains an active schedule as a composer, receiving commissions from festival, university, and high school concert bands across the United States. Boysen won the International Horn Society Composition Contest in 2000, the University of Iowa Honors Composition Prize in 1991 and has twice won the Claude T. Smith Memorial Band Composition Contest, in 1991 and 1994. Boysen has several published works with the Neil A. Kjos Music Company, Wingert-Jones Music, Alfred Music, Masters Music, and C. Alan Publications. Recordings of his music appear on the Sony, R-Kal, Mark, St. Olaf and Elf labels.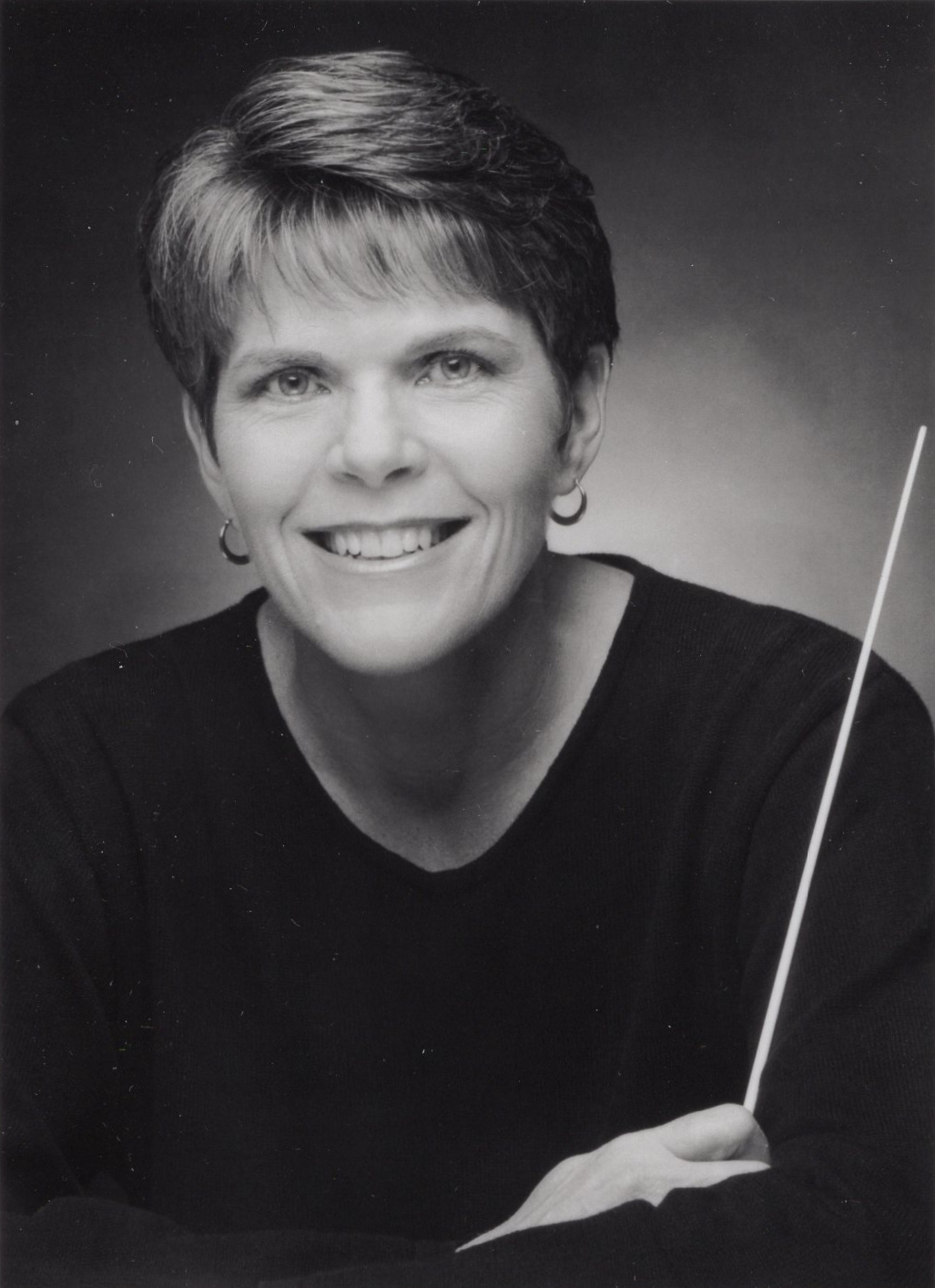 Lt. Col. Virginia Allen (retired), pioneer for women in military bands, highest ranking woman to conduct an ensemble in the Army Band program, and now on the faculty at The Julliard School. Former faculty at The Curtis Institute of Music 
 Virginia Allen is a conductor, music educator, arranger, and consultant in Philadelphia. She is an adjunct faculty member at The Juilliard School, where she also served as the Associate Dean for Administration, the Assistant Dean for Orchestral Studies, and the founding Artistic Director of the Conducting Workshop for Music Educators. At Juilliard, she currently teaches The Art of Teaching in the Music Studio and previously taught conducting, co-founded and conducted The Juilliard Trombone Choir, and served as Executive Director of the Starling-DeLay Symposium on Violin Studies.  
Additionally, Virginia taught conducting at The Curtis Institute of Music and University of the Arts in Philadelphia and at Teachers College, Columbia University in New York City. She continues to teach conducting lessons in her studio and online and is Artistic Director Emerita of the Philadelphia Wind Symphony. She also served as Artistic Director of the Sun Valley Summer Music Workshops in Idaho, where she founded and conducted the Sun Valley Youth Orchestra. 
Prior to teaching on the college level, Virginia enjoyed a 20-year career as a conductor and administrator in the U.S. Army Bands Program and achieved the rank of lieutenant colonel. As a pioneer for women in military bands she was the first woman to command and conduct an active duty military band that integrated women and men when she was appointed principal conductor of the U.S. Army Forces Command Band in Atlanta. As the Associate Conductor of The U.S. Military Academy Band at West Point, she was the first woman conductor of that historic organization, as well as the Cadet Glee Club and Cadet Band. She also performed on stages from the Hollywood Bowl to Europe as the first woman conductor of the Army's premier touring ensembles from Washington, D.C., The U.S. Army Field Band and The Soldiers' Chorus. Her military career included an assignment as the Department of the Army Staff Bands Officer in Washington, D.C., where she managed over 100 Army bands and band activities worldwide. 
Rexroth says, "On Monday, October 12, we will host three-time Emmy winning composer, Julie Giroux. The Wind Ensemble has previously performed two of her works; "One Life Beautiful" and "My Soul to Keep" (with faculty soloist Allison Hull, soprano)."  Here is a bit of information on Ms. Giroux: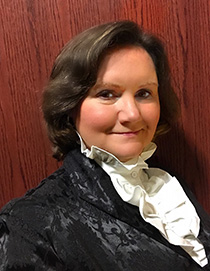 "Julie Giroux began composing commercially in 1984. She was hired by Oscar winning composer Bill Conti as an orchestrator, her first project with Conti being "North & South" the mini-series. With over 100 film, television and video game credits, Giroux collaborated with dozens of film composers, producers, and celebrities including Samuel Goldwyn, Martin Scorsese, Clint Eastwood, Madonna, Liza Minnelli, Celene Dion, Paula Abdul, Michael Jackson, Paul Newman, Harry Connick Jr. and many others. Projects she has worked on have been nominated for Oscars, Emmys, Grammys, and Golden Globe awards. She has won individual Emmy Awards in the field of "Outstanding Individual Achievement in Music Direction". When she won her first Emmy Award, she was the first woman and the youngest person to ever win that award. She has won it three times.
Giroux has also published a large category of classical works with emphasis on original compositions for Wind Band which are published by Musica Propria and distributed internationally. She is greatly sought after as a composer and recently completing her 5th Symphony "Sun, Rain & Wind" which premiered in June, 2018. Her music has been recorded and reviewed internationally receiving top reviews and her music has been performed at major music festivals the world over.
Giroux has been a true force in a male dominated field and has accrued many previously male only awards. She is a member of ASCAP, The Film Musicians Fund, Kappa Kappa PSI, Tau Beta Sigma and a member of the American Bandmasters Association. She is a recipient of the Distinguished Service to Music Medal Award, Emmy Awards and was the first female composer inducted into the American Bandmasters Association in 2009." 
Coming up this semester will be: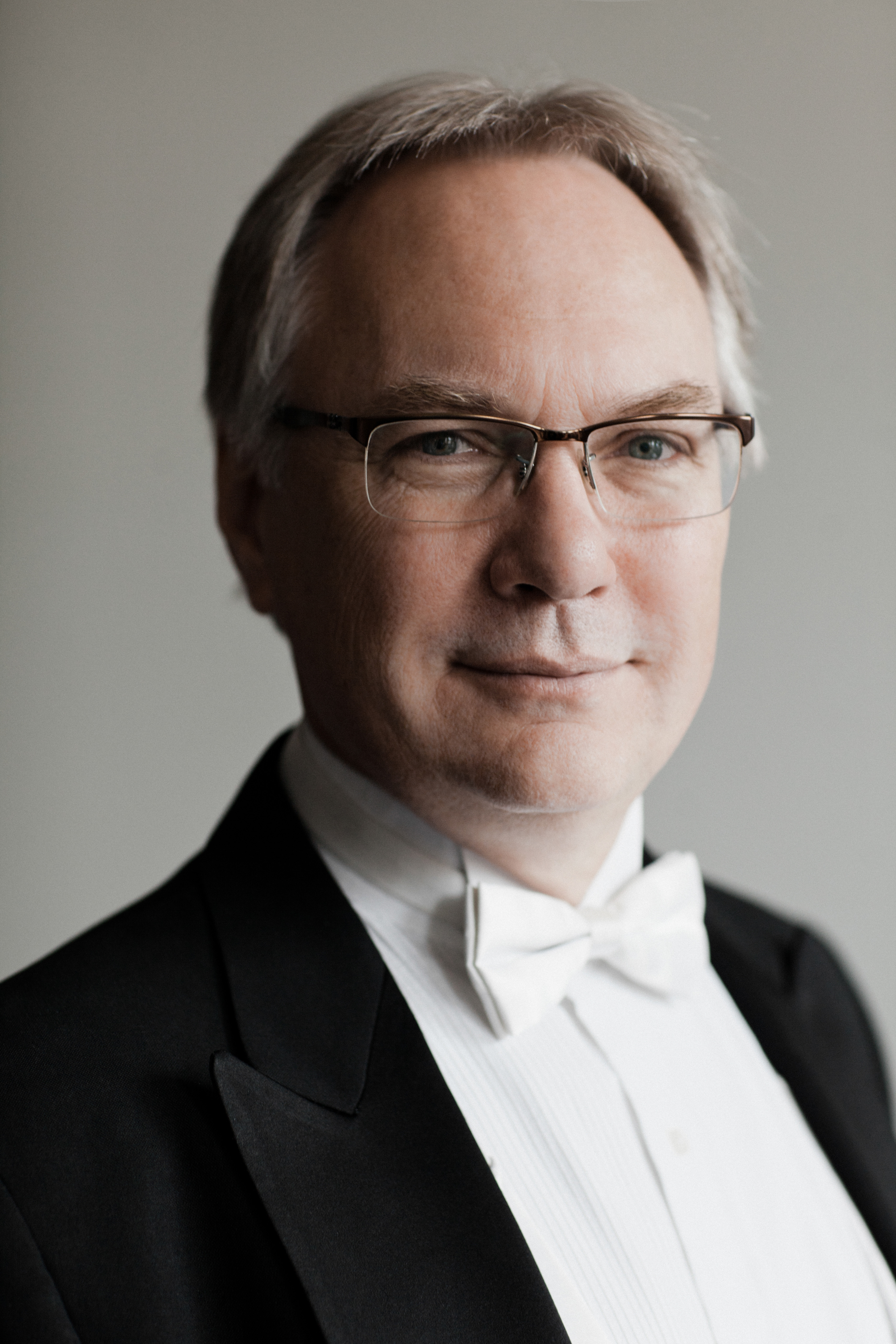 Dr. Timothy Mahr, Professor of Music and Director of Bands at St. Olaf College (MN), and well-known American composer of works for wind band.  
Since the splash of his Fantasia in G 35 years ago, Timothy Mahr's compositions have been performed worldwide, recorded, and broadcast. The first recipient of a commission from the American Bandmasters Association Commissioning Project, Mahr has composed works for the Music Educators National Conference, the United States Air Force Band, the American School Band Directors Association, and the Kappa Kappa Psi/Tau Beta Sigma National Intercollegiate Band. He received the 1991 ABA/Ostwald Award for his work The Soaring Hawk. A professor of music at St. Olaf College, Dr. Timothy Mahr conducts the St. Olaf Band, and has taught courses in composition, music education, and conducting. More info can be found at www.timothymahr.com.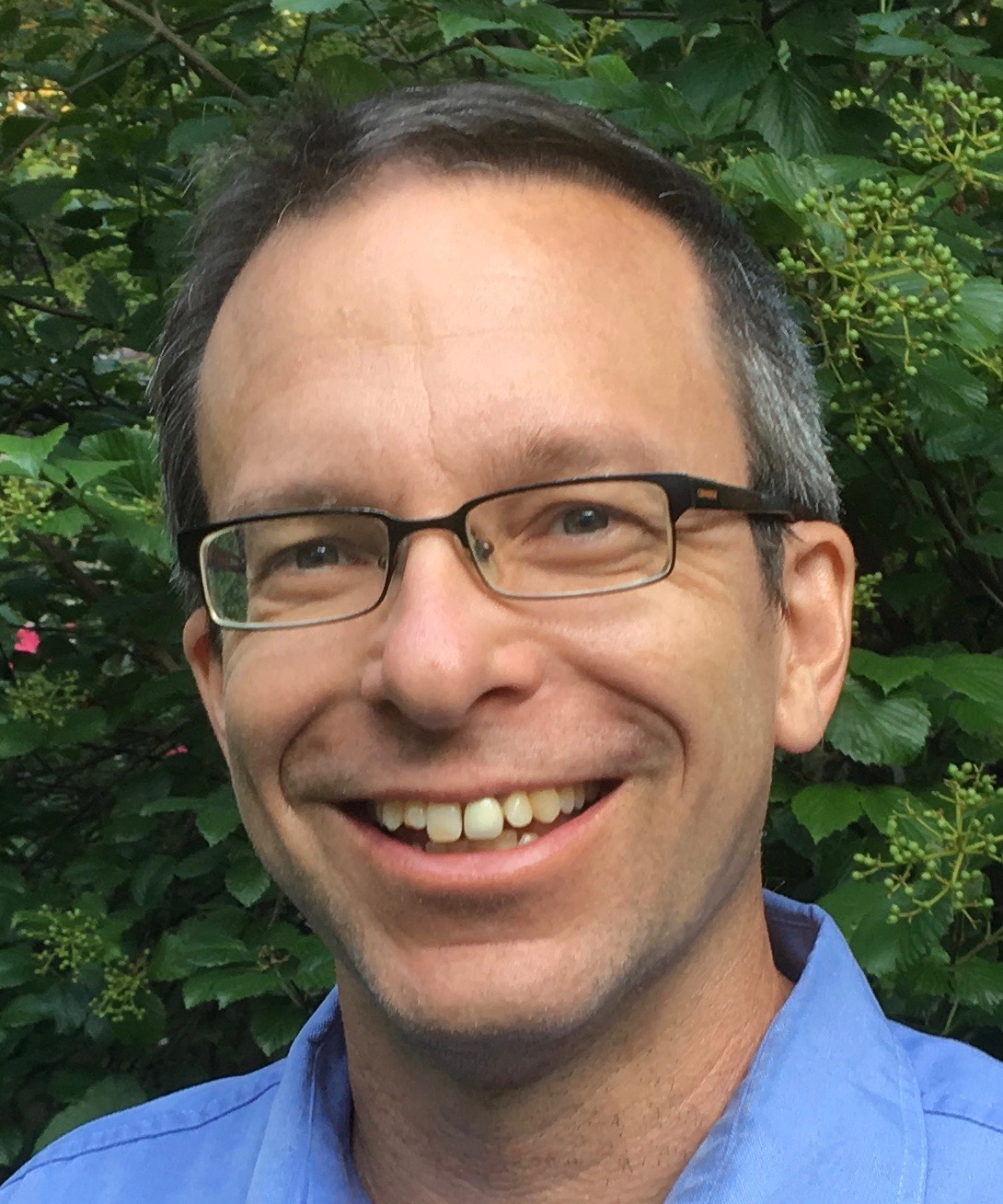 Dr. Steven Taylor, Professor of Composition and Theory at the University of Illinois, co-director of the Illinois Modern Ensemble, American composer:
Stephen Andrew Taylor composes music that explores boundaries between art and science. His first orchestra commission, Unapproachable Light, inspired by images from the Hubble Space Telescope and the New Testament, was premiered by the American Composers Orchestra in 1996 in Carnegie Hall. Other works include the chamber quartet Quark Shadows, commissioned by the Chicago Symphony and premiered in 2001; and Seven Memorials, a half-hour cycle for piano inspired by the work of Maya Lin, featured at Tanglewood in 2006 with pianist Gloria Cheng. The Machine Awakes, a CD of his orchestra, chamber and electronic music was released in 2010 on Albany Records. Paradises Lost, an opera based on a novella by Ursula K. Le Guin, received its Canadian premiere in 2013, conducted by the composer. In 2015 the New York Times called his piano work Variations Ascending, premiered by Ian Hobson, "persuasive and powerful."
Taylor also works with live electronics in pieces such as Inspiral for contraforte and 4-channel surround sound, premiered by Henry Skolnick in South Korea in 2019; and Ocean of Air (2017) for Detroit Symphony principal trombonist Kenneth Thompkins. He conducts the Illinois Modern Ensemble, and has also appeared as conductor with
Sinfonia da Camera, the Nouveau Classical Project, and the Arizona Chamber Music Festival. As a theorist, he has written and lectured on data sonification, György Ligeti, African rhythm, Björk and Radiohead. In popular music he has collaborated on concerts and albums with Pink Martini, rock singer Storm Large, The Von Trapps, and cabaret/performance artist Meow Meow; his arrangements have been performed by orchestras worldwide, including the Oregon Symphony, the Los Angeles Philharmonic, the San Francisco Symphony, the Cleveland Orchestra, the BBC Concert Orchestra, and the Chicago Symphony.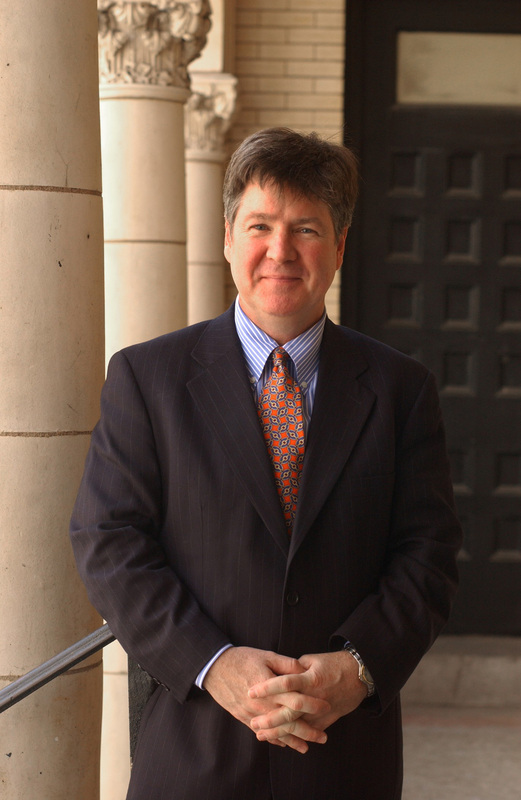 Thomas Duffy, Professor, School of Music, Yale University, Director of Bands, Director of Yale Jazz Initiative, American composer: 
Thomas Duffy has established himself as a composer, a conductor, a teacher, an administrator, and a leader. His interests and research range from non-tonal analysis to jazz, from wind band history to creativity and the brain. Under his direction, the Yale Bands have performed at conferences of the College Band Directors National Association and New England College Band Association; for club audiences at NYC's Village Vanguard and Iridium, Ronnie Scotts's (London), and the Belmont (Bermuda); performed as part of the inaugural ceremonies for President George H.W. Bush; and concertized in nineteen countries in the course of sixteen international tours.
Duffy produced a two-year lecture/performance series, Music and the Brain, with the Yale School of Medicine; and, with the Yale School of Nursing, developed a musical intervention to train nursing students to better hear and identify body sounds with the stethoscope. He combined his interests in music and science to create a genre of music for the bilateral conductor - in which a "split-brained conductor" must conduct a different meter in each hand, sharing downbeats. His compositions have introduced a generation of school musicians to aleatory, the integration of spoken/sung words and "body rhythms" with instrumental performance, and the pairing of music with political, social, historical and scientific themes. He has been awarded the Yale Tercentennial Medal for Composition, the Elm/Ivy Award, the Yale School of Music Cultural Leadership Citation and certificates of appreciation by the United States Attorney's Office for his Yale 4/Peace: Rap for Justice concerts – music programs designed for social impact by using the power of music to deliver a message of peace and justice to impressionable middle and high school students.
From 1996 to 2006, he served as associate, deputy and acting dean of the Yale School of Music. He has served as a member of the Fulbright National Selection Committee, the Tanglewood II Symposium planning committee, the Grammy Foundation Music Educators Award Screening Committee, and completed the MLE program at the Harvard University Institute for Management and Leadership in Education. He has served as president of the Connecticut Composers Inc., the New England College Band Directors Association, and the College Band Directors National Association (CBDNA); editor of the CBDNA Journal; publicity chair for the World Association of Symphonic Bands and Ensembles; and chair of the Connecticut Music Educators Association's Professional Affairs and Government Relations committees. For nine years, he represented music education in Yale's Teacher Preparation Program. He is a member of American Bandmasters Association, American Composers Alliance, the Connecticut Academy of Arts and Sciences, Connecticut Composers Incorporated, the Social Science Club, and BMI. Duffy has conducted ensembles all over the world including his conducting of the 2011 NAFME National Honor Band in the Kennedy Center, Washington, D. C.
***
Media Contact:
Dr. Laura Rexroth
College of Arts and Humanities
University of Wisconsin-Parkside
rexroth@uwp.edu