ANNA MARIA WILLIAMS NATURE TRAIL
As a part of our 50 year celebration, we commemorated the work and life of Dr. Anna Maria Williams through the rededication of the trail she helped establish on campus.  The trail is home to more than 100 trees including 67 species native to Wisconsin and more than half of the 50 state trees in the United States.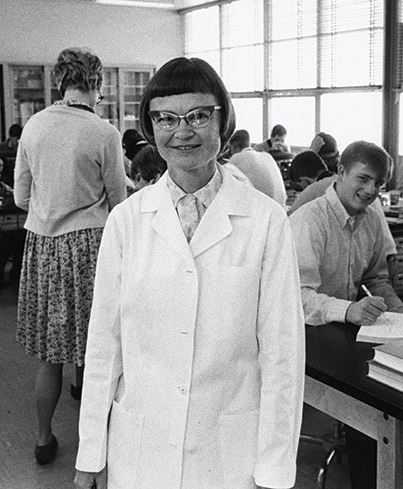 Support the Anna Maria Williams Nature Trail
Your support continues the legacy of Dr. Anna Maria Williams as a dedicated steward of UW-Parkside's popular nature and tree trail, and it improves the trail as an outstanding learning resource for UW-Parkside students and the community.
Gifts of any amount will maintain and enhance the trail throughout the years. You may also donate to have a commemorative tree placed on the Anna Maria Williams Nature Trail, creating a special tribute on our campus.
Commemorative Tree Donations
Provide unique recognition for a friend, loved one, or UW-Parkside colleague through a commemorative tree donation. With your gift of $1,000, UW-Parkside will plant a tree on the Anna Maria Williams Nature Trail and include a plaque recognizing your support.
 
A commemorative tree donation of $1,000 or more supports the cost of purchasing and planting a tree, and it also provides for future tree and trail care.
 
The University reserves the right to adjust the commemorative tree donation amount periodically if needed.
 
Donors may provide recommended commemorative plaque text, within standardized character limits and subject to University approval.
 
Donors may complete their gift over a period of up to two years. Complete funding must be received before the tree is planted and the plaque is installed.
 
The University will determine the tree species and location based on the needs of the trail and both scientific and facilities considerations.
 
For the health of the tree, the University will plant commemorative trees twice each year, spring and fall. Donations received or completed between these times will be held until the next planting time.
 
If a tree dies or must be relocated due to campus needs, the commemorative plaque will be moved to a different tree on or near the trail.