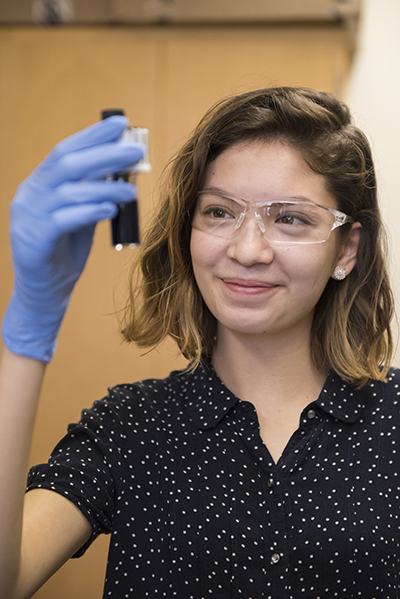 Support Success
Chloe is an 18 year old junior majoring in physics, with her sights set on earning a doctorate in physics and becoming a professor.  She spends most of her time on campus, learning more about science and presenting as a role model for the 2018 GEMS conference.  Scholarships provide the opportunity for students like Chloe to experience more. They are able to focus on being a better student, a stronger leader and focus on their future.
CNHS Student Success
Chloe Teal Calderon  |  Physics Major  |  Junior
I started attending the College of Lake County (CLC) at the age of 15.   I earned an associate's degree in science with an emphasis in biology in the summer of 2017, maintained high honors, won the outstanding scholar award, and graduated as the youngest student that year.  While attending CLC, I was selected to be the first student biology tutor in the school's history.
After transferring to UW-Parkside in the fall 2017 semester, I switched my major from biology to chemistry.  Though I still enjoy learning about biology, I felt that chemistry best aligned with my gifts and talents.  At least this was what I thought until I took General Physics with Dr. Mohazzabi.  Half way into the physics course, I discovered that I have a true passion for physics.  This discovery led me to reach out to both my chemistry and physics professors to help me change my major to physics.  Both Dr. Sauer and Dr. Mohazzabi were exceptionally supportive and went above and beyond in their efforts to assist me in my transition.  I am now currently on track to graduate with my degree in physics in the spring of 2019.
Currently, at age 18, I will be completing my junior year at UW-Parkside this May, while earning standing on both the Provost's and CNHS Dean's list.  My long term goal is to transfer to a graduate school with a strong physics program in pursuit of a PhD in Physics. I then hope to pursue becoming a great physicist and professor like Sir Isaac Newton, James Clerk Maxwell, and Dr. Pirooz Mohazzabi.
Favorite thing about CNHS classes
What I like most about CNHS classes are the professors. Whether classes are large or small, it does not matter, the professors in the CNHS always make themselves available to their students for questions, assistance, wisdom, or propositions to collaborate and conduct research. These top notch professors all look for opportunities to maximize the potential of their students.  They have helped me to grow so much over the past year, not just as a student but as a person. The amount of time that I have spent with my professors to invest in my future is nothing short of extraordinary. They truly care about and have a passion for every student and I consider it an honor to be a recipient of their undying dedication.
Goals for undergraduate degree
My main goal for my undergraduate degree is to get a solid foundation in physics and math. My other goals include, publishing a scientific paper, be a part of the student life on campus, and to take every opportunity to enjoy learning about physics, the subject I am so passionate about.
Plans after graduation
After graduation, I plan on attending graduate school in order to earn a doctorate degree in physics. I love to teach and it has always been a dream of mine to become a professor. The professors at Parkside, especially Dr. Mohazzabi, have been such an inspiration to me. I have so many role models here at Parkside for what kind of professor that I want to become and the person that I want to be.
Fun related to CNHS
In all honesty, I think that all science is fun. Simply learning new things in the classroom is fun to me. I would have to say that the most fun I have as a physics major would have to be in the lab. The concepts that we learn in the classroom become tangible in the lab. It truly is an incredible experience.
I also had a lot of fun as a student panelist for the 2018 GEMS Conference (Girls Empowered by Math and Science) sharing my experience as a student pursing a scientific degree. The young junior high girls had many interesting questions about what it is like to be a female scientist/science student.
Participation in CNHS programs and clubs
I have already participated in research here at UW-Parkside. Over the Winterim 2018 semester, I conducted independent electrochemistry research with Dr. Sauer in the new SC Johnson Integrated Lab and in Dr. Sauer's lab. We studied the capabilities of a new state of the art machine, the ElectraSyn 2.0, to oxidize and reduce pharmaceuticals. The research has possible applications in water purification, space exploration, and more environmentally friendly pharmaceutical drug production. Though I am now a physics major, my experience as an organic chemistry lab researcher was extremely interesting and will help me in my future endeavors to become a physicist. I am also currently conducting mathematical research with Dr. Ibragimov.  We are studying diffusers and flow rates.  Over the summer, Dr. Mohazzabi and I will be working on a very fascinating physics research project that should make the summer fly by.  Time flies when you are having fun. Before I graduate in the spring of 2019, I hope to have published multiple research articles and glean as much as possible from the amazingly talented group of brilliant UW-Parkside professors.