Mural Arts: The Poet (Interview With Adwoa Asentu)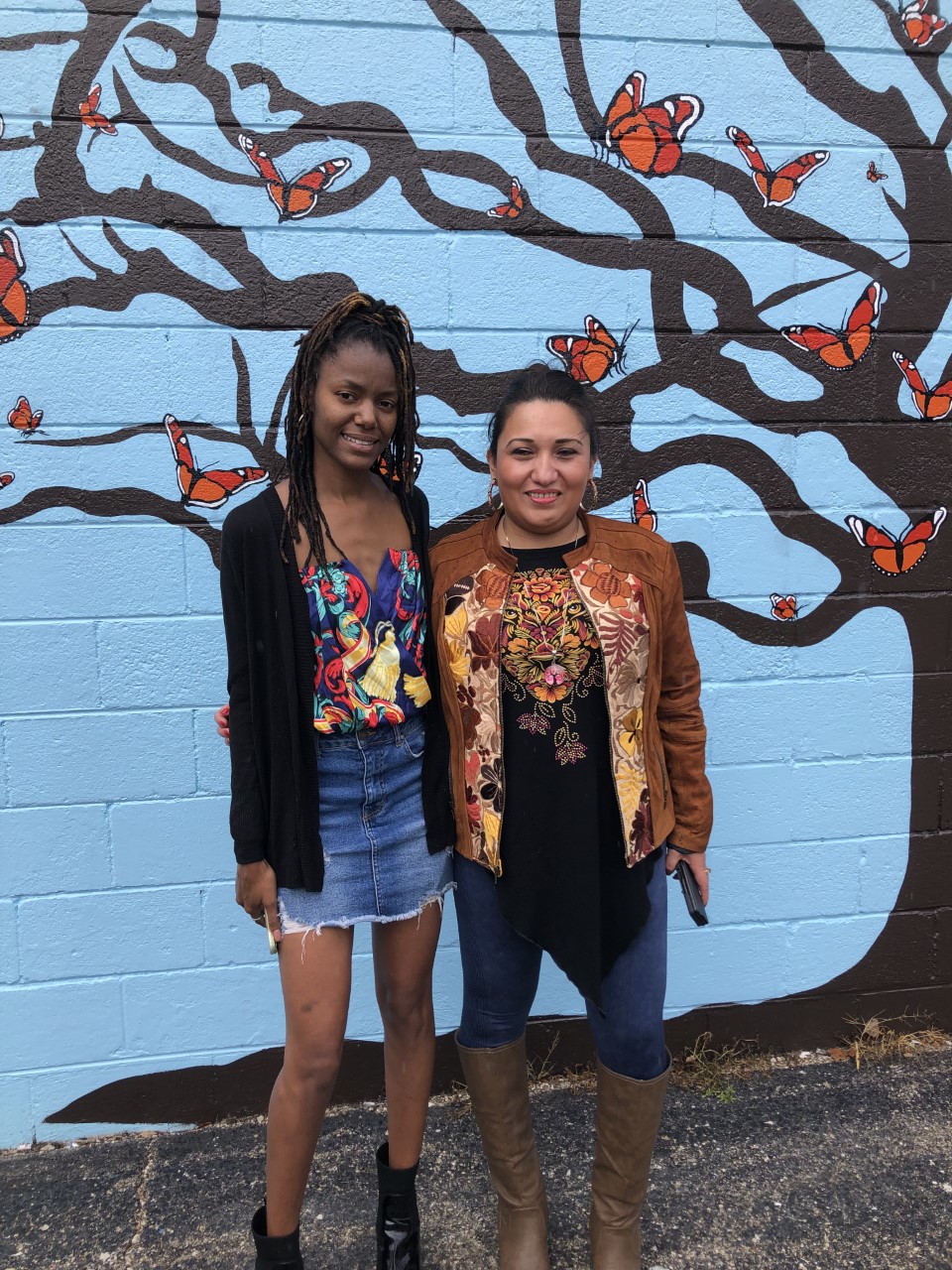 Student: Adwoa Asentu
Major(s): Communications
Minor(s): Ethnic Studies
Class Rank: Class of 2018 
Decemember 2022
"A people without knowledge of their past history, origin, and culture is like a tree without roots." 
-Marcus Garvey 
Poetry and other forms of writing are seldom thought of as art, but words can be powerful when the right person uses them. Adwoa Asentu, UW-Parkside class of 2018, clearly has a grasp of the written arts, which is proven by her poetry being chosen as the subject for the Fourth Racine Wall Poem. In this interview, Asentu shares her side of the art, explaining her words with passion. 
-Let's start with introductions.  
My name is Adwoa Asentu, also known as Britney Woods. I graduated from UW-Parkside; my major was communication and my minor was in ethnic studies. I'm an artist, a poet, and a mother. [I was] born and raised in Racine, Wisconsin. Before I had my child, I was an educator. I taught for about four years at various schools in the Milwaukee-Racine area.  
-What made you want to write poetry? 
My grandmother, who passed away in 2017, was a published playwright and poet. I grew up seeing her write poetry and produce plays. She really inspired me. I didn't start writing poetry until I was in middle school. It started out as a therapeutic outlet for me, a way for me to express thoughts and emotions that I didn't feel comfortable expressing through regular conversation. So that's what really inspired me to write poetry, [it] was just an outlet for expression. 
-Tell me about the process of writing the wall poem. 
The poem that inspired me [was] called We the Trees. I've always loved trees and nature. When I was young, I used to climb trees all the time, but I read an article that talked about the ways that trees communicate through their roots and I just found it really interesting. Reading the article made me think about my ancestors and just thinking about roots, being underground, [and] how it's kind of like a hidden mode of communication for them. That was something that our ancestors had to rely on to survive…those underground hidden ways to communicate with each other, to keep each other alive and safe. 
-What were your main inspirations? 
I pretty much like nature; I spend a lot of time in nature. It's a sanctuary for me. It's where I go to find peace and center myself. Spending time in nature and just meditating. I try to take time every day to just reflect on what I'm grateful for. And oftentimes the contributions of my ancestors come to mind. And just thinking about like, all they had to go through and sacrifice so that I could be here. At the beginning of the poem, I share a quote from Marcus Garvey, which I don't do in a lot of my poems. 'A people without knowledge of their past history, origin, and culture is like a tree without roots.' I really love Marcus Garvey. He's a historical figure that I feel we should learn more about in school because he did so much for the liberation of black people. 
-What was your reaction when you were chosen for the Wall Poem? 
I was just very grateful and honored. It always feels good to have your work acknowledged and recognized. As artists, we don't do it for recognition, but when you see that people are inspired by what you do and feel like you're good at it, that is a great feeling, you know? Especially coming from people from my city, the city where I was born and raised. It meant a lot to me. 
-What was your reaction to Janet's mural design? 
Overjoyed. Really overjoyed. I don't believe in coincidences. I feel like everything is like divine alignment. Whenever I see something and it aligns with something else, I'm like, wow, that's God speaking. My grandmother, as I said, she was a published playwright and poet. She did a lot of plays in the Racine area, and she never received any public recognition other than people would come out to see her stuff. But my grandma loved butterflies. She had butterflies all over her home. She even got a butterfly tattoo when she was 50 years old, with my initials and my older sister's initials in them. So whenever I see butterflies, I immediately think of my grandmother. I went to see the mural and to see all these butterflies, I was…brought to tears. 
Maurice Campbell 
Content Writing Intern
Office of Community & Business Engagement