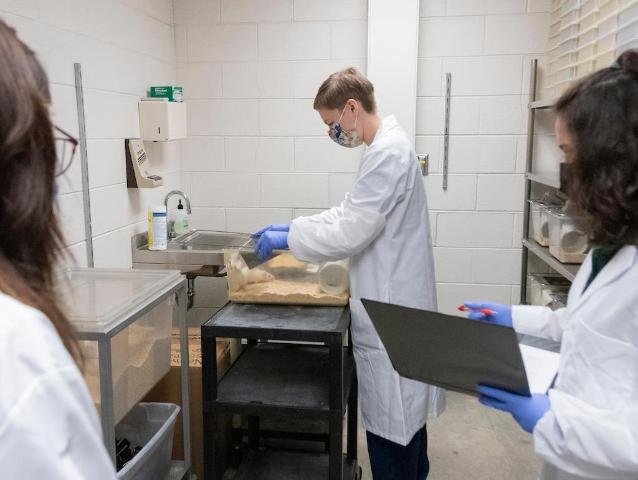 Student: Megane Beaupre  
Major: Applied Health Science  
Minor: Chemistry   
Student: Markie Peroutka 
Major: Psychology  
Minor: Biology & Chemistry
[Miranda Johnson was not interviewed but is a part of team] 
April 2022
University of Wisconsin-Parkside Junior, Megane Beaupre, along with Sophomore, Markie Peroutka has assisted Professor Rivero Covelo in conducting a focused study on rats and their consumption habits. The research has been ongoing for the last two years at the Animal Care Facility on campus. 
"To better understand the psychological and neurobiological mechanisms that might render ­one more susceptible to food overconsumptions or under consumptions this work will lead to therapeutic interventions for conditions ranging from obesity to anorexia nervosa." 
Faced with time-restraints due to COVID restrictions, Megane has spent time studying similar experiments and scholarly reports to expand her knowledge on the objectives of Professor Covelo's research. 
Markie joined the team in the summer of 2021, after discussing her interests with Megane while both volunteering at the Spring 2021 graduation ceremony.  
"I'm excited to be able to be a part of a research study at such a young age." 
After being required to complete an animal care certificate, and accept the specifications of the tests, the team is closely supervised by Professor Rivero Covelo. Megane and Markie have assisted in properly administering injections and providing efficient care for the 12 rats for their research. 
Spending countless hours examining the rats as they reside at the Animal Care Facility, Megane and Markie are excited to eventually see changes within the next few months. 
"I just think it'll be interesting to see how their personalities and their behaviors are affected by the viruses we inject in them." Megane states.
"I think the brain is a super powerful organ" Markie says, sharing the same sense of excitement as Megane with their lab research. 
With the high impact practice of lab research, Markie has been able to create better work habits of time management, team building abilities, and communication skills. Weekly updates amongst the small group are crucial to ensuring tasks are being completed to confirm the environment is always safe for both students and rats. 
Megane has become better with organizing the lab and has made frequent connections to her experiences as a pre dental student, as she has witnessed similarities of oral surgeries to the procedures performed on the rats. 
Currently the team is carefully documenting observations with the 12 rats' eating and drinking behaviors. 
"To be able to study the reactions to these viruses, and potentially gain a better understanding of how these circuits work in the brain […] we can figure out a way to help people who are suffering from these concepts." - Markie 
Once there has been enough information that has been acknowledged, the rats' brains will be examined to discover any reactions that had occurred due to the injected viruses. 
"[dissections] are for the greater good, because you know, if this [could be] the beginning to discover what happens to your brain when someone is anorexic or binge eating." -Megane 
Bridget Stella
Multi-Media Communication Intern
Office of Community & Business Engagement