Zaid Altahat, Dr.
Assistant Professor
Computer Science Department
Ph.D., Illinois Insititute of Technology, 2010
PHONE: (262) 595-2314
EMAIL: altahat@uwp.edu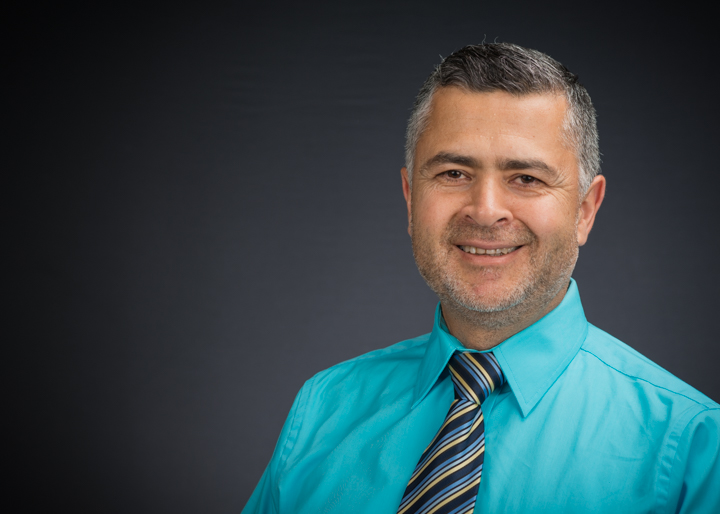 AREAS OF EXPERTISE
Software Engineering
Mobile and web apps
Cloud Computing
Healthcare
Telecom
Zaid joined UW–Parkside as an Assistant Professor in the Computer Science department and the director of the App Factory in 2016. He earned his Ph.D. in Computer Science/Software Engineering from the Illinois Institute of Technology in Chicago in 2010. Prior to joining Parkside, Zaid worked in the industry for close to 20 years for companies such as GE Healthcare, Motorola, Baxter, UniquSoft, and ComEd. Zaid's experience has been in Software Engineering, Mobile and web apps, Cloud Computing, Healthcare, and Telecom.
Publications
Selected Publications
2020: Algae Estimator, MICS: Midwest Instruction and Computing Symposium
2020: BLE Scanner App, UWP Students Showcase
2020: Cloud-Based Software Tool to Help Open-Source Computing Community with The Detection of Source Code Vulnerabilities and Insecure Patterns, MICS: Midwest Instruction and Computing Symposium
2020: Deep Insight And Analytics Into the Git Repositories, o EIT: 20th Annual IEEE INTERNATIONAL CONFERENCE ON ELECTRO INFORMATION TECHNOLOGY
2020: EDUCATIONAL And OUTREACH WEBSITE FOR SOLAR ENERGY, o EIT: 20th Annual IEEE INTERNATIONAL CONFERENCE ON ELECTRO INFORMATION TECHNOLOGY
2020: Git Tracker, UWP Students Showcase
2020: Greenridge Cemetery Apps, UWP Students Showcase
2020: Hawthorn Hollow Mobile Apps, UWP Students Showcase
2020: Insights and Analytics from Git Repositories, 18th UW System Undergrad "Research in the Rotunda"
2020: Insights and Analytics from Git Repositories, NCUR-National Conference on Undergraduate Research
2020: Prexo - US Presidents Executive Orders, UWP Students Showcase
2020: Scalable Cloud-Based Tool to Empirically Detect Vulnerable Code Patterns in Large-Scale System, o EIT: 20th Annual IEEE INTERNATIONAL CONFERENCE ON ELECTRO INFORMATION TECHNOLOGY
2020: Static Analysis Cloud-Based Software Tool for Source Code vulnerabilities Detection in Large-Scale Systems, UW System Symposium for undergraduate research, scholarly and creative activity
2020: Quality of Service Provision within IEEE 802.11 CSMACA Protocol, Future of Information and Communication Conference (FICC) 2020 (313-319 pp.)
2019: Deep Insight And Analytics Into the Git Repositories, Midwest Instruction and Computing Symposium (5 pp.)
2019: The Detection of Software Security Vulnerabilities Through the Usage of Unsafe Functions, Midwest Instruction and Computing Symposium (5 pp.)
2018: Cloud-Based Source Code Security and Vulnerabilities Analysis Tool for C/C++ Software Systems, IEEE INTERNATIONAL CONFERENCE ON ELECTRO INFORMATION TECHNOLOGY
2018: Quality of Service Implementation within IEEE 802.11 DCF Interframe Space, Midwest Instruction and Computing Symposium (MICS)
2017: Software Engineering Education - Present and Future, Midwest Instructional Computing Symposium
Selected Awards & Honors
Teaching Awards
2020: The Smart Cities-Smart Futures Competition is an opportunity for college students, faculty and staff to bring their innovative ideas to life. This competition offers a platform where people throughout Wisconsin can submit technology-based inventions, software, applications, and ideas and compete for cash prizes, national recognization, employment opportunities and more., Smart Cities – Smart Futures Awards, FoxConn
2019: The award was a recognition of the research we performing on "Empirically Examining the Source Code Security and Vulnerabilities in General-purpose Software Systems". This was in addition to the grant we received from the board of regents., Regent Scholar, UW Board of Regents
Research/Creative Awards
2019: The award was a recognition of the research we performing on "Empirically Examining the Source Code Security and Vulnerabilities in General-purpose Software Systems". This was in addition to the grant we received from the board of regents., Regent Scholar Award, UW System - Board of Regent
Key Service Activities
Departmental Service
: Program Organizer - Internship liason
College Service
2019: Faculty Mentor - ITPC: IT Practice Center
2018: Faculty Mentor - ITPC: IT Practice Center
2017: Faculty Mentor - ITPC: IT Practice Center
2016: Faculty Mentor - ITPC: IT Practice Center
University Service
2020: Workshop Organizer - Big Idea Competition 2019
2019: Task Force Member - Marshall for the Commencement of 2018
2019: Workshop Organizer - Big Idea Competition 2019
2018: Guest Speaker - Foundation Board Meeting
2018: Task Force Member - Marshall for the Commencement of 2018
2018: Workshop Organizer - Big Idea Competition 2018
2017: Guest Speaker - convocation Discussion panel
Professional Service
2019: Other - Steering Committee: Consortium for Computing Sciences in Colleges - CCSC
2019: Other - Web Master: Consortium for Computing Sciences in Colleges - CCSC-2019
2018: Other - Steering Committee: Consortium for Computing Sciences in Colleges - CCSC
2018: Other - Web Master: Consortium for Computing Sciences in Colleges - CCSC-2018
2017: Other - Web Master: Consortium for Computing Sciences in Colleges - CCSC
2017: Other - Steering Committee: Consortium for Computing Sciences in Colleges - CCSC
UW System Service
2019: Committee Member - WiSys AppStart Competition
Public Service
2020: Other - Hawthorn Hollow Nature & Sanctuary
2020: Other - Mobile apps for Abbie Merrill
2020: Other - Mobile apps for Dr. Hedda Sanders
2020: Other - Mobile apps for Green Ridge Cemetery
2017: Board Member - Consortium for Computing Sciences in Colleges
Courses Taught
CIS 524 - Mobile Development in iOS
CIS 623 - MOBILE DEVELOPMENT II
CIS 669 - EMBEDDED SYSTEMS DESIGNS
CIS 675 - SOFTWARE ENGR PRINCPL/PRACT I
CIS 675 - Software Engr Princpls/Pract I
CIS 676 - SOFTWARE ENGINRING/PROJECT MGT
CIS 676 - Software Enginrng/Project Mgt
CIS 690 - SPECIAL TOPICS IN CIS:
CIS 799 - INDEPENDENT STUDY
CSCI 291 - Makerspace Seminar
CSCI 324 - Mobile Development in iOS
CSCI 423 - MOBILE DEVELOPMENT II
CSCI 469 - EMBEDDED SYSTEMS DESIGN
CSCI 475 - SOFTWARE ENGR PRINCPL/PRACT I
CSCI 475 - Software Engr Princpls/Pract I
CSCI 476 - Software Engr Princpl/Pract II
CSCI 490 - SPECIAL TOPICS IN COMPUTR SCI:
CSCI 490 - SPECIAL TOPICS-COMPUTER SCI:
CSCI 493 - Internship
CSCI 499 - INDEPENDENT STUDY: