Sahar Bahmani
Professor - Finance
Business Department
Ph.D., University of Wisconsin at Milwaukee, 2007
PHONE: (262) 595-2421
EMAIL: bahmani@uwp.edu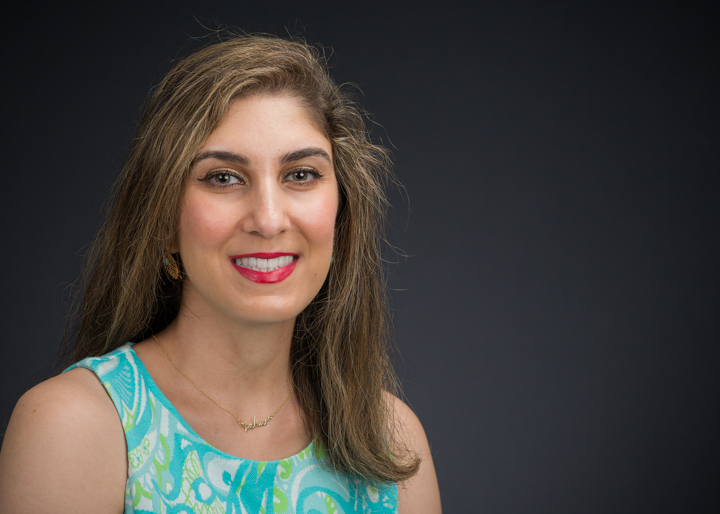 Dr. Bahmani is an Full Professor of Finance at the University of Wisconsin-Parkside. She received her B.A. in Economics and Political Science from UW-Madison in 2003, her M.A. in Economics in 2004 from UW-Milwaukee and her Ph.D. in Economics in 2007. She has taught previously at the business schools of UW-Milwaukee, UW-Whitewater, and Marquette University.

Currently she teaches MBA courses: Investments, International Financial Management and Management of Financial Institutions. She teaches undergraduate courses in the department of business on Corporate Finance and Security Analysis & Portfolio Management. 2003 through 2019, before moving to Finance - she taught in the department of economics: Introduction to Economics, Microeconomics, Macroeconomics, Intermediate Macroeconomics, Econometrics, Business Statistics, Environmental Economics, Financial Institutions and Markets, Industrial Organization, Managerial Economics, Money and Banking, and International Economics.

Professor Bahmani has published over 50 articles on money market dynamics in such journals as Empirical Economics, Journal of Economics and Finance, Journal of Developing Areas, Journal of Emerging Market Finance, Economics Bulletin, and Applied Economics.
Teaching, Research/Creative & Consulting Interests
Teaching Interests
I have been teaching since August 2003. I enjoy teaching Introduction to Economics, Principles of Microeconomics, Principles of Macroeconomics, and Intermediate Macroeconomics. I have also taught Managerial Economics, Money and Banking, Economics of Environmental Sustainability, Financial Institutions and Markets, International Monetary Relations and Industrial Organization. Teaching Business Statistics has also been a rewarding experience at the undergraduate level and I have taught Advanced Econometrics at the graduate level as well as International Financial Management.
Research Interests
My research lies within macroeconomics as well as monetary economics. Since I dealt with developing countries in addition to developed countries, in my dissertation, I have an interest in applying recent econometric advances to developing countries as well. My research is applied and I enjoy applying relatively new techniques, especially time-series methods, such as cointegration and error-correction modeling methods, to different topics in money-macro related issues. A sample of my published papers will reflect this fact.
Consulting Interests
Publications
Selected Publications
2019: Paper 36 "On the Asymmetric Effects of Exchange Rate Changes on the Demand for Money: Evidence from Emerging Economies,", Journal of Emerging Market Finance (1-22 pp.)
2018: Paper 33 The Innovation-Growth Nexus Link in OECD Countries: Could Other Macroeconomic Variables Matter, Technology in Society
2018: Paper 32 "Developing a Reliable and Valid Assessment Tool for Online Classes" , Assessment Update
2017: Paper 28 "Do Exchange Rate Changes Have Symmetric or Asymmetric Effects on the Demand for Money in Turkey?, Applied Economics (4261-4270 pp.)
2017: Paper 30 Financial Depth and the Trade Openness - Economic Growth Nexus: Evidence from Cross-Country Panel Data , Journal of Economic and Administrative Sciences (20-45 pp.)
2017: Paper 27 "Broadband Penetration, Financial Development and Economic Growth Nexus: Evidence from the Arab League Countries" , Macroeconomics and Finance in Emerging Market Economies (151-171 pp.)
2017: Paper 25 "Insurance-Growth Nexus and Two Other Macroeconomic Determinants: Evidence from Cross Country Panel Data" , Empirical Economics (1137-1366 pp.)
2017: Paper 26 "ICT- Finance- Growth Nexus: Empirical Evidence from Next-11 Countries," , Cuadernos de Economía (an Elsevier journal) (115-134 pp.)
: Paper 29 "Finance and Growth: Evidence from the ARF Countries" (with Pradhan Rudra, Mak Arvin, John Hall and Robert Neville) , The Quarterly Review of Economics and Finance (136-148 pp.)
2016: Paper 23 Asymmetric Effects of Exchange Rate Changes on the Demand for Money in China" , Applied Economic Letters (1104-1109 pp.)
2016: Paper 24 "The Rial-Dollar Exchange Rate and Purchasing Power Parity Theory" , Cyrus Chronicle Journal (17-22 pp.)
2016: Paper 22 "Improved Critical Thinking in Students Using Current Events Journaling", International Journal of Sociology and Social Policy
2016: Paper 21 "The Relationship between Telecommunications Infrastructure, Gross Capital Formation, and Economic Growth: Evidence from Time Series Data", International Journal of Technology Management (157-176 pp.)
2015: Paper 19 The Dynamics of Insurance Sector Development, Banking Sector Development and Economic Growth: Evidence from G-20 Countries, Global Economics and Management Review ( pp. 16-25 pp.)
2015: Paper 17 Policy Uncertainty and the Demand for Money in the United Kingdom, (1151-1157 pp.)
2015: Paper 20 ''Causal Nexus between Economic Growth, Inflation, and Stock Market Development: The Case of OECD Countries", Global Finance Journal (98-111 pp.)
2015: Paper 16 "Assessing the Effect of Quantitative Easing on Foreign Direct Investment in Brazil" , The American Economist (176-182 pp.)
2015: Paper 18 "Non-Linear ARDL Approach and the Demand for Money in Iran" , Economics Bulletin (1-11 pp.)
2014: Paper 13 "Monetary Uncertainty and Demand for Money in Korea" , Asian Economic and Financial Review (317-324 pp.)
2014: Paper 14 "The Development of Telecommunications Infrastructure and Economic Growth: Using Causality and Missing Variables for the G-20 Countries, 2001-2012", Journal of Comparative Policy Analysis (401-423 pp.)
2014: Paper 14 "The Development of Telecommunications Infrastructure and Economic Growth: Using Causality and Missing Variables for the G-20 Countries, 2001-2012" , Journal of Comparative Policy Analysis
2014: Paper 12 "On The Housing Market and U.S. Economic Recovery", The Journal of American Academy of Business, Cambridge (139-145 pp.)
2013: Book Chapter 10 "The Rial-Dollar Rate: Does it Revert to Its Mean?" , Nova Publishing Company (223-231 pp.)
2013: Book Chapter 8 "Exchange Rate Volatility and the Demand for Money in China," , Nova Publishing Company (1-10 pp.)
2013: Book Chapter 9 "Does Nominal Devaluation Lead to Real Devaluation: Evidence from Emerging Economies," , Nova Publishing Company (89-98 pp.)
2013: Paper 11 Exchange Rate Volatility and the Demand for Money in Less Developed Countries, Journal of Economics and Finance (442-452 pp.)
2013: India's Economic Growth, Forum Views: Bombay Stock Exchange Newsletter (50-51 pp.)
2012: Book Chapter 4 "Women, Research and Entrepreneurship" in Women's Entrepreneurship and Economics. , Springer Publishing ( pp. 35-52 pp.)
2012: Book Chapter 5 "Exchange Rate Volatility and the Demand for Money in Thailand" in Thailand: Economic, Political and Social Issues – Volume 2. Editor: Randle C. Zebioli. NOVA Publishing Company, New York. 2012, Chapter 4, pp. 73-86. (with Mohsen Bahmani-Oskooee), Nova Publishing Company (73-86 pp.)
2012: Book Chapter 6 "Corruption and Economics" in Progress in Economics Research – Volume 26. Editor: Albert Tavidze. NOVA Publishing Company, New York. 2012, Chapter 7, pp. 145-158. (with Mohsen Bahmani-Oskooee), Nova Publishing Company (145-158 pp.)
2012: Book Chapter 7 "Monetary Uncertainty and the Demand for Money in the U.S.", in Economics of Innovation, Incentives and Uncertainty. Edited by Patrick E. Simmons and Samuel T. Jordan. Nova Publishing Company, New York, 2012, Ch. 9, pp. 167-176. (with M. Bahmani-Oskooee). , Nova Publishing Company (167-176 pp.)
2012: Paper 10 "Exchange Rate Volatility and Demand for Money in Iran" , International Journal of Monetary Economics and Finance (268-276 pp.)
2012: Paper 7 Non-Profit Organizations, Entrepreneurship, Social Capital and Economic Growth, Small Business Economics (271-281 pp.)
2012: Paper 8 Wage-Price Flexibility, Exchange-Rate Flexibility, Capital Controls and the Adjustment Speed in the Money Market, Journal of Developing Areas (359-366 pp.)
2012: "Long Run Economic Growth Suffers as Wisconsin Public Schools Suffer Budget Cuts, Science Journal of Economics, Vol. 2012, ISSN: 2276-6286, Article ID sje-283., Science Journal of Economics
2011: Book Chapter 2 "The Demand and Supply of Higher Education Impacting Unemployment" in Higher Education in a State of Crisis. , NOVA Publishing Company (1-22 pp.)
2011: Book Chapter 3 "The Convergence Hypothesis of Economic Growth Displayed in Advanced Economies" in Theories and Effects of Economic Growth, NOVA Publishing Company (159-172 pp.)
2011: Paper 5 The Global Impact of Worldwide Unemployment Rates, International Advances in Economic Research (236-237 pp.)
2011: Paper 6 The Heated Debt Ceiling Debate: The Summer of 2011, International Journal of Business and Social Science (239-242 pp.)
2010: Paper 4 How Stable is the Demand for Money in Emerging Economies, Applied Economics (3307-3318 pp.)
2010: Paper 3 Openness and the Speed of Adjustment, Journal of Economics and Finance (218-227 pp.)
2008: Paper 2 The Stability of the Demand for Money in the Middle East, Emerging Markets Finance and Trade (62-83 pp.)
2007: Paper 1 Do Budget Deficits Follow A Linear or Non-Linear Path? , Economics Bulletin (1-9 pp.)
2006: Book Chapter 1 "Political Rights, Civil Liberties, and Economic Growth," in Next Economic Growth: New Factors and New Perspectives, NOVA Publishing Company (1-10 pp.)
Selected Awards & Honors
Teaching Awards
2019: o Faculty College May 29-31, 2019 UW-Platteville Richland Center
o Summer Institute June 10-14, 2019 Madison Concourse Hotel
o Winter Institute, January 13-14, 2020 Madison Concourse Hotel
o Final WTFS Meeting April 15, 2020 Memorial Union, Madison
o Spring Conference April 16-17, 2020 Memorial Union Madison (present)
, Selected as the Wisconsin Teaching Scholar for 2019-20 academic year, OPID
2019: • Badge Details: I completed ALL 25 online modules from ACUE's comprehensive Course in Effective Teaching Practices. Addressing the essential pedagogical skills and knowledge in five units of study, the course prepares college instructors to use the research-based techniques shown to help students succeed. The course's innovative online design helps colleges and universities put great teaching at the heart of their student success plans, Earned Certificate in Effective College Instruction from The Association of College and University Educators and the American Council on Education , ACUE
2017: • April 2017 Nominated by a student for the Stella Gray Teaching Excellence Award (see file for actual hard copy of nomination letter from anonymous student), Stella Gray Teaching Excellence Award nominee, UWP
2012: Selected as Wisconsin Teaching Fellow for 2013-2014, awarded by OPID (Office of Professional and Instructional Development),
2011: Winner of the 2011 Charles R. Gibbs Faculty Award in the College of Business Administration at Georgia Southern University, 2011 Charles R. Gibbs Faculty Award in the College of Business Administration at Georgia Southern University, Georgia Southern University
Research/Creative Awards
2017: • March 2015 I was nominated for the CRCA Faculty Research award by Farida Khan (the recipient of the CRCA Faculty Research award for 2014), CRCA Annual Research Award, University of Wisconsin at Parkside
2017: For the Spring Semester February-May 2017, was awarded my first sabbatical for the semester, Sabbatical Awarded, University of Wisconsin-Parkside
Key Service Activities
Departmental Service
2019: Faculty Advisor - I become Econ Club Advisor 2012
University Service
: - Member of the Committee on Teaching and Learning
2018: - University Athletic Board Member
2018: Other - I am serving a 3 year term as our campus OPID representative to be an OPID Council Member
2015: Committee Chair - Committee on Teaching and Learning
Professional Service
: Editor, Journal Editor - Journal of Economic Studies
: Editorial Review Board Member - International Journal of Financial Research
: Editorial Review Board Member - Journal of Agriculture and Sustainability
: - Reviewer for Journal of Education Research
: Editorial Review Board Member - Journal of Economics and Development Studies
: - Reviewer for the International Journal of Humanities and Social Sciences
: - Reviewer for the African Journal of Business Management
: Editorial Review Board Member - Journal of Agricultural Studies
: Editorial Review Board Member - Journal of Reviews on Global Economics
: Editorial Review Board Member - International Journal of Public Policy (IJPP)
: Editorial Review Board Member - International Journal of Happiness and Development
2017: - Associate Editor, 2015-2018, for Journal of Agricultural Studies
2014: Editorial Review Board Member - Associate Editor, Editorial Board Member and Reviewer for International Journal of Business Administration
2014: Editor, Journal Editor - Editor In Chief of Journal of Business and Economic Research
2013: Editor, Book - Editor of Financial Markets: Recent Developments, Emerging Practices and Future Prospects
Public Service
2016: - Director for the Center for Economic Education
2014: Guest Speaker - "Purse-Onal Finance" Workshop that I gave
2013: Guest Speaker - EconomicsWisconsin 24th Annual Meeting of the Association of School Economics Teachers (ASET) at Miller Park, Milwaukee, WI
2013: Guest Speaker - EconomicsWisconsin
2013: Guest Speaker - EconomicsWisconsin
2013: Guest Speaker - EconomicsWisconsin
2013: Attendee, Meeting - National Council of Economics 52nd Annual Financial Libteracy and Economic Education Conference
Courses Taught
BAEF 300X - CAPITAL BUDGETING TECHNIQUES
BAEF 301X - STOCK MARKET PERFORMANCE
BAEF 302X - BUS FINANCIAL RATIO ANALYSIS
ECON 121 - PRINCIPLES OF MACROECONOMICS
ECON 290 - SPECIAL TOPICS IN ECONOMICS
ECON 303 - ECON DISCRIMINATN BANKING (DV)
ECON 321 - INTERMEDIATE MACRO THEORY
ECON 366 - MONEY AND BANKING
ECON 367 - FINANCIAL INSTITUTIONS/MARKETS
ECON 402 - INTERNATIONAL ECONOMICS
ECON 492 - RESEARCH EXPERIENCE ECON
ECON 492 - RESEARCH EXPERIENCE-ECONOMICS
ECON 494 - ECONOMICS INTERNSHIP
ECON 499 - INDEPENDENT STUDY
ECON 499 - INDEPENDENT STUDY:
ECON 566 - MONEY AND BANKING
ECON 567 - FINANCIAL INSTITUTIONS/MARKETS
ECON 602 - INTERNATIONAL ECONOMICS
FIN 330 - MANAGERIAL FINANCE
FIN 435 - SECURITY ANALYS/PORTFOLIO MGT
INTS 499 - INDEPENDENT STUDY
INTS 499 - INDEPENDENT STUDY:
MBA 512 - FNDTNS IN STATISTICS/ECONOMIC
MBA 512 - FOUND IN STATISTICS & ECONOMIC
MBA 733 - INVESTMENTS
MBA 735 - INTERNATIONAL FINANCIAL MGMT
MBA 735 - INTERNATIONAL FINANCIAL MGT
MBA 735 - INTERNATIONAL FINANCIAL MNGT
MBA 739 - FINANCIAL INSTITUTION MANAGMNT