Lisa "Lisa Marie" Barber, MFA
Professor, Art / Director, Liberal Studies / Academic Director, UW Collaborative AAS
Art and Design Department
MFA (master of fine arts), University of Texas at Austin, 1998
PHONE: (262) 595-2707
EMAIL: barberl@uwp.edu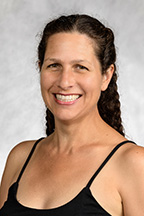 AREAS OF EXPERTISE
Artist
Ceramic Sculpture and Pottery
Mexican American Art
Mixed Media Quilts, Wearable Art, and Fiber Art
Drawing and Figurative Art
I am originally from Tucson, AZ and in 2003 moved from the San Francisco Bay Area to Kenosha to begin my professorship at the University of Wisconsin-Parkside. I exhibit nationally, including solo shows in New York City, California, and the Milwaukee-Chicago region. My work has been featured and reviewed in several publications, including American Craft, Ceramics Monthly, National Council on Education in the Ceramic Arts (NCECA), and several Lark Craft books. I've given workshops, lectures, and classes at various professional venues around the country, and I've held Artist-in-Residence positions at City University of New York - Hunter College, Watershed Center for Ceramic Arts, Northern Clay Center (as a McKnight awardee), Clay Studio of Missoula, University of Arizona, Mendocino Arts Center, Kimmel Harding Nelson Center for the Arts, and Works San Jose.

More information about my exhibitions and related activities can be found on my website: www.LisaMarieBarber.com
Teaching, Research/Creative & Consulting Interests
Teaching Interests
I truly enjoy having a career where I can create artwork and encourage others to do the same. I feel very fortunate to work with the variety of students present at UW-Parkside, whether they are art majors/minors or just taking my courses for enrichment or General Education credit.

In my art courses, I strive to give students very flexible parameters to create whatever interests them while also providing technical information and constructive feedback. I aim to create a studio environment that is fun and supportive. I work every day to be a sounding board, cheerleader, and helpful mentor to students' various artistic and professional endeavors.
Research Interests
My aesthetic sensibility is rooted in Central American Folk Art and the Mexican Catholic shrines of my heritage and upbringing. During my childhood in Tucson, Arizona, this was the artwork I knew and I practiced making creations in similar ways. Whether it was through my novice interpretation or some forgotten informal training I received at the time, I came to believe that ornamentation and excess denoted value and importance. Materials weren't required to be "fine" and tools were expected to be simple. Evidence of "the hand" (the maker) was never something to be self-conscience of or craftily removed. Throughout my life, I've remained loyal to this style of making.

The majority of my studio practice consists of creating large-scale ceramic sculptures from recycled clay multi-fired with ceramic materials at low temperatures. I also create large mixed-media quilts where I employ various drawing, dyeing, printing, and applique techniques.

My works encompass imagined conceptions of home, gardens, peacefulness, playfulness, and celebration. Although the majority of my studio practice consists of creating large ceramic sculptures, I also create mixed-media quilts.

Regardless of material, my embedded concepts and style are consistent. My works are personal meditations on the happiness and beauty that outlines every day.
Consulting Interests
Selected Awards & Honors
Teaching Awards
2020: I am honored to have received multiple nominations for this award throughout my time at UW-Parkside., Stella Gray Teaching Excellence Award, UWP
2019: I am honored to have received multiple nominations for this advising award during my time in leadership positions., Advising Excellence Award, UWP
Research/Creative Awards
2021: After a 2020, 4-person exhibition at this top ceramics institution (Alfred is internationally recognized as one of the most elite ceramic art schools and venues) my artwork was retained by the directors for the collection., Permanent Collection Aquisition, Alfred Ceramic Art Museum, New York
2020: My 2019 piece, "Boy" was awarded the top prize for the "Ceramics: a National Juried Exhibition". Juror: Matthew McConnell, Associate Prof. at U of Arkansas; MFA CU-Boulder., Best in Show, The In Art Gallery
2020: My mixed media quilt, "New Flowers" was selected for the award by the juror(s), Second Place, 16th Street Studio Gallery, Racine, Wisconsin
2019: Was selected upon application, for this competitive artist residency . This venue, and Montana in general, is nationally known for its deep commitment to ceramic art. I completed the residency in summer 2021, Artist in Residence , Clay Studio of Missoula, Montana
2018: Was selected upon application, for this competitive international residency. I was awarded a 3-week residency, with funding included, to focus on my mixed-media quilts., Artist in Residence, Kimmel Harding Nelson Center for the Arts, Nebraska
2018: My piece "Girl" received First Place for this exhibition. (Although the show was held at UWP, I didn't know the juror nor did she know I worked at UWP.), First Place Award, Together: Racine and Kenosha Juried Exhibition, Christa Story, curator at the Wright Museum of Art, Beloit College/ UW-Parkside
2017: My artwork, "Brownish Girl" was awarded the top prize by juror Alison Wong. Nearly 600 entries; 28 artists included in the exhibition., Best in Show, 95th All Media National Exhibition, Ann Arbor Art Center, Michigan
2017: My artwork, "Brownish Girl" was selected for this award in an exhibition that generated over 450 national entries; 40 pieces selected for the exhibit., Lonnie Eugene Stewart Special 2017 Sculpture Award, Buchanan Center for the Arts 64th Arts National, Illinois
2016: My artwork "Yellow Hearted Woman" was awarded by juror/international artist Verne Funke, 2nd Place, 5th Central Time Ceramics, Bradley Univesity, Illinois
2015: My artwork "Wish (solo figure arrangement)" was selected as "best in show" by Silvia White, curator, gallery owner, and art consultant in Southern California. , Best in Show, Flow Art Space Gallery, St. Paul, MN
2014: The RAM Fellowship is a competitive award available every 2-years to those in the SE Wisconsin region. Given the international reputation of the Racine Art Museum in the area of Contemporary Fine Craft (and in particular, Ceramics) this is even more of an honor to me., Racine Art Museum Fellowship Award, Racine Art Musuem, Wisconsin
2013: Was nominated and ultimately selected by Illinois Weslyan for this vising artist position and award, Stallaccio Lecturer of the Arts, Illinois Weslyan Univeristy
2008: Was selected for this competitive award/residency (was originally first alternate but then was invited.) The invitation came later in the residency term so I needed to decline the award., Artist Residency with funding, McColl Center for the Visual Arts, North Carolina
2007: Upon invitation, I served 8 months as an A-I-R in Hunter College's ceramic area, working with students, faculty, and staff., Artist in Residence, City University of New York- Hunter College
2006: Awarded a "McKnight Artist Residency" at the Northern Clay Center in Minneapolis. This is an internationally competitive award in Ceramic Art which includes full funding. , McKnight Artist Residency, Northern Clay Center/McKnight Foundation, Minnesota
Service Awards
2016: I am honored to have received this award for outstanding service to the university., Faculty Distinguished Service Award, University, UW-Parkside
Key Service Activities
College Service
: Chairperson - Liberal Studies Director
: Chairperson - 2012- 2018, Art Department and Art Department Executive Committee
University Service
: Committee Member - Annual Dr. Martin Luther King Jr. Celebration
: Committee Member - Committee on Internationalization and Global Engagement
: Committee Member - Faculty Senate
: Special Institutional Assignment - UW Collaborative Online Associate of Arts and Sciences
: Committee Member - Personnel Review Committee-- Full Professor Sub-Committee
: Chairperson - Committee of Academic Planning
: Other - Head Marshal for Commencement Ceremonies
2018: Chairperson - UW-Parkside 50th Anniversary Celebration
Public Service
: Committee Member - (Commissioner) Kenosha Commission on the Arts
: Board Member - Gateway Technical College Dean's Advisory Board
Courses Taught
ART 203 - BEGINNING CERAMICS
ART 299 - INDEPENDENT STUDY
ART 299 - INDEPENDENT STUDY:
ART 303 - INTERMEDIATE CERAMICS
ART 331 - LIFE DRAWING
ART 392 - PROFESSIONAL PRACTICE
ART 399 - INDEPENDENT STUDY
ART 399 - INDEPENDENT STUDY:
ART 403 - ADVANCED CERAMICS
ART 431 - FIGURE STUDIO
ART 493 - SENIOR STUDIO
ART 494 - ART INTERNSHIP
ART 497 - SENIOR CRITIQUE SEMINAR
ART 499 - INDEPENDENT STUDY
ART 499 - INDEPENDENT STUDY: