William "Bill" Boppre, MS
Lecturer
Health, Kinesiology, & Sport Mgt Department
MS, University of Wisconsin-La Crosse, 2011
EMAIL: boppre@uwp.edu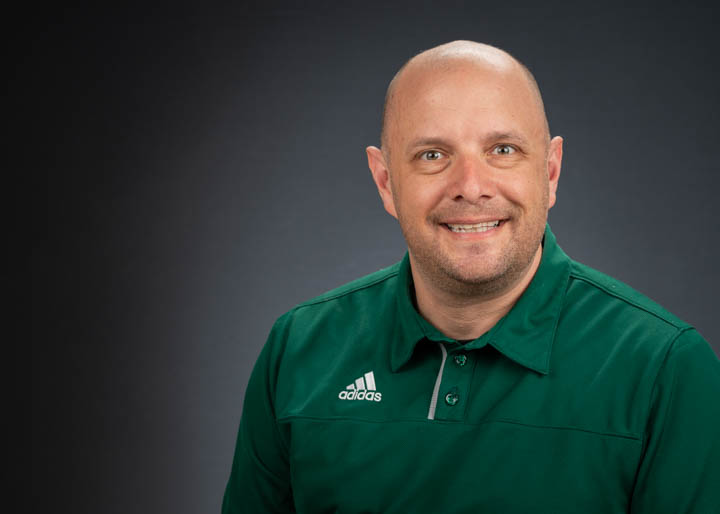 AREAS OF EXPERTISE
Sport Events
Sport Facilities
Recreational Sport Management
Bill joined the UW-Parkside community in September of 2014 as a member of the Athletics staff. There he ran the Intramural Sports program and assisted with Sports Information for Athletics. In 2017, Mr Boppre joined the HESM Dept. as a full-time instructor.

Bill also brings a background in professional sports to the department. In 1999, he joined the NHL expansion team the Columbus Blue Jackets and worked there into their inaugural season. Since then, he's worked part-time for the Milwaukee Bucks for nine years, and still currently works for the Milwaukee Admirals hockey club, just finishing his 17th season with the team. His work with both the Bucks and Admirals includes marketing and promotions on game nights and community relations throughout the year. Bill also worked with NCAA Basketball for nine seasons from 2000-2009, travelling around the country for a marketing promotion they were running. Prior to arriving at Parkside, he served as the Intramural Sports Coordinator at UW-Milwaukee for six years.

Bill has given back to the industry by volunteering for Glendale Little League (serving as a board member and coach), and he still currently sits on the Nicolet Recreation Advisory Committee. He has been a member of NIRSA and has been certified professional by the National Park and Recreation Association. Bill received his bachelor's degree in Physics with a minor in Philosophy from UW-Milwaukee and received his Master's in Sports Administration from UW-La Crosse.
Key Service Activities
University Service
2020: Faculty Advisor - Sport Management Club
Public Service
: Committee Member - Nicolet Recreation Advisory Committee
Courses Taught
HESM 113 - BADMINTON
HESM 210 - INTRO HLTH/EXRCS SCI/SPORT MGT
HESM 284 - ORIENTN TO SPORTS OFFICIATING
HESM 362 - SPORTS MARKETING
HESM 370 - EVENT MANAGEMENT
HESM 380 - FACILITY DEVELOPMENT/MANAGEMNT
HESM 389 - SPECIAL TOPICS-SPORT MANAGMNT:
HESM 455 - SPORT SALES/CUSTOMER SERVICE
HESM 499 - INDEPENDENT STUDY
HESM 499 - INDEPENDENT STUDY:
MSSM 539 - Sustainable Sport Management
MSSM 722 - Sports Facility/Event Managemt
SPMT 100 - Intro to Sport Management
SPMT 110 - Current Issues-Sport Managemt
SPMT 200 - Ethics/Issues in Sport Managmt
SPMT 240 - Sports Marketing
SPMT 260 - Intramural/Recreatn/Youth Sprt
SPMT 339 - Sustainable Sport Management
SPMT 370 - Event Management
SPMT 380 - Facility Development/Managemnt
SPMT 495 - Fieldwork in Sport Management
SPMT 499 - Independent Study:
UWP 101 - First Yr Sem: Natural/Hlth Sci