Linda Crafton, EdD
Professor - Communication

Emeritus

Communication Department
PHONE: (262) 595-2616
EMAIL: crafton@uwp.edu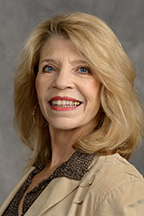 AREAS OF EXPERTISE
Critical Media Literacies
Women & Gender Studies
Identity
Linda Crafton completed her doctoral studies in Language, Literacy, and Culture with an emphasis in Reading/Literacy at Indiana University. Prior to coming to UW Parkside, Dr. Crafton was a Professor at Northeastern Illinois University and a Director of Teacher Education Assessment at Northwestern University's School of Education and Social Policy where she also taught graduate courses in literacy.
Teaching, Research/Creative & Consulting Interests
Teaching Interests
Critical media literacy and all things related to social justice, particularly, communication & gender, and race, class, gender and sexuality in the media.
Research Interests
I research and write about critical media literacy, women's and gender studies, feminism, and social justice.
Consulting Interests
Women's and Gender Studies
Selected Awards & Honors
Teaching Awards
2015: Awarded to faculty and staff who show dedication to Inclusion, Diversity, Equity and Accountability, Rangers in Action, Diversity Office
Courses Taught
COMM 295 - SOPHOMORE SEMINAR
COMM 315 - COMMUNICATION AND GENDER
COMM 463 - GNDR/RACE/CLAS/SEXUALITS-MEDIA
COMM 468 - MEDIA LITERACY PROJECT
COMM 490 - SPECIAL TOPICS-COMMUNICATION:
COMM 495 - SENIOR SEMINAR
COMM 499 - INDEPENDENT STUDY:
WGSS 110 - INTR WMNS/GNDR/SXUALTY STUDIES
WGSS 315 - COMMUNICATION AND GENDER
WGSS 463 - GNDR/RACE/CLAS/SEXUALITS-MEDIA
WGSS 490 - SPEC TPCS-WMNS/GNDR/SEXUALITY: