Brian Gill, MFA
Assistant Professor of Performance and Head of Acting
Theatre Arts Department
MFA, University of Pittsburgh, 1999
PHONE: (262) 595-2594
EMAIL: gillb@uwp.edu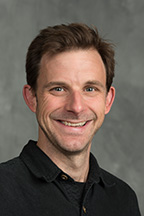 AREAS OF EXPERTISE
Stage Acting
Shakespeare
Stage Combat
Brian J. Gill is a member of the Theatre Arts Faculty serving as an Assistant Professor of Performance. A professional stage actor for 30 years, Professor Gill has performed with Milwaukee Chamber Theatre, Milwaukee Shakespeare, Renaissance Theaterworks, First Stage Children's Theatre, goats & monkeys (co-founder and company member) and Milwaukee Repertory Theatre.

Chicago credits include: Goodman Theatre, Chicago Shakespeare Theater, Victory Gardens, Shakespeare Project of Chicago, Drury Lane Oakbrook, Remy Bumppo Theatre Company, and Provision Theater.

Region credits: Southwest Shakespeare Compay (AZ), Theatre at the Center (IN), the Illinois and Texas Shakespeare Festivals, Allenberry Playhouse (PA), and the historic Ford's Theatre in Washington DC.

Internationally, Professor Gill has performed at the Edinburgh Fringe Festival and Shakespeare's Globe Theatre where he trained as a member of the first international artistic fellowship. He holds numerous weapon certifications with Dueling Arts International, Stage Combat Deutschland and the Society of American Fight Directors, where he holds the rank of advanced actor-combatant, and is a proud member of Actor's Equity Association. Parkside Theatre directing credits include Book of Days, Hedda Gabler, A Streetcar Named Desire, Don Juan, Midnight and Moll Flanders, Love's Labour's Lost and Romeo and Juliet.
Teaching, Research/Creative & Consulting Interests
Teaching Interests
Acting 1-4, Basic Acting, Theatre Appreciation, Period Styles, Stage Combat, Stage Combat 2, Audition Techniques
Research Interests
Acting Styles, Shakespeare, Stage Combat
Consulting Interests
Courses Taught
THEA 014 - ACTING PRACTICUM
THEA 110 - THEATRE APPRECIATION
THEA 125 - ACTING I
THEA 213 - ASSIST DIRECTR/STAGE MNGR
THEA 213 - ASSIST STAGE MANAGER/DIRECTOR
THEA 214 - INTERMED ACTING PRACTICUM
THEA 225 - ACTING II
THEA 250 - STAGE COMBAT I
THEA 251 - STAGE COMBAT II
THEA 294 - PROFESS THEATRE INTERNSHIP
THEA 294 - PROFESSIONAL THEATRE INTERNSHP
THEA 299 - INDEPENDENT STUDY
THEA 299 - INDEPENDENT STUDY:
THEA 314 - ADVANCED ACTING PRACTICUM
THEA 317 - DRAMATURGY
THEA 325 - ACTING III
THEA 357 - THEATRE HIST & LIT 1915-TODAY
THEA 386 - AUDITION TECHNIQUES
THEA 390 - SPECIAL TPCS IN THEATRE ARTS:
THEA 425 - ACTING IV
THEA 494 - PROFES THEATRE INTERNSHIP
THEA 494 - PROFESSIONAL THEATRE INTERNSHP
THEA 499 - INDEPENDENT STUDY
THEA 499 - INDEPENDENT STUDY: