Russell Johnson
Associate Professor - Jazz
Music Department
MFA, Manhattan School of Music, 2000
PHONE: (262) 595-2292
EMAIL: johnsr01@uwp.edu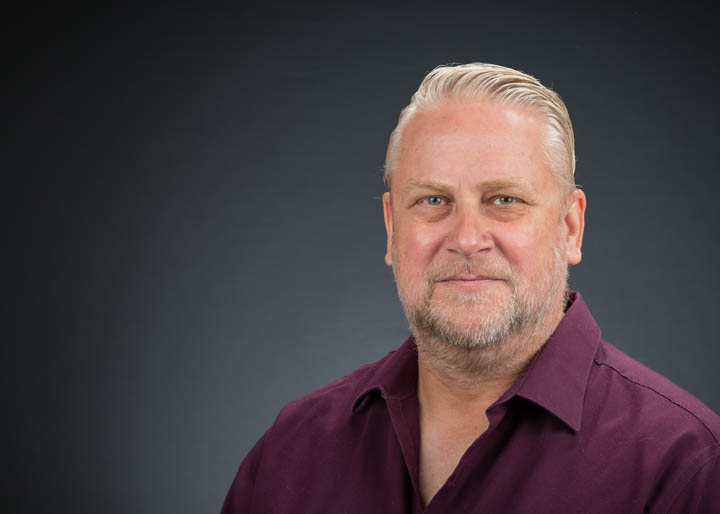 Trumpeter Russ Johnson is a recent Midwest transplant after spending 23 years as an important member of New York City's jazz community. He has 7 recordings as a leader or co-leader and performed on more than 75 recordings as a sideman. Russ has worked alongside many of the legendary figures in jazz including Lee Konitz, Steve Swallow, Bill Frisell, and Joe Lovano. In addition, he has recorded and/or performed with a long list of the most prominent musicians currently on the international jazz scene, including Myra Melford, Ken Vandermark, and Tony Malaby. Russ has performed in more than 40 countries across the globe. His groups have recently performed at the Chicago, Winter Jazz Fest (NYC) Hyde Park, (Chicago) and Bergamo, (Italy) jazz festivals.

His most recent recordings, Meeting Point (Relay Recordings) and Still Out To Lunch! (Enja Records) received 4 1/2 & 4 stars respectively from Down Beat Magazine and appeared on many "Best Recordings of 2014/5" lists including Down Beat, the Chicago Tribune, Chicago Reader, NYC Jazz Record and Magnet magazine. Russ will be releasing a new recording by his "Headlands" Quartet in 2017.



Russ is also active as an educator/clinician, having taught at colleges and universities across the U.S. and Europe. He currently serves as Director of Jazz Studies at the University of Wisconsin Parkside where he won the university wide "Stella Gray" Teaching Excellence award in 2016 as well as the 2020 Research and Creative Activity Award.
Publications
Selected Publications
2023: Geof Bradfield Quintet - Quaver,
2023: Russ Johnson Quartet - "Reveal",
2023: Rachael Sage - The Other Side, Mpress Records
2022: Ethan Philion "Meditations on Mingus", Sunnyside Records
2022: Michael Bettine - Unheard Echoes, Soutrane Recording Company
2021: Recording - Hal Leonard,
2021: Poetica Project , MPress Records (N/A pp.)
2021: , Hal Leonard Music
2020: Ohad Talmor 8 Deja Vu...featuring Lee Konitz, Ohadsounds
2020: Johnson/Rempis/Abrams/Spencer/Cunningham - Harmattan, Aerophonic records
2020: Stirrup+6 - The Avondale Addition, Cuneiform Records
2020: Chicago Yestet - Not There Yet, Tiddlywinks Music
2019: Jeb Bishop Flex Quartet: Re-Collect, Not Two Records
2019: Reactions to music performance injury rehabilitation: Brandon Jackson, a freshman music performance major, Routledge
2019: Paul Dietrich Jazz Ensemble - Forward, Self Published
2018: Russ Johnson Headlands, Woolgathering Records
2018: Ken Thomson - Sextet, New Focus Records
2018: Geof Bradfield - Yes, and...Music for Nine Improvisers, Delmark Records
2018: Andrew Rathbun Large Ensemble - Atwood Suites, Origin Records
2018: Johannes Wallmann - Love Wins, Fresh Sound New Talent Records
2016: Chicago Sessions, Fonterossa Records
2016: Zahskl's Jukebox Volume 2., Self Released by Steve Lampert
2016: Loom/Large - Festival, Woolgathering Records
2016: Touch My Beloved's Thought,
2016: Choreographic, Mpress Records
2015: Always Something, MWP Records
2015: Cooperstown: Jazz Opera in Nine Innings, Albany Recordings
2015: Zahskl's Jukebox Volume 1, Self Released by Steve Lampert
2015: Doors (Chicago Storylines), Ears & Eyes Records
2015: A Look Beyond (Cap-Vert Illuminations), Challenge Records
2015: A Man Can't Ride On One, Whistler Records
2015: Interpretations, Self Released by Kenny Reichert
2014: The Town Musicians, Fresh Sound Records
2014: Low Down, Oscilloscope Laboratories
2014: Russ Johnson "Still Out To Lunch", Enja/YellowBird Recordings
2014: Settle , NCM East Recordings
2014: Russ Johnson - "Meeting Point", Relay Recordings
2012: Co Streiff/Russ Johnson Quartet "In Circles", Intakt Records
2012: Mettle, Playscape Recordings
2012: "Back in the Mix", Speecless Records
2011: Acrobat: Music by & for Dmitri Shostakovich,
Selected Awards & Honors
Teaching Awards
2018: Nominated for the Stella Gray Teach Award; ineligible...criteria states the "Recipients of the award in the last 7 years are not eligible to receive the award.", Stella Gray Teaching Excellence Award nomination,
2017: Nominated for the Stella Gray Teach Award; ineligible...criteria states the "Recipients of the award in the last 7 years are not eligible to receive the award.", Stella Gray Teach Award Nomination,
2016: Awarded Stella Gray Teaching Excellence award, Stella Gray Teaching Excellence award,
2015: Nomination for Stella Gray Teaching Excellence Award, Stella Gray Teaching Excellence Award Nomination,
Research/Creative Awards
2020: 2020 Winner of the CRCA - Research and Creative Activity Award, Research and Creative Activity Award CRCA - 2020, UW Parkside
2019: My recording :Headlands" appeared on the initial GRAMMY ballot in the category of "Best Instrumental Jazz Recording" category, appearance on the GRAMMY ballot, Grammy awards
2016: My recording "Still Out to Lunch" made the "Best Albums of 2015" list in Down Beat Magazine. (released in 2014, reviewed in 2015), "Best Jazz Recordings of 2015", Down Beat Magazine
2016: My recording "Still Out to Lunch!" (4 stars) was listed among the "Best CD's of 2015 by Down Beat Magazine., Best CD's of 2015, Down Beat Magazine
2015: My recording "Meeting Point" also ended up on the Best Jazz Recordings of 2014 year end lists in the following blogs/print media. Acoustic Levitation One Man's Jazz Music Corner Kevernacular, "Best Jazz Recordings of 2014", WMSE Radio, Acoustic Levitation, One Man's Jazz, Music Corner, Kevernacular,
2015: My recording "Meeting Point" (4 1/2 stars) was listed among the "Best CD's of 2014 by Down Beat Magazine., Best CD's of 2014, Down Beat Magazine
2015: My recording "Still Out to Lunch!" appeared in the "Best Jazz Albums of 2014" year end lists on WMSE and WWUH Radio., Best Jazz Recordings of 2014, WMSE, WWUH Radio
2015: My recording "Meeting Point" was listed among the Top 10 (#6) Jazz/Improv recordings of 2014 by Magnet Magazine., Best Recordings of 2014, Magnet Magazine
2015: My recording "Still Out to Lunch!" appeared in the New York City Jazz Record's "Best Jazz Albums of 2014." in the "tribute" category., Best Recordings of 2014, New York City Jazz Record
2015: One of 20 records considered for the Der Deutschen Schallplatten Kritik Year End Jazz Prize. (for my recording Still Out to Lunch), Jury Prizes for Jazz (Jahrespreis 2014), Preis Der Deutschen Schallplatten Kritik
2014: My recording "Meeting Point" was the # 2 record of the year in the Chicago Contemporary Jazz category in the Chicago Reader's "Our favorite music of 2014." http://www.chicagoreader.com/chicago/year-review-best-favorite-list-albums-shows-2014/Content?oid=15960787, Chicago Reader "Our favorite music of 2014" year end list, Chicago Reader
2014: My recording "Still Out to Lunch!" appeared in the Chicago Tribune's "Best Jazz Albums of 2014." http://www.chicagotribune.com/entertainment/music/reich/ct-regina-carter-orbert-davis-henry-butler-best-jazz-2014-20141202-column.html, "Chicago Tribune "Best Jazz Albums of 2014", Chicago Tribune
2013: Recognition for Co Streiff/Russ Johnson Quartet's recording "In Circles" on Intakt records., Best CD's of 2012, Down Beat Magazine
Key Service Activities
Departmental Service
2023: Faculty Advisor -
2023: Faculty Advisor -
2023: Other - Guest Concert Organizer
2023: Other - Organize Workshop/Recruiting Trip - Walden III High School
2023: Other - Workshop/Recruiting Trip - Horlick High School
2023: Other - Workshop/Recruiting Trip - Park High School
2023: Faculty Mentor - Honor Band Masterclass
2022: Interaction with Industry - WMEA Representative
2022: - Podcast Interview
2022: - Podcast Interview
2021: Faculty Mentor - Recruitment
2021: Faculty Advisor - Faculty Representative
2021: Faculty Mentor - UWP Arts Visit Day
2021: Interaction with Industry - WMEA representative
2021: - Music Department Auditions
2021: - Faculty Representative - NAFME
2021: - Music Dept. Scholarship Day
2021: - Recruitment trip - Park High School
2020: - UWP Visit Day Interview
2020: Interaction with Industry - Melodious Mondays Feature
2019: Other - Faculty Representative
2019: Faculty Mentor - Faculty Representative - Student Recital
2019: Faculty Mentor - Faculty Representative - Student Recital
2019: Interaction with Industry - Faculty Organizer - Noon Concert
2019: Other - Faculty Representative
2019: Other - WMSE Radio
2018: Other -
2018: - Faculty Representative Wisconsin Music Educators Association Conference
2018: Program Organizer -
2018: Other -
2018: Other -
2018: Program Organizer -
2018: Other -
2018: Other -
2017: - Faculty Representative Wisconsin Music Educators Association Conference
2017: Other -
2017: Other -
2016: Other - Faculty Representative Wisconsin Music Educators Association Conference
2015: - Music Department Representative at Midwest Band Clinic - Chicago, IL
2015: Program Organizer -
2015: - Faculty representative at WI Music Educators Association Conference
2015: Program Organizer -
2015: - Music Department Representative
2014: - Music Department Representative
2014: -
2013: Interaction with Industry - University/Department Representqative
2013: Other - Volunteer UW-P Arts & Crafts Fair
2013: Faculty Advisor - Music Department Representative
2013: Faculty Advisor - Music Department Representative
2013: Faculty Advisor - Music Department Representative
2013: Faculty Advisor - Music Department Representative
2012: Faculty Advisor - Music Department Representative
2012: Faculty Advisor - Music Department Representative
2012: Faculty Advisor - Music Department Representative
2012: Faculty Advisor - Music Department Representative
2012: Faculty Advisor - Music Department Representative
2012: Other - Music Department Representative
2012: Faculty Advisor - Music Department Representative
2012: Other - Music Department Representative
2011: Faculty Advisor - Music Department Representative
University Service
: Faculty Advisor - Martin Luther King Day Celebration
2023: Program Organizer - UW Parkside Jazz Week
2023: Other -
2023: Other -
2022: Program Organizer - UW Parkside Jazz Week
2022: Program Organizer - Radio Interview - UW Parkside Jazz Week
2022: Program Organizer - Radio Interview - Jazz Week
2022: Committee Member - Rev. Dr. Martin Luther King Celebration Faculty Advisor
2021: Faculty Advisor - Event Coordinator - Uline
2021: Guest Speaker -
2021: Committee Member - CRCA Award Committee
2021: - Melodious Mondays Interview
2021: Committee Member - Dr. Martin Luther King Committee
2021: Faculty Advisor - Rev. Dr. Martin Luther King Celebration Faculty Advisor
2020: Chairperson - UW Parkside Jazz Week
2020: Faculty Advisor - Rev. Dr. Martin Luther King Faculty Advisor
2019: Other - Concert Organizer
2019: Other - Faculty liason/representative - Wuhan China Trip Jianghan University
2019: Other - UW PARKSIDE JAZZ WEEK ORGANIZER/CURATOR
2019: Committee Member - Rev. Dr. Martin Luther King Jr. Celebration Committee
2018: Other - UW Parkside Jazz Week
2018: Committee Member - Rev. Dr. Martin Luther King Jr. Celebration Committee
2017: Program Organizer -
2016: Committee Member - Lecture & Fine Arts Committee
2016: Program Organizer -
2015: Student Recruiter - Music Department Recruitment
2015: Program Organizer -
2014: Other - Music Department Representative
2014: Attendee, Graduation - Marshal - UW-Parkside Graduation Ceremony
2014: Program Organizer -
2013: Attendee, Graduation - Marshal - UW-Parkside Graduation
2013: Attendee, Graduation - Marshal - UWP Graduation
2013: Other - Music Department Representative
2013: Other - Music Department Representative
2012: Attendee, Graduation - Marshal - UW-Parkside Graduation
2012: Student Recruiter - Music Department Recruitment
2012: Student Recruiter - Music Department Recruitment
2012: Student Recruiter - Music Department Recruitment
2011: Student Recruiter - Music Department Recruitment
Professional Service
2023: Other - Tenure/promotion - creative activity reviewer
2020: - Wisconsin Music Podcasts
2020: Other - Tenure/promotion - creative activity reviewer
2020: - UW Madison Doctoral Thesis Committee
2020: Committee Member - UW Milwaukee Doctoral Dissertation Committee
Courses Taught
MUSA 120 - Applied Trumpet
MUSA 121 - Applied Trumpet
MUSA 220 - Applied Trumpet
MUSA 221 - Applied Trumpet
MUSA 300 - Junior Recital
MUSA 320 - Applied Trumpet
MUSA 321 - Applied Trumpet
MUSA 400 - Senior Recital
MUSA 420 - Applied Trumpet
MUSA 421 - Applied Trumpet
MUSI 106 - Jazz Appreciation (DV)
MUSI 346 - Jazz History
MUSI 425 - Jazz Arranging
MUSI 447 - Jazz Styles
MUSI 499 - Independent Study:
MUSP 102 - Large Music Ensemble:
MUSP 223 - Fundamentals of Improvisation
MUSP 224 - Jazz Improvisation I
MUSP 323 - Jazz Improvisation II
MUSP 324 - Jazz Improvisation III
MUSP 366 - Jazz Combo