James Kinchen
Prof/Dir/Choral Acts - Music
Music Department
EDD, UNIVERSITY OF NORTH CAROLINA GREENSBORO, 1984
PHONE: (262) 595-2111
EMAIL: kinchen@uwp.edu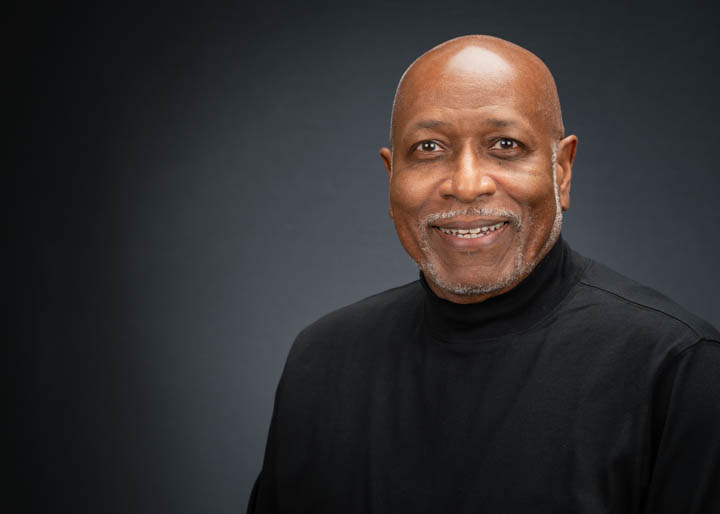 AREAS OF EXPERTISE
Choral Music (Choral Education & Performance)
Conducting
African American Music
Music Teacher Preparation
"He's the best!" "Dr. Kinchen is enthusiastic. His passion rubs off on you." "The professor really makes you want to do your best." "Knows his stuff!" "Encyclopedic knowledge!" "Knows his stuff!"
These are among the comments used to describe the man affectionately known to many students and former students as "Doctor K." He is Professor of Music and Director of Choral Activities since 1989 and is driven by his passion for music and for people, and for bringing people together to experience excellence in the choral art. He has conducted on the stages of Carnegie Hall and Avery Fisher Hall in New York's Lincoln Center. His choral travels have taken him to Germany, Italy, Poland, Sweden, the Czech Republic, Austria, Cuba, India, and China. He has served as President of Wisconsin Choral Directors Association and the North Central Division of American Choral Directors Association and is in frequently demand as a clinician, guest conductor, and adjudicator. He is a frequent presenter at choral and music conferences and conventions, presenting on interpretation of the "spiritual" and other topics of interest to choral teachers and artists. He is also a member of Chorus America, the International Federation for Choral Music, the National Association for Music Education, Center for Black Music Research, and National Collegiate Choral Organization. He is on the Executive Board of Wisconsin Music Educators Association. He has won teaching excellence, faculty service, and diversity awards. He is most recently recipient of the Morris D. Hayes Award, given to an outstanding Wisconsin choral director by Wisconsin Choral Directors Association. He directs the three university choirs: University Chorale, Voices of Parkside, and Master Singers. He also teaches courses in conducting, choral conducting, choral teaching materials and methods, music appreciation, and African American music. He is pretty active on campus, too, joining various search committees and elected faculty committees, including the University Committee and Faculty Senate, which he presently serves. James Benjamin Kinchen, Jr., is a Jacksonville native who has studied at Jacksonville University, Southern Illinois University, and the University of North Carolina Greensboro. Before coming to UW-Parkside, he has taught and conducted music in Florida, Illinois, Virginia, and North Carolina.
Teaching, Research/Creative & Consulting Interests
Teaching Interests
"My teaching is profoundly shaped by my own teachers, especially my mother (an elementary teacher) and father, and the grade school teachers who taught us with love and missionary zeal in the segregated schools that I attended as a boy. Hence, I am an enthusiastic, egalitarian, engaging, efficacious teacher, which means that I bring emotion to my teaching; that I believe in the potential of all students to learn; that it is important for me to actually connect with my students; and that results are essential. I am not good with just 'putting my teaching out there, somewhere.' I have to connect with the learner! I teach; you learn! If one approach fails, I seek another. I have to find you where you are and help you build bridges to reach the destination we both desire. I cannot just go through the motions. I am grateful for all that technology affords, but I am really not a 'tekkie.' At its best, teaching for me is a deeply human endeavor. Everything else stripped away, I want to connect with you as a person and help you learn from me what you are there to learn.
"The core of my teaching over a career has been in the choral rehearsal. I teach choirs at all levels. I help people experience the choral art. I help them sing better. I help them sing better together as a team. I help them acquire, grow, and master the choral and musical skills necessary to sing challenging choral works. And I help them bring the works of composers past and present to life in exciting ways. I also teach and mentor music teachers-to-be, a very important responsibility. Some of my past students are now themselves successful teachers. And I teach African American Music (my sub-specialty, recently with a focus on the Great Migration and the jazz, blues, gospel, R&B, and hip-hop it produced), and Music Appreciation. I have been a Wisconsin Teaching Fellow. I have been nominated for the Stella Gray Teaching Excellence Award. I am especially honored to be one the few faculty members to have received this prestigious award twice -- 2003-04 and 2014-15."
Research Interests
"All of us are, broadly speaking, in the 'knowledge' business. Our students know us as teachers who help them acquire the knowledge they need for careers and productive citizenship. But beyond our teaching, we treasure the achievements and learnings of the past and try to take part in the continual creation of new things – new discoveries, books, music, poetry, plays, understandings of the world and universe, and so on. We share our research and creations with communities within our disciplines and beyond. Music faculty, like their counterparts across campus, sometimes engage in traditional scholarship and research. I have written a few articles. More frequently I give presentations at professional conferences on a fairly regular basis. My areas of greatest interest include: choral teaching, choral artistry, choral literature, the work of black composers, and the interpretation of African American 'spirituals.' But most of us in the music discipline are also engaged in what is really at the core of our art – the creation and recreation of musical sound. It is our 'creative activity.' For me as a conductor, that entails choral performance. I take the blotches and lines of ink on the score and help choirs (and sometimes orchestras) bring them to life. That is incredibly exciting! Every performance that I prepare is special, but I have conducted in some very elite venues such as Carnegie Hall, Avery Fisher Hall at Lincoln Center, Salzburg Cathedral, and Saint Peter's Basilica."
Consulting Interests
Publications
Selected Publications
: "HARK! THE HERALD ANGELS SING",
Selected Awards & Honors
Teaching Awards
2015: WAS NOMINATED FOR AND RECEIVED THE STELLA GRAY TEACHING EXCELLENCE AWARD, STELLA GRAY TEACHING EXCELLENCE AWARD,
2013: WAS NOMINATED FOR THE STELLA GRAY TEACHING EXCELLENCE AWARD, STELLA GRAY TEACHING EXCELLENCE AWARD,
2003: WAS NOMINATED FOR AND SUBSEQUENTLY RECEIVED THE "STELLA GRAY TEACHING EXCELLENCE AWARD" FOR THE 2003-04 ACADEMIC YEAR, Stella Gray Teaching Excellence Award,
Research/Creative Awards
2021: Named for one of Wisconsin's most outstanding choral directors in 1985, this award is made usually each year to a Wisconsin choral director whose body of work and contributions to the choral art have merited WCDA's recognition and highest award., MORRIS D HAYES AWARD, WISCONSIN CHORAL DIRECTORS ASSOCIATION
Service Awards
2020: "CHORAL CONVERSATIONS -- AN INTERVIEW WITH JAMES BENJAMIN KINCHEN, JR. by STANLEY BOCHAT and TIMOTHY KEITH GRIFFIN, JR." featured in "THE CHORAL JOURNAL," since 1959, the official, refereed, international, official publication of AMERICAN CHORAL DIRECTORS ASSOCIATION with a circulation of over 20.000. (BOCHAT and GRIFFIN and both former students and UW-PArkside alumni.), FOCUS OF FEATURE ARTICLE "CHORAL CONVERSATIONS" in PROFESSIONAL CHORAL JOURNAL, Professional, AMERICAN CHORAL DIRECTORS ASSOCIATION/"THE CHORAL JOURNAL"
2013: AWARDED FOR HIGH SCHIEVEMENT IN THE ARTS, HERITAGE AWARD, Community, WAYMAN MEMORIAL AFRICAN METHODIST EPISCOPAL CHURCH, RACINE
2011: UW-PARKSIDE CAMPUS DIVERSITY AWARD 2011, University, UNIVERSTY OF WISCONSIN-PARKSIDE
2006: UW PARKSIDE FACULTY DISTINGUISHED SERVICE AWARD 2005-06, University, UNIVERSITY OF WISCONSIN PARKSIDE
Key Service Activities
University Service
: Committee Member - CENTER FOR ETHNIC STUDIES STEERING COMMITTEE
2020: Committee Member - PERSONNEL REVIEW COMMITTEE
2017: Committee Chair - PERSONNEL REVIEW COMMITTEE
2017: University Senate Service - FACULTY SENATE
2016: Committee Chair - PERSONNEL REVIEW COMMITTEE
2016: Committee Member - UNIVERSITY COMMITTEE
2015: Committee Chair - PERSONNEL REVIEW COMMITTEE
Professional Service
2018: Other - WSMA STATE SOLO & ENSEMBLE CONTEST, UW-GREEN BAY
2016: Officer, President/Elect/Past - ACDA, NORTH CENTRAL DIVISION
2016: Other - WSMA STATE SOLO & ENSEMBLE CONTEST, UW-GREEN BAY
2016: Other - WSMA STATE SOLO & ENSEMBLE CONTEST, UW-WHITEWATER
2015: Other - WSMA STATE SOLO & ENSEMBLE CONTEST, UW-OSHKOSH
2014: Officer, Other Officer - AMERICAN CHORAL DIRECTORS ASSOCIATION
2014: Officer, President/Elect/Past - NORTH CENTRAL ACDA
2011: Officer, President/Elect/Past - WISCONSIN CHORAL DIRECTORS ASSOCIATION
2005: Committee Chair - WISCONSIN CHORAL DIRECTORS ASSOCIATION
Courses Taught
EDU 425 - Residency (Student Teaching)
ETHN 338 - Music Great Migration: 1900-60
MUSE 411 - Mthds Elem/Mdl Schl Choral Mus
MUSE 413 - Mthd Tchg Secondary Choral
MUSI 104 - Music Appreciation
MUSI 339 - Music Great Migration: 1960-90
MUSI 499 - Independent Study:
MUSP 102 - Large Music Ensemble:
MUSP 342 - Conducting
MUSP 346 - Choral Conducting & Arranging
MUSP 360 - Voices of Parkside