Tara Pedersen, Ph.D.
Associate Professor and Department Chair
Literature and Languages Department
Ph.D., University of California at Davis, 2009
EMAIL: pedersen@uwp.edu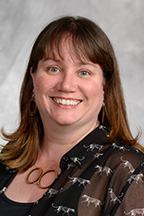 AREAS OF EXPERTISE
Early Modern Literature and Culture
Shakespeare
Epistemology
Embodiment
Gender and Sexuality
Tara E. Pedersen received her Ph.D. from The University of California at Davis. She teaches Shakespeare, literature surveys, courses in Early Modern literature, The Bible as Literature, Women and Literature, Literature of Science and Magic, Composition, and Advanced Composition (with a Health Humanities focus). Her research focuses on knowledge production in pre-modern England, and her book, _Mermaids and the Production of Knowledge in Early Modern England_, was published by Ashgate Press in 2015.
Teaching, Research/Creative & Consulting Interests
Teaching Interests
Renaissance/Early Modern literature and culture, epistemology studies, feminist theory, queer theory, embodiment, and the posthuman.
Research Interests
Tara E. Pedersen specializes in early modern literature and culture. Her research articulates connections between epistemology and ontology as it focuses on how literature participates in constructing categories of knowledge, especially categories related to sexuality, gender, and the boundaries of the human in early modern culture.

She is the author of _Mermaids and the Production of Knowledge in Early Modern England_, which investigates representations of the mermaid on the early modern stage, as well as "Bodies by the Book: Remapping Reputation in the Account of Anne Greene and Shakespeare's _Much Ado About Nothing_" in _Mapping Gendered Routes and Spaces in Early Modern England_. Her current projects explore animacy and its gradations in early modern England.
Consulting Interests
Publications
Selected Publications
2010: "We shall discover our Selves: Practicing the Mermaid's Law in Margaret Cavendish's _The Convent of Pleasure_" , Early Modern Women: An Interdisciplinary Journal
Courses Taught
ENGL 100 - Fundamentals of English
ENGL 101 - COMPOSITION AND READING
ENGL 201 - Advanced Composition
ENGL 253 - LITERATURE INTO FILM:
ENGL 317 - British Literature, 1500-1700
ENGL 320 - Shakespeare
ENGL 451 - Studies in Literature/Culture:
ENGL 495 - Seminar in Literature:
ENGL 499 - Independent Study:
THEA 320 - Shakespeare