Vijayalakshmi "Viji" Ramasamy, Ph.D.
Associate Professor
Computer Science Department
Ph.D., Anna University, 2013
EMAIL: ramasamy@uwp.edu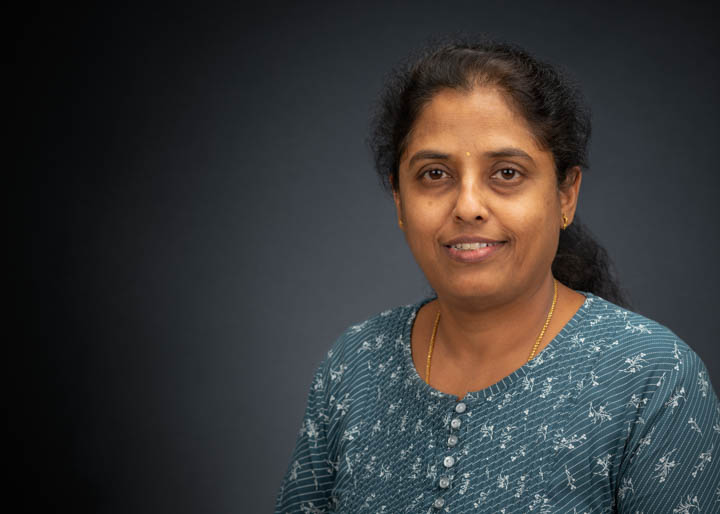 AREAS OF EXPERTISE
Data Analytics and Visualization
Pattern Recognition and Big Data Applications
Machine Learning and NLP
Learning Engagement Strategies in CS Education
Computational Neuroscience
Dr. Vijayalakshmi Ramasamy is an Associate Professor in the Department of Computer Science at the University of Wisconsin-Parkside. She brings to bear an extensive academic and research experience of over 25 years. Before joining UW-Parkside, she was a Visiting Assitant Professor at Miami University, Oxford, Ohio, and an Associate Professor at PSG College of Technology, Anna University, India. She has also held an adjunct position at the University of South Australia, established a Computational Neuroscience Laboratory at Anna University, India, and has worked on an NSF research grant in collaboration with Florida International University, and has supervised and mentored several MS and Ph.D. research scholars.<br>She has taught multiple courses in Data Science, Computer Science, and Software Engineering. She has published several scholarly articles in journals, conferences, and workshops, many at top-tier venues in Computer Science, including IEEE, ACM SIGCSE, Neurocomputing, and Journal of Neural Engineering with Google Scholar citations 244, H-index 10, and i10-index 10.
Teaching, Research/Creative & Consulting Interests
Teaching Interests
Data Mining and Machine Learning, Deep Learning, Applied Data Analytics for Data Science, Data Structures and Algorithm Design, Database Management Systems, Software Engineering (Agile and Waterfall), Fundamentals of Programming & Problem-Solving
Research Interests
Graph data analytics as a multidisciplinary domain comprising work from various fields such as Data Mining, Machine Learning, Pattern Recognition, and Graph Theory applied to different disciplines, including computational neuroscience, computer, biological, social networks, and, most recently, undergraduate STEM Education (educational data mining and learning analytics).


Consulting Interests
Empowering Women in Computing
Publications
Selected Publications
2021: Application of Back-translation – A Transfer Learning Approach to Identify Ambiguous Software Requirements, ACM Southeast (ACMSE) conference, 2021
2021: Characterizing EEG electrodes in directed functional brain networks using normalized transfer entropy and page rank, Springer Verlag Germany
2021: Evaluation of Student Collaboration on Canvas LMS Using Educational Data Mining Techniques, ACM Southeast (ACMSE) conference, 2021
2021: Meta-analysis to Study the Impact of Learning Engagement Strategies in Introductory Computer Programming Courses: A Multi-institutional Study, The ACM Southeast (ACMSE) conference, 2021
2020: A User Interface (UI) and User eXperience (UX) evaluation framework for cyberlearning environments in computer science and software engineering education, Heliyon (e03917 pp.)
2019: Analyzing Link Dynamics in Student Collaboration Networks using Canvas-A Student-Centered Learning Perspective,
2019: Evaluating the Impact of Combination of Engagement Strategies in SEP-CyLE on Improve Student Learning of Programming Concepts, (1130--1135 pp.)
2018: A minimally disruptive approach of integrating testing into computer programming courses, (1--7 pp.)
2011: A divisive clustering algorithm for performance monitoring of large networks using maximum common subgraphs, Int J Artif Intell (92--109 pp.)
2011: FP-GraphMiner-A Fast Frequent Pattern Mining Algorithm for Network Graphs., J. Graph Algorithms Appl. (753--776 pp.)
Courses Taught
CIS 540 - DATA STRUCTURES/ALGORITHM DSGN
CIS 612 - DATA MINING & MACHINE LEARNING
CIS 799 - Independent Study
CSCI 231 - DISCRETE MATHEMATICS
CSCI 242 - COMPUTER SCIENCE II
CSCI 274 - UNIX CONCEPTS AND TOOLS
CSCI 275 - UNIX SCRIPTING
CSCI 340 - DATA STRUCTURES/ALGORITHM DSGN
CSCI 412 - DATA MINING & MACHINE LEARNING
CSCI 435 - UNIX SYSTEM ADMINISTRATION
MATH 231 - DISCRETE MATHEMATICS