Natalia Taft, PhD
Associate Professor - Biological Sciences
Biological Sciences Department
Ph.D., University of Massachusetts Amherst, 2009
PHONE: (262) 595-2078
EMAIL: taft@uwp.edu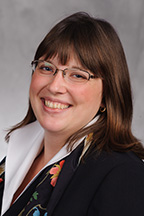 AREAS OF EXPERTISE
evolutionary morphologist, functional morphologist, biomechanics, vertebrate anatomy
I am a vertebrate evolutionary and functional morphologist. I received my PhD in Organismal and Evolutionary biology from the University of Massachusetts Amherst in 2009. I conducted my postdoctoral work at the University of Chicago with Dr. Neil Shubin from 2009-2011. After one year as a Visiting Assistant Professor at DePaul University in Chicago, I moved to my current tenure-track position as an Assistant Professor in Biological Sciences here at the University of Wisconsin-Parkside.
Teaching, Research/Creative & Consulting Interests
Teaching Interests
My primary teaching interests are Introductory Biology for majors and non-majors, Human Anatomy and Physiology and Developmental Biology. I also co-designed and am team-teaching out new sophomore-level Research Process in Biology course, which I am excited about this year!
Research Interests
My research focuses on understanding the evolution and relationship of structure and function of bony fish fins. I am currently investigating this relationship in basal actinopterygian (ray-finned) fishes as well as benthic specialist fishes like flatfish. I have also recently become interested in the evolution of fish coloration and am actively pursuing projects in this area.
Consulting Interests
Publications
Selected Publications
2020: Fin ray patterns at the fin-to-limb transition, Proceedings of the National Academy of Sciences (1612-1620 pp.)
2018: Variation in the flexural stiffness of the lepidotrichia within and among the soft fit of yellow perch under different preservation techniques, Journal of Morphology (1045-1057 pp.)
2017: Comparative morphology and mechanical properties of the lepidotrichia of climbing and non-climbing Hawaiian gobioid fishes, Cybium (107-115 pp.)
Key Service Activities
Departmental Service
: - Assessment Liason, Biological Sciences
College Service
: Committee Member - Animal Care and Use Committee
University Service
: Committee Member - Student Success Steering Committee
Public Service
: Officer, Vice President - Wastewater Commission
Courses Taught
BIOS 102 - Organismal Biology
BIOS 103 - Human Biology
BIOS 207 - Research Process in Biology
BIOS 317 - Developmental Biology
BIOS 495 - Senior Seminar
BIOS 499 - Independent Study: