Wei-Jun "Will" Zheng, Ph.d.
Associate Professor - Business
Business Department
Ph.D., University of Oklahoma, 2005
PHONE: (262) 595-2296
EMAIL: zheng@uwp.edu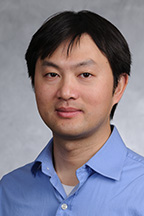 AREAS OF EXPERTISE
Data analytics and data management
IT Outsourcing
IT innovation and investment
IT security auditing
Associate Professor of MIS in the College of Business, Economics, and Computing. Published in journals such as MIS Quarterly, MIS Quarterly Executive, and Journal of Association for Information Systems, Vine-the journal of information and knowledge management systems, Information Systems and e-Business Management (ISeB) etc.
Teaching, Research/Creative & Consulting Interests
Teaching Interests
IS strategy, Database management systems, project management, enterprise systems, excel modeling. Interested in teaching related to solve real business problems with the use of information technology. Won community based learning Award. Teach in both face-to-face and online formats.
Research Interests
Mobile innovation & IS entrepreneurship, E-commerce and reputation systems, enterprise systems and information system strategy, IS outsourcing
Consulting Interests
E-mentoring, IS security & auditing, Data analysis and modeling, Organization Design and project Management
Publications
Selected Publications
: Management Emotion and Firm's Propensity of Strategic IT Investment, Proceedings of the 54th Hawaii International Conference on System Sciences
Selected Awards & Honors
Research/Creative Awards
2018: This proposal describes a smart bus system that can be built upon latest IoT technologies. The proposed smart bus system can be used to innovate the existing southeastern Wisconsin public transit system and is feasible to experiment and implement in Kenosha-Racine county public bus facilities first. The proposed smart bus system for the cities of Kenosha-Rachine could also be used to support smart school bus. The intent of proposed smart bus system is to use IoT technologies to increase municipal public transit system's operational efficiency, share information with the public and improve both the quality of city government services and citizen welfare. Although some elements of our proposed smart bus system have been implemented in several cities around the world (e.g., London, HongKong), the complete set of smart bus system (including smart school bus) as discussed in this proposal, to the best of our knowledge, has not been implemented. , Smart City, Smart Future Innovation Initiative Competition Round One, Foxconn
Courses Taught
CIS 625 - SYSTEMS ANALYSIS AND DESIGN
CIS 799 - INDEPENDENT STUDY
MBA 716 - Project Management
MIS 320 - Mgt Information Systems
MIS 425 - SYSTEMS ANALYSIS AND DESIGN
MIS 428 - IS PLANNING/PROJECT MANAGEMENT
MIS 490 - SPECIAL TOPICS-MGT INFO SYS:
MIS 490 - SPECIAL TOPICS:
MIS 494 - Internship
MIS 499 - INDEPENDENT STUDY
MIS 499 - Independent Study:
PMGT 341 - Basics of Project Management
PMGT 442 - Project Management Simulation