MASTER OF BUSINESS ADMINISTRATION

When you choose a University of Wisconsin-Parkside Master of Business Administration program, you can be assured of receiving a valuable return on your investment. We empower you with the knowledge and practical skills vital to achieving personal and professional success in your changing local and global communities. Our program is designed to help you achieve that success, and we know that you are already busy making strides toward your goals. That's why our program is designed to be completed in two convenient formats: 100% online delivery or face-to-face.
Dedicated to preparing you for success, our AACSB-accredited College of Business, Economics, and Computing is committed to providing student-centered education with a purposeful emphasis on knowledge, skills, and abilities needed to succeed in the rapidly changing world of business. We value innovation and develop relevant programs that position you on the leading edge of an evolving global marketplace. 
You can complete our MBA program in as few as 12 months in a format that fits your specific needs—face-to-face, blended, and online.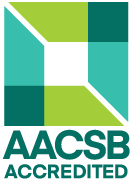 The UW-Parkside MBA program is acknowledged as one of the most affordable AACSB accredited graduate business programs in the United States. Accredited by AACSB International, the Association to Advance Collegiate Schools of Business. Less than one third of the business programs in the U.S. and fewer than 5 percent of the world's 13,000 programs in business meet the rigorous standards of quality set by AACSB International.  
Welcome to our MBA Program!  Whether you want to pursue part-time or full-time study, fully online or on-campus classes, this highly regarded program has been carefully designed for you.  While the demands on your time are many, we developed an AACSB International accredited program that provides the flexibility needed to earn this advanced business degree. There are seven concentrations in the MBA Program:  Finance, Data Analytics, Supply Chain Management, Marketing, Human Resources, Global Management, and General Management. The online and on-campus classes are offered in a convenient seven-week format. 
Whether you are looking for a promotion at work, interested in starting your own business, or simply would like to enhance your knowledge of business operations, our MBA degree is for you. Students from various academic backgrounds including business, liberal arts, engineering, physics, biology, social sciences, and music are successfully completing our MBA Program.
The MBA Program is structured in two components: required core courses, and electives. Required courses make up the core, and a wide range of electives are offered to complete your chosen concentration.  You can progress rapidly based on your own personal schedule, and complete the degree within one year. Each student's program must include a minimum of 30 credits of graduate course work:  core courses (24 credits) and electives (six credits per concentration).
Michele V. Gee, Ph.D.
Dean & Professor of Management
College of Business, Economics, and Computing
mba@uwp.edu