Career Resources for Campus Colleagues

Handshake 
Career Technology 
How Handshake will help students  
Get students career-ready—all in one place 
Handshake is more than just a job board! Students can use it to research employers, connect with other students, and talk with recruiters about internship and job opportunities!

Students also use Handshake to register for career-related events like internship and career fairs, virtual information sessions, and more!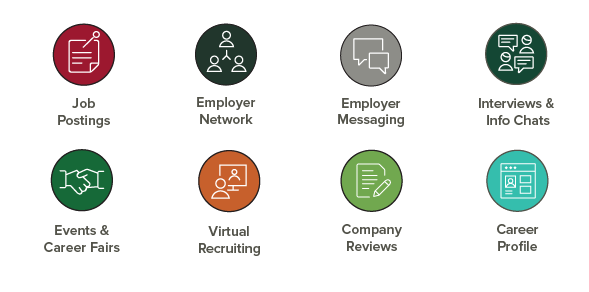 Guide to help Students to use Handshake 
Handshake is available on desktop or through the mobile Handshake app.
All Parkside students have a Handshake account and can log in using single sign-on to access their profile.

Encourage your student to complete their Handshake profile. Students with complete profiles are 5x more likes to receive a message from an employer.

Handshake sends personalized jobs and recommendations that align with a student's career interests and values.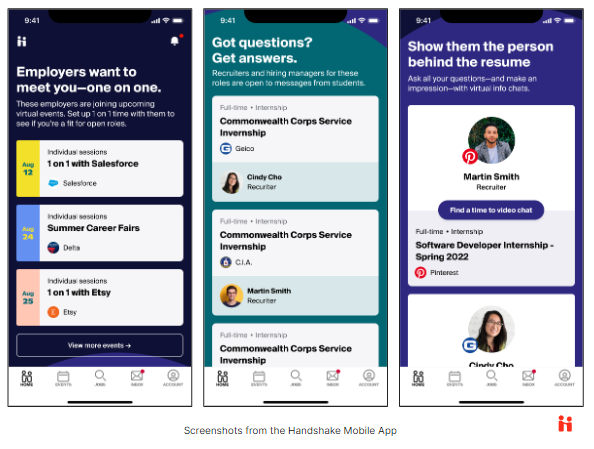 Campus Profiles on Handshake
Campus profiles are a way to interact between the students and the alumni and grow by sharing one's learning experience. One can view both the parties of the profile who have opted into Campus Profiles. 
A student can choose to have 3 types of Privacy settings:  
Community privacy setting: This allows a student to participate in sessions with employers and other students at the virtual fairs.  
Employers' privacy setting: This feature enables employers approved at your school in Handshake to discover your profile to connect with a student via messages or inviting a student to apply. 
Private privacy setting: A student can keep his profile private, apply for jobs, register for in-person events and fairs, explore career paths, and interact about your experiences through surveys and posted resources. However, if a student's profile is private, it is not visible to other employers and alumni.  
Importance of a Campus Profile 
Peer to peer learning through interactive sharing between all the students and alumni!  
Empowers a student to learn and build in network. 
Register for virtual and in-person events!   
Connect with Peers 
By clicking on the link below, students can begin building their network and sharing their experiences. 
https://app.joinhandshake.com/students 
A student can use the following features to identify specific and interesting peers 
Name Search (keyword) 
Student's school name  
Alumni only 
School Years  
Majors 
Previous Employers  
Student Organizations  
Depending on the email address students used, they will be:  
Note: until the student is approved to connect with your institution, they will have limited access to Handshake, as described in the student-facing article If You Can Only Access Profile and Fairs. They will not be able to access any of the school-specific features on Handshake such as: Jobs/internships, Events, Fairs, or Approved Employers