Adding and Dropping Classes Using SOLAR
How to Add a Class
To add a class, you can follow the same steps you did when you first registered.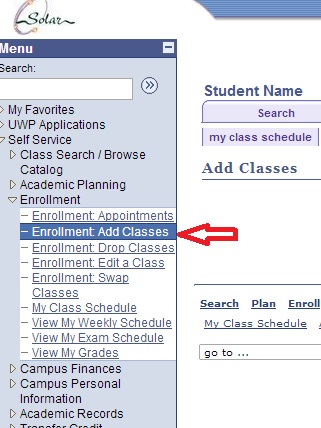 Under the Enrollment heading in your menu (Or at the bottom of Solar in the Parkside Self Service Box), find the 'Enrollment: Add Classes' link. 
This should take you to another screen, where you can click on the search tab and you can enter in a course number or search by subject.
Select the term you plan on taking your classes (i.e.Fall 2014-15) as well as the course subject (i.e. English, Criminal Justice, or Biology) and then click the search button which will bring up a list of classes being offered within that subject for your chosen semester/term.

Locate the class you wish to take in this list, then click the small "Select Class" button next to the class status. You'll know a class is open when a green circle appears next to the course. 
Select the course to view more details and then add to your enrollment cart.
Repeat this process until you have all the classes you desire to
add in you enrollment cart.
One you have all the classes you plan to take in your cart,
then you can officially enroll in them by clicking the shopping
cart button, clicking the next button and finally the enroll button.
How to Drop a Class

Under the "Enrollment" tab on your left side menu (or found at the bottom in the Parkside Self Service Box), find and click on the "Enrollment: Drop Classes" button. Select the semester you wish to drop a class for
Select the class you wish to drop and then click the "drop selected classes" button at the bottom right. 
Make sure to take note of the date, as there may be a drop fee after a certain period.
For
important
information regarding fees and  Registration and Drop Classes
click here
.