The Big Idea Challenge
The WiSys Big Idea Tournament is an entrepreneurship competition open to undergraduate and graduate students attending University of Wisconsin System school across the state (except UW-Madison). The competition teaches cutting-edge lean startup business development tools, provides business mentorship and allows participants to compete at a state level for a chance to win seed funding for their idea.
WISYS BIG IDEA TOURNAMENT PRIZE
The first prize is $2,500; the second prize is $1,500; and the third prize is $750.
UW-PARKSIDE LOCAL QUALIFIER COMPETITION PRIZE
The local prize for first place is $500 and the second is place $250.
HOW DO I PARTICIPATE?
You have two ways to enter the Wisconsin Big Idea Tournament, most of you will compete in the local qualifier competition. 
Compete in the UW-Parkside Local Qualifier Competition. 
Attend the Big Idea Information Inspiration to learn more and get inspired!
WED, FEB 8  |  12-1 PM
(Attendance is not required to participate in the competition.)
Complete the UW-Parkside Big Idea Application by Sunday, March 5, 2023.
Present your Big Idea on Wednesday, March 8, 2023 in the Student Center Oak Room at 12 pm during the UW-Parkside Local Qualifier Competition to a panel of judges. Students participating will be given up to 5 minutes to describe their idea. Followed by a Q and A with the judges. 
The winner of the UW-Parkside Local Qualifier Competition will be entered into the Wisconsin Big Idea Tournament, which provides an opportunity to win additional funding and support to advance your idea. The UW-Parkside first-place winner will receive training from WiSys to ensure that your model and presentation are tailored to the judging criteria for the statewide tournament.
ENTRY OPTION 2
Submit an at-large bid. At-large bids allow teams, who do not have access to a local qualifier, to participate in the tournament or enable teams, who did not win their qualifier, to have a second chance.
Student Eligibility
Any degree-seeking undergraduate or graduate students Individual students or a team of up to 3 students  
APPLICATION
Your project title. 
Student information.
Individual students or a team of up to 3 students are eligible to submit to this competition. (student information requested: name, email, type of student, major, minor, anticipated graduation date) 
Faculty mentor name (if you have one)  
Your Big Idea proposal required components (listed below).
REQUIRED APPLICATION COMPONENTS
Note: Proposals do not have a minimum or maximum page requirement. It is recommended you reach out to faculty mentors to guide you on the quantity and quality of the idea submission. 
PRODUCT OR SERVICE
Provide a brief, non-technical description of the product or service. Include any digital information, videos, graphics etc., which can help better describe the product or service. 
PROBLEM-SOLVING STATEMENT
Explain the background of the project/idea. What is the problem that is being solved? Who is the market? Who are your trying to help? Why is it important? 
NOVELTY AND BENEFITS OF THE SOLUTION
Explain why the product or service is novel. Compare the idea with existing products or services. Also discuss advantages and benefits, especially in terms of a problem statement. If available, include revenue and cost projections. 
FACULTY MENTOR
Explain the faculty member's involvement in the project, if any. 
REQUEST FOR FUNDS
Project financial needs (a minimum of $500 and a maximum of $2500) and discuss how the money will be used.  How could funding from the Big Idea Local Qualifier and the Big Idea Statewide Tournament be used to benefit the idea/product? Provide a brief budget. Has this idea or product previously been funded (partially or completely) by other entities?
NEXT STEPS FOR CONTINUED DEVELOPMENT
FACULTY MENTORS
Have an idea, but are uncertain about how to move forward? Discuss it with a faculty mentor!
ARTS AND HUMANITIES
Daniel Martin
Assistant Professor, Graphic Design
martind@uwp.edu
BUSINESS, ECONOMICS, AND COMPUTING
Zaid Altahat  
Assistant Professor, Computer Science Department
altahat@uwp.edu
NATURAL HEALTH SCIENCES
Laura Schultz
Lecturer and Environmental Education Manager, Environmental Studies Department
schulz@uwp.edu
SOCIAL SCIENCES AND PROFESSIONAL STUDIES
Christopher Hudspeth
Associate Professor, Politics, Philosophy, and Law
hudspeth@uwp.edu
How we will help you
We are here to explore how ideas like yours have led to life-changing products or services, get your creative mindset flowing, advise you on how to begin work on your idea, answer questions about the competition, and get you started.
Successful projects receive $500 for 1st place and $250 for 2nd place to be used within one year to develop your idea to the next stage of growth.
You'll have access to campus resources that may help advance your idea, including but not limited to: 
App Factory 
Center for Excellence in Inclusive Teaching & Learning
Center for Research in Innovation and Smart Cities
Digital Design and Fabrication Lab
Faculty mentors
Geographic Information System (GIS) Factory
Grant funded projects
Small Business Development Center (SBDC)
University of Wisconsin System Technology Foundation (WiSys)
WHY SHOULD YOU COMPETE?
In addition to potentially winning a cash prize you can:
Fine-tune your business pitch.
Showcase your business to a statewide audience.
Engage with seasoned business professionals and entrepreneurs.
The 1st prize winner will also receive the following from WiSYS: 
Support from the WiSys Entrepreneurship Program--a concierge service to connect statewide resources and partners for further idea/business development.
Access to the Center for Technology Commercialization programming.
Opportunity to participate in the Wisconsin Technology Council's Entrepreneurs' Conference
Program Timeline
Information Inspiration Session
WED, FEB 8, 2023 l 12 PM
Student Center Oak Room
Application Deadline
SUN, MAR 5 2023
APPLICATION
Local Qualifier Competition
WED, MAR 8, 2023 l 12 PM
Student Center Oak Room
Applicants will be contacted shortly after submitting their Big Idea with a specific time that they will present on 3/8/23.
Winners Announced
WED, MAR 15, 2023
The Big Idea Tournament (Statewide Competition)
April 2023, more details as they become available.
Questions + Contacts
Who can enter the competition?
You, if you are enrolled at UW-Parkside, in any discipline or program.
You partner with a UW-Parkside faculty/staff mentor and submit a competitive application presenting the idea, a business or marketing plan, and how support would advance the project.
Additional Questions?
We are here to help you be successful! Contact one of the college mentors listed above, and we will get answers to your questions and the resources you need.
2021 WINNER
Gabrielle Richardson  |  LinguaMD  |  Winner of the Wisconsin Big Idea Tournament
Gabrielle Richardson, a UW-Parkside pre-med undergraduate majoring in Spanish and Criminal Justice, is the winner of the Wisconsin Big Idea Tournament with her LinguaMD App. 
UW-PARKSIDE WINNERS
Mariana Nelson | Capp, LLC
2020 Winner
Capp is an app designed to review companies based on the level of accessibility that they provide to people with disabilities
Sam Rozzoni and Mya Peterson
2019 Winners
Novel Nutrition Supplements for Physical and Cognitive Enhancement in the Aging Population
Jeremy Preischel
2018 Winner
Automated Vertical Farming system for growing fresh plants in close quarters.
Cassie Van Hoof
2017 Winner
Purrfect Pal product that helps reduce anxiety in pets.
Nikolai Lumpkins
2017 Winner
The Pillar Project is a stackable, foldable, portable, aeroponic farm to help stop malnutrition in third-world countries.
IDEAS FROM AROUND THE SYSTEM
Caleb Dykema  | UW-Platteville

Swipe is a full white or blackboard eraser that can be pushed across to erase everything in its path saving time and solving the issue of inefficiency in the classroom for STEM professors.

Tyler David  |  UW-Platteville

Bright Idea produces colorful wooden items such as candle holders, coat trees, lamps, tables, and many other items using a lathe.

James Schierl, Carol Brehmer, Matt Halbur |  UW-Green Bay

EIR Apparel's product is a belt offering superior comfort and flexibility for blue-collar workers and outdoor athletes and enthusiasts.

Jiaxin Li, Lakshmi Priya Girish Kumar, Soren Netka |  UW-River Falls

Franklin is a smarter and more affordable parking ramp management system designed to minimize the amount of time and effort it takes to manage a parking ramp or garage.

Parker Schmidt, Jessica Tarter, Macall Hill | UW-Oshkosh

Hive Central's product is a bee shield that helps keep cold winds out of beehives. This allows the internal temperature of hives to be higher in order to increase survival of bees during the winter.

Kristine Maurina, Cole Caldwell, Benjamin Durkin | UW-Eau Claire

Li-Fly are agriculture service professionals that create value through data acquisition, management and professional delivery working directly with farmers.

Jim Flynn |  UW-La Crosse

Mente, is an online database that focuses on creating an easier process for struggling entrepreneurs and professionals by teaming them up with mentors around the world.

Hunter Driscoll, Sam Struebing, Brendon Kranz, Dan Pomeroy |  UW-Whitewater

OmniSpeakers is a 4-in-1 portable, bluetooth speaker system that can act as one powerful speaker or be broken apart into four separate units to create a surround sound experience.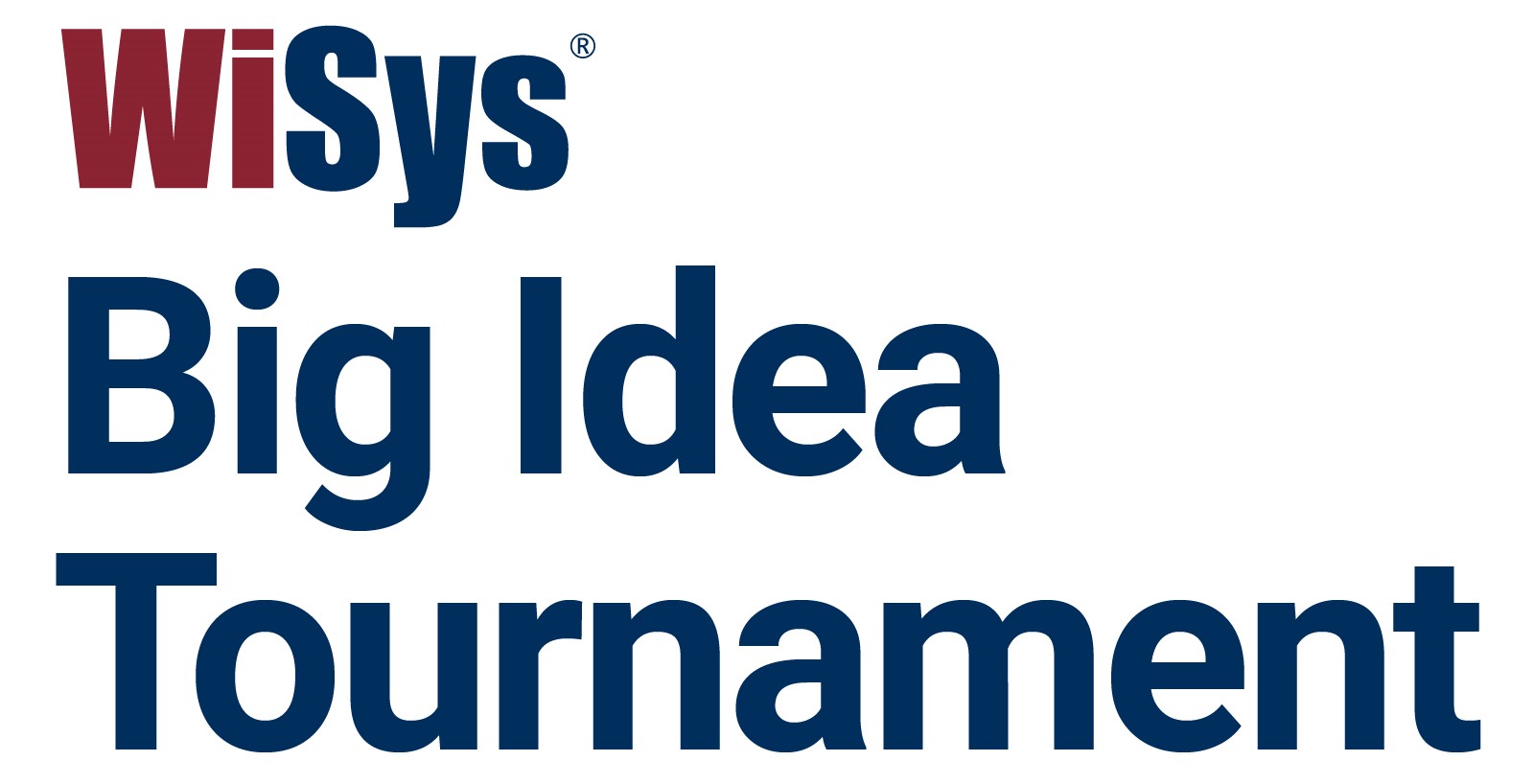 WiSys is a nonprofit organization that works with faculty, staff, students, and alumni of the UW System to facilitate cutting-edge research programs, develop and commercialize discoveries, and foster a spirit of innovative and entrepreneurial thinking across the state.