New board members welcomed at Annual Meeting
Published: December 17, 2018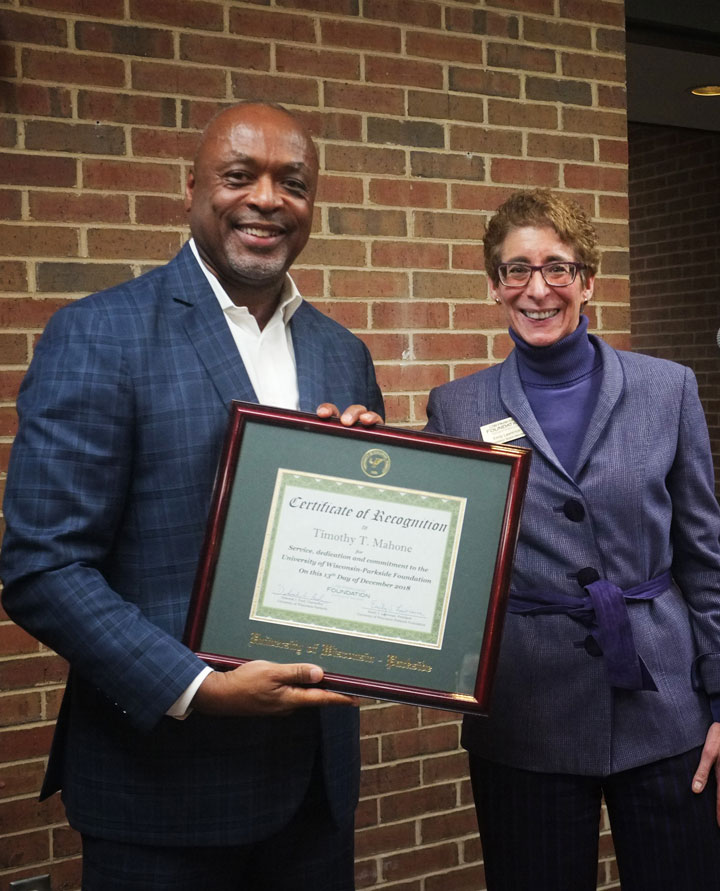 The UW-Parkside Foundation held its annual members meeting Dec. 13. Board members appointed new officers and committee chairs, renewed 10 members for an additional three-year term, appointed two new members, reviewed key outcomes and program highlights, and dedicated a new learning space on campus.
UW-Parkside Foundation President Timothy Mahone presided over the meeting before the appointment of the new president, Emily Lawrence. Mahone said, "The Foundation Board has been a great partner to the University throughout our history, and this is certainly true this year during the UW-Parkside 50 Years celebration.
"We have also put in place new initiatives, including the Future Focus Scholarship Fund that will have a long-term impact on sustaining access and opportunity through quality, public higher education for students and families of southeastern Wisconsin."
Membership and Leadership Changes
Members of the UW-Parkside Foundation Board are appointed by the Board based on their positions in the community and interest in advancing public higher education. They represent many areas of the community, including health care, education, financial and financial services, real estate and development, manufacturing, public relations, the faith-based sector, and more. The current board holds 27 members.
New officers include Board President Lawrence; Vice President Michael Bond; Secretary Heidi Skatrud; and Treasurer Kathy Andrea.
Committee chairs include Development, Dominic Cariello; Finance, Kathy Andrea; Marketing, Steve Donovan; and Nominating, Karla Krehbiel.
Members renewed for an additional term include Susan Boland, Cariello, Matt Carlson, Donovan, Jennifer Dooley, Jim Eastman, S.R. Mills, James Kramer, Vanda Santelli, and Wally Rendon.
New Members Appointed
The UW-Parkside Foundation voted to add two new accomplished community and business leaders to the board. Joseph Cronin is a financial advisor at Robert W. Baird & Co. He holds a bachelor's degree and M.B.A. from UW-Parkside. Lisa Just is the president of Advocate Aurora Health's Racine Kenosha Lake Patient Service Area and has served in leadership roles with Aurora Health Care since 2008.
"The Foundation Board is very fortunate to gain considerable experience and insight from two very accomplished professionals," Lawrence said in welcoming Cronin and Just. "Not only will Joe and Lisa bring value to the work of the Board, they also have vast experience in business and health care which are two key areas of the University's academic offerings." 
2018 Highlights
The UW-Parkside Foundation Board also received an update on key accomplishments from the past year.
The second annual "Back to Campus" music event held Sept. 15. Nearly 100 guests enjoyed an outdoor concert on the UW-Parkside Student Center Terrace.
The 50 Years Gala held Oct. 12 established the new Future Focus Scholarship Fund. The fund is now the single largest fund within the UW-Parkside Foundation dedicated to providing scholarships to students with financial need.
The annual Champions of Student Success event held Nov. 15 brought together more than 200 students, family, and guests to celebrate scholarship awards provided by the UW-Parkside Foundation and its donors. The evening featured awarding the Champion of Student Success Award to the Fund for Wisconsin Scholars, recognition of the Foundation's Anniversary Sponsors of Snap-on Inc. and Johnson Financial Group, and the re-establishment of the Irvin Wyllie Society for Planned Giving.
Innovation Commons Dedication
The UW-Parkside Foundation annual meeting was followed by a special dedication of the new Innovation Commons in Molinaro Hall. The new space provides a flexible and exciting area for students from across academic areas to come together to work on innovative ideas and community-based projects. The establishment of the Innovation Commons, within the University's Innovation Corridor, was made possible by an investment to the Foundation from the Mary Frost Ashley Charitable Trust.