More UWP Talent For Wisconsin
Published: May 18, 2019
UW-Parkside commencement continues trend of higher graduation rates
Stanford Byers Center Co-Director Dr. Thomas Krummel ('73) tells alma mater commencement class lifelong learning is a must
SOMERS – Nearly 500 students were eligible to participate in the University of Wisconsin-Parkside 50 Years Celebration 2019 Spring Commencement held Saturday, May 18.View the video replay here.
UW-Parkside Chancellor Debbie Ford told graduates, "Our region, our state, our nation and our global community is demanding more talent," Ford said, "and you, as members of another record graduating class will meet that demand and answer that challenge."
Commencement Speaker
Dr. Thomas Krummel, a 1973 graduate of UW-Parkside who is now professor of cardiothoracic surgery and bioengineering, and co-director at the Stanford University Byers Center for Biodesign, served as the commencement speaker. Chancellor Ford presented Dr. Krummel with an honorary doctor of science degree. She described Krummel as being extremely deserving of the honor.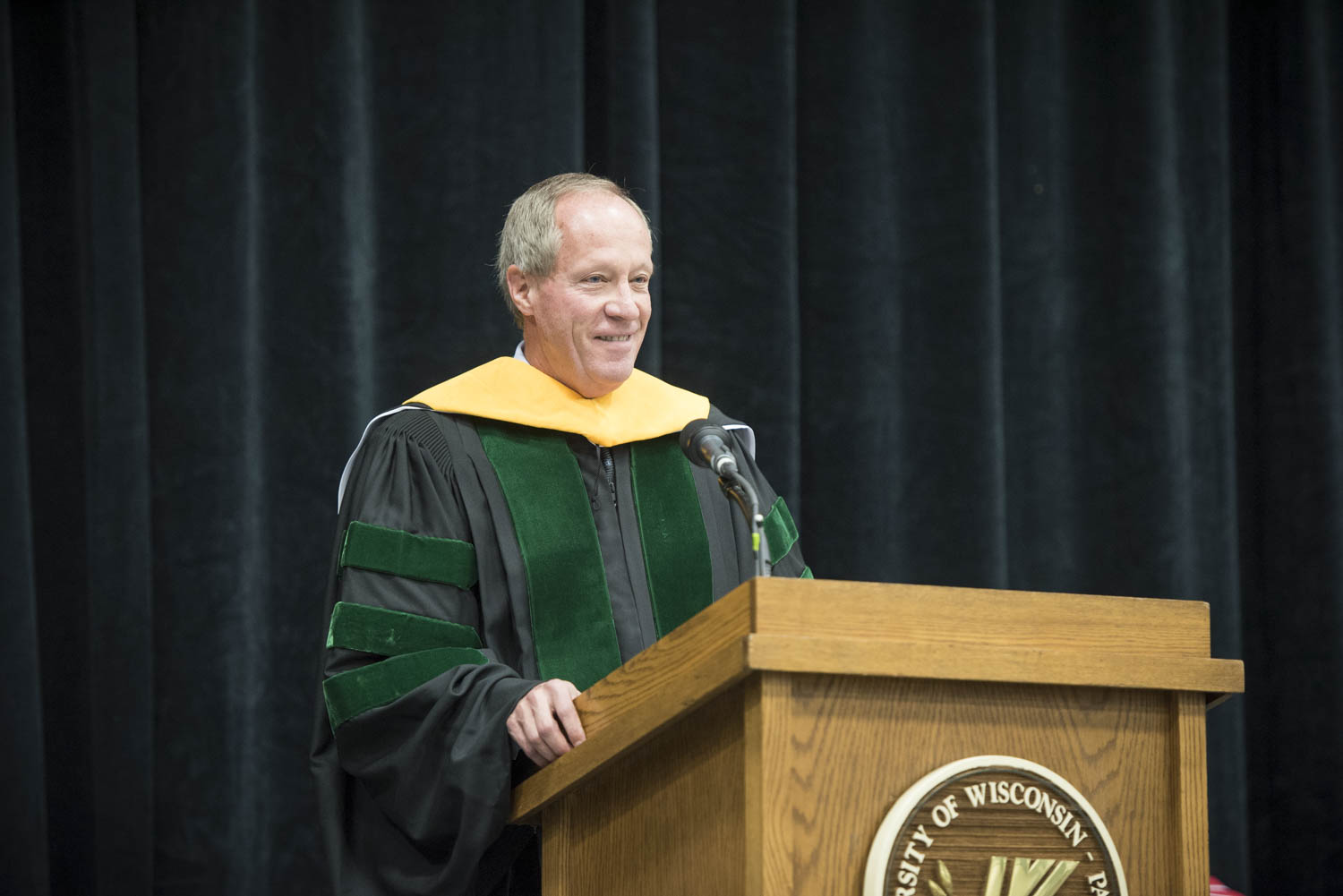 Krummel told graduates that when he was in their seat 46 years ago, he now could not remember what was said by the commencement speaker or who said it – so he promised to be brief. "With that in mind," Krummel deadpanned, "I prepped for this address like any good University of Wisconsin undergrad – I did absolutely nothing until 11 p.m. last night." The soon-to-be graduates enjoyed the light-hearted start to his commencement speech.
Krummel quickly turned serious as he shared stories that have influenced his life and career. The first was about the principal at his high school, Racine St. Catherine's, who always used the phrase "aim high."
"Probably the most important skill you have learned here at UW-Parkside is the ability to aim high, to question, to experiment, and to learn on your own," Krimmel said. "But the target is always moving so you have to adjust your aim higher…. You have to keep pace with progress and change. You have to keep learning and it isn't optional."
International Partners Honored
Saturday's commencement ceremonies also marked the importance of a global education. Representative from UW-Parkside academic partners in India, Italy and Russia attended the morning ceremony.
"Education provides opportunities to overcome barriers," Ford said. "A diverse learning environment at UW-Parkside provides graduates with perspectives that will allow you to be successful across an array of local and global talent horizons."
Outstanding Graduates
Seven students were honored as Outstanding Graduates for the May 2019 class. Julia Alberth from Paris Township in Kenosha County received the Chancellor's Award emblematic of the top graduating student. In addition to her academic success, Alberth was recognized for volunteer work focused on public health and humanities issues, and her selection to the highly competitive RUSCH (Rural and Urban Scholars in Community Health) program at the UW School of Medicine and Public Health.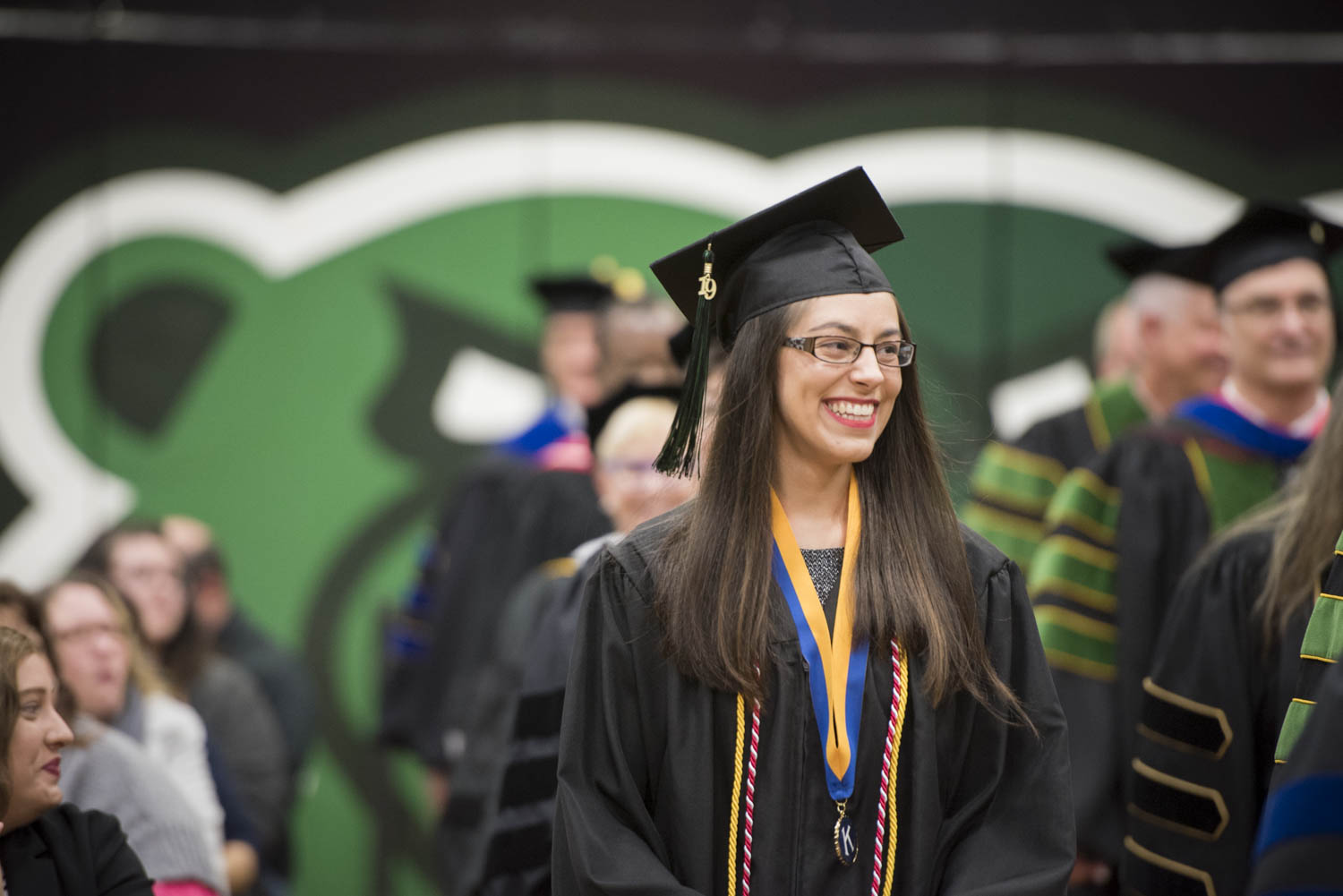 Alberth described her fellow graduates as working-class individuals who have studied hard, volunteered in the community, and have been engaged on campus. "Our Parkside student body is unique in many ways," Alberth said. "I'm proud that we are the most diverse campus in the UW System. We have a strong sense of community since we are a commuter majority. We have the highest voter turnout of any UW System school. We are students, athletes, parents, veterans, and international students. We are persistent, resilient and brave."
UW-Parkside Spring 2019 Commencement Outstanding Graduates:
Nicholas Bielski – Bristol, Wis., recipient of a Barry M. Goldwater Scholarship—the most prestigious STEM scholarship in the U.S.
Chloe Calderon – Zion, Ill., who has already published two research papers which have appeared in peer-reviewed, international journals.
Anna Cotto – Gurnee, Ill., who actively participated in student organizations, departmental organizations, and internships related to her future career while compiling a perfect academic record.
Bryan Malek Jr. – Crystal Lake, Ill., was actively involved in the Parkside Environmental Club, including overseeing the club's involvement in Greening Greater Racine and Eco Fest.
Bianca Ruffolo – Kenosha, Wis., completed more than 400 hours of community service at the Shalom Center, Feed My Starving Children, Tiny Homes for Veterans, the GEMS (Girls Empowered by Math and Science) conference, and Make a Difference Day among others.
Justin Van Ee – Kenosha, Wis., achieved a perfect academic record in two majors and has been accepted to study statistics at Colorado State University.
Ford told graduates that no matter where their academic journey began, they all share a dream. "I know you are ready to shape an amazing new world filled with incredible opportunity and challenge," Ford said. "You will succeed and you will make our world a better place."