Dr. Lynn D. Akey named new chancellor of UW-Parkside
Published: September 25, 2023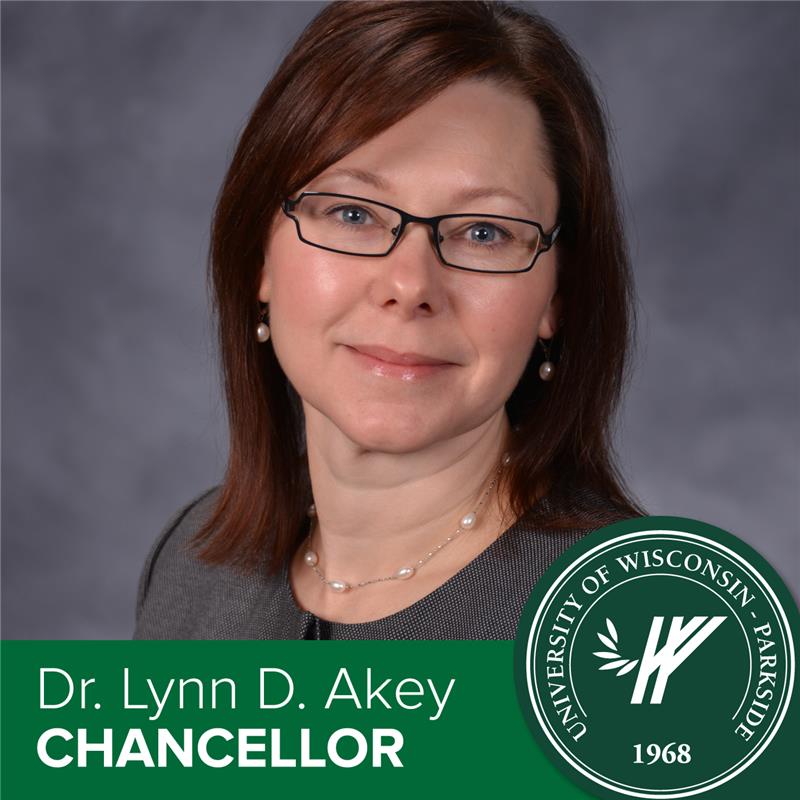 Appointment takes effect January 2, 2024
MADISON, Wis.—Dr. Lynn D. Akey, Vice President for Student Success, Analytics and Integrated Planning at Minnesota State University, Mankato, has been named the 7th Chancellor of the University of Wisconsin–Parkside.
The University of Wisconsin System Board of Regents today unanimously approved Akey's appointment, following a recommendation made by a selection committee. Akey will assume the leadership post January 2, 2024.
Akey has served in her current position since 2019 and established a new student success approach that led to increased re-enrollment, retention, and graduation rates. She also has overseen strategic planning at the Mankato campus for the past 10 years. She has served the Mankato campus since 2000 in such roles as Associate Vice President for Institutional Research, Strategy, and Effectiveness; Assistant to the Vice President for Student Affairs; Assessment Coordinator; and Assistant Director for Academic Initiatives in the Office of the First Year Experience. She was named Minnesota State System Academic and Student Affairs Administrator of the Year in 2021.
"Lynn's extensive experience in student success makes her a perfect fit for UW-Parkside," said Jay Rothman, UW System President. "She deeply understands how strategic planning, enrollment management, and the student experience work together."
"UW-Parkside provides outstanding academic programs, incredible learning experiences with dedicated faculty and staff, and life-changing opportunities in a vibrant location," Akey said. "I look forward to working with faculty, staff, students, and the surrounding communities to pursue bold goals for the future."
"Dr. Akey is ready to build upon the great foundation left by Chancellor Debbie Ford," said Regent Kyle Weatherly, chair of the Search and Screen Committee. "UW-Parkside has made great strides in helping students progress toward graduation in recent years and our new chancellor will continue that momentum."
"We are very happy to welcome Dr. Lynn Akey as the next Chancellor of UW-Parkside. During the search process, she demonstrated that she is already one of us, and we look forward to building new relationships with her as she helps us to move forward," said Adrienne Viramontes, Professor and Department Chair, College of Arts and Humanities, and vice chair of the search committee.
Akey earned her Bachelor of Science in Psychology from Northeast Missouri State University/Truman State University; Master of Arts in College Student Personnel from Bowling Green State University; and Ph.D. in Educational Policy and Administration from the University of Minnesota.
President Rothman and the Special Regent Committee for the UW-Parkside Chancellor Search recommended Akey to the full Board of Regents. The Committee includes Regents Weatherly, Héctor Colón, John Miller, Ashok Rai, and Jennifer Staton.
The Search and Screen Committee includes members of the Special Regent Committee; Viramontes; Robtrice Brawner, Assistant Professor, College of Natural and Health Sciences; Sergio Correa, Assistant Director of Academic Advising; Thomas Diamond, Student; Lisa Just, President, South Wisconsin Patient Service Area, Advocate Aurora Health; Christopher Moeller, Police Officer, UW-Parkside Police Department.
Akey will earn $265,000 as chancellor.
UW-Parkside is a student-centered university that serves approximately 4,300 students and offers 51 undergraduate majors, 87 minors and certificates, and 16 graduate degrees across four academic colleges.
Resources 
---
The University of Wisconsin–Parkside is committed to high-quality educational programs, creative and scholarly activities, and services responsive to its diverse student population, and its local, national, and global communities. The university is a dynamic learning community grounded in academic excellence and focused on student success, diversity, inclusion, and community engagement. The campus serves as a premier comprehensive public institution and a destination of choice, serving as a focal point of local, regional and global progress. 
---
The University of Wisconsin System serves approximately 161,000 students. Awarding nearly 37,000 degrees annually, the UW System is Wisconsin's talent pipeline, putting graduates in position to increase their earning power, contribute to their communities, and make Wisconsin a better place to live. Nearly 90 percent of in-state UW System graduates stay in Wisconsin five years after earning a degree – with a median salary of more than $66,000. The UW System provides a 23:1 return on state investment. UW System universities also contribute to the richness of Wisconsin's culture and economy with groundbreaking research, new companies and patents, and boundless creative intellectual energy. 
---
MEDIA CONTACT: 
Mark Pitsch, UW System 
608-265-3419, mpitsch@uwsa.edu 
universityrelations@uwsa.edu