Olano's Empanadas: Startup Makes Peruvian Specialty a Star
Published: February 25, 2016
By:

Wisconsin Small Business Development Center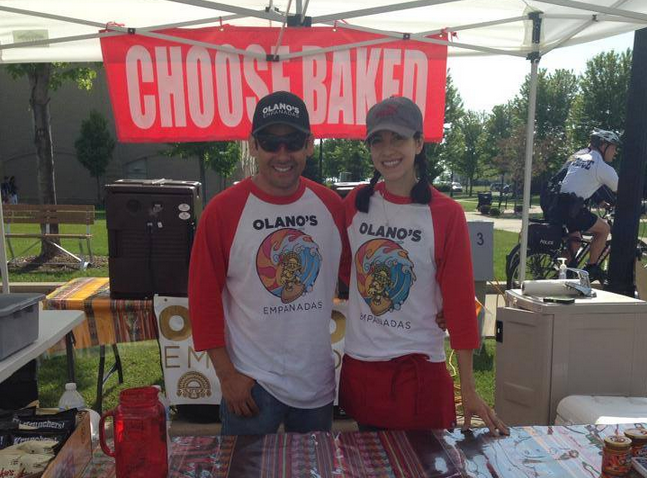 Victor (Alex) Olano had restaurant skills and his grandmother's traditional empanada recipes from Peru. Leslie had a degree in business administration and corporate experience. Both had an interest in starting their own business. When the couple decided to leave Chicago to raise their two young children nearer Leslie's family in Kenosha, Wisconsin, they decided the time was right to launch Olano's Empanadas.
Lining up a production kitchen, with SBDC's help.
The couple knew they wanted to offer freshly-baked empanadas (pastry pockets stuffed with savory fillings), but that left two huge questions: where to make them, and where to bring them to market? To answer those questions, the Olanos sought out Wisconsin's resources for entrepreneurs. Leslie took a business planning class co-sponsored by UW Parkside's Small Business Development Center and the Wisconsin Women's Business Initiative Corporation (WWBIC) in Kenosha. UWParkside SBDC Director Jim McPhaul "has been a huge supporter since day one," said Leslie. UW Parkside SBDC counselors helped the couple develop market potential forecasts and pre-venture financial projections, and connected the Olanos with a student who provided website design. Jim also recommended the Olanos check out a shared commercial kitchen designed to help food entrepreneurs. Recipes for Success: HALO Kitchen Incubator had all the equipment the Olanos needed, and fees for using the kitchen were affordable for a small start-up. (The incubator is unusual in that it is located in homeless shelter. The income it generates helps pay for the shelter's programs and facilities.)
Building relationships with customers
With a business plan, website, production facilities, and the requisite kitchen license in place, Alex and Leslie were ready to take the next step. They used GoFundMe to raise money for equipment: a manual dough roller, empanada presser, and food warmer, plus
a tent for outdoor markets and a few signs and t-shirts with the business logo and name.
But how to connect with customers? The couple initially planned to sell through social media and deliver to customers individually. Before long their initial success allowed them to expand to selling at outdoor farmers markets around southeastern Wisconsin during the growing season. Selling in indoor markets in the Milwaukee area soon followed. The company still takes pre-orders for direct delivery, and offers catering services. The small scale of the business allows Leslie and Alex to build relationships with customers, who appreciate the high-quality ingredients used, including locally grown vegetables and grass-fed beef. "Word of mouth has helped us gain and keep more customers each year," said Leslie.
SBDC helps with plans for growth
Besides relationships with customers, the Olanos count as assets their strong relationships with fellow vendors at the markets, who helped them expand locations for retailing, and with the WWBIC and UW-Parkside SBDC. "Jim has been there to answer any questions. He and his staff even support us by ordering empanadas," Leslie said. Catering a WWBIC event at the Governor's Mansion in Summer 2014 was a high point for the company. Leslie and Alex returned to the UWParkside SBDC for advice on opening a retail location (they decided to pass for now) and again to judge the feasibility of purchasing a delivery vehicle, which they bought. What's next for Olano's Empanadas? Transforming that delivery van into a mobile food truck. The couple has applied to the city of Milwaukee for the necessary license and plans to film a video of the van conversion for their social media. When the van is completed, fresh homestyle Peruvian empanadas will be available in downtown Milwaukee throughout the year. "The Olanos took advantage of every opportunity they could," said Jim. "They use as many resources as they can in order to make decisions."
At a glance
Name: Olanos Empanadas
Year founded: 2013
Employees: 2 and growing
Website: olanosempanadas.com
WI SBDC at UW-Parkside,
262-595-3363