Author Sam Weller to be Keynote at Big Read Kickoff Celebration
Published: August 14, 2014
Keynote Address
Sam Weller, Ray Bradbury's official biographer, will open Parkside's Big Read 2014 series with a keynote address discussing Bradbury's classic Fahrenheit 451, the life and legacy of Ray Bradbury and the role of the university in the community. The kickoff will take place in the UW-Parkside Ballroom on September 24 at 7 pm.
Sam Weller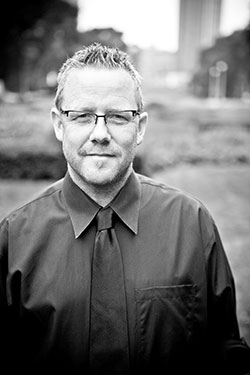 Sam Weller is the authorized biographer of legendary writer Ray Bradbury. Weller's book The Bradbury Chronicles: The Life of Ray Bradbury was a Los Angeles Times best seller, winner of the 2005 Society of Midland Authors Award for Best Biography, and a Bram Stoker Award finalist. The companion book, Listen to the Echoes: The Ray Bradbury Interviews, was published by Melville House Press in 2010. Weller co-edited the anthology Shadow Show: All-New Stories in Celebration of Ray Bradbury (William Morrow Paperbacks, July 2012), winner of the Bram Stoker Award for "Superior Achievement in Anthology." 
Weller is the former Midwest Correspondent for Publishers Weekly magazine. He has written for the Paris Review, the National Public Radio Program All Things Considered, and Slate magazine. His short fiction has appeared in numerous books and journals, including the Chicago Tribune, Rosebud, and in Amazon's short story imprint, Story Front. 
Weller is a frequent lecturer on the life and legacy of Ray Bradbury. He worked closely with Bradbury for 12 years. In this time, Bradbury dedicated a book to him and deemed him "the son he never had." Weller traveled with Bradbury to the White House in 2004 when Bradbury was given the Medal of Arts Award from President George W. Bush. Sam Weller has given over 250 presentations on Bradbury worldwide. He is currently the Associate Chair and an Associate Professor in the Department of Creative Writing at Columbia College Chicago. His fourth Bradbury-related book, Ray Bradbury: The Last Interview will be published this December.
Register
The event and parking are free. Register for the Kickoff Celebration with keynote speaker Sam Weller.
Sam Weller's appearance was made possible by a grant from the Kenosha Public Library Foundation.