Alan Goldsmith Memorial Exhibition to Open at UW-Parkside
Published: July 8, 2022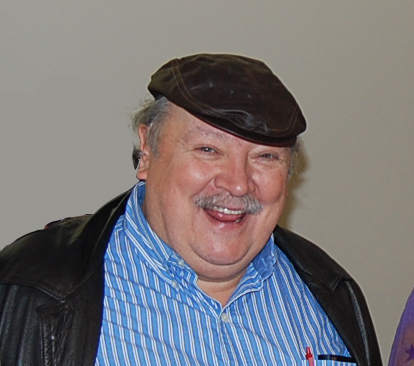 Somers, Wis. – The University of Wisconsin Parkside is pleased to present the Alan Goldsmith Memorial Exhibition. The public is invited to attend a reception and remembrance of Professor Goldsmith from noon to 4 p.m. on Aug. 6, at the Fine Arts Gallery in UW-Parkside Rita Tallent Picken Regional Center for Arts & Humanities.
The Alan Goldsmith Memorial Exhibition opens July 20 and will run through August 19th.
Goldsmith's art reflects his varied and fascinating life. He exhibited at Wisconsin museums in Kenosha, Racine, Madison, Green Bay, Milwaukee, and Appleton, among other state and national exhibitions. Travel, specifically his lifelong passion for the study of all things Egypt, influenced his work. Beyond Egypt, he spent time in England, France, Germany, China, the former USSR, Egypt, Turkey, and Croatia.
At Parkside, Goldsmith taught graphic design, web design, package design, typography, digital photography and computer illustration. He retired as Professor Emeritus in 2011. He was known for his dedicated service to the local cultural arts community. 
He was active on the Kenosha Public Museum's Foundation Board and the Kenosha Public Museum's Board of Trustees, serving as secretary and president of the Board of Trustees, and vice president of the Foundation Board. He was a member of the Board of Directors of the Kenosha Harbor Market and Winter Harbor Market, 2007-2021. Through his service, as both marketer and developer of these popular venues, Professor Goldsmith cemented many cherished friendships in Kenosha and beyond.
Dr. Goldsmith's close friend and colleague, Lisa Marie Barber, reflected on his life and contributions. "Alan is truly missed by his family, friends, and community. There are so many wonderful stories to share about his kindness and contributions," she said. "Seeing his artwork in this exhibition will bring back memories for those who knew him. For others, they will get a sample of Alan's talent, curiosity, and range—both as an artist and human. He made a rich life for himself and he truly enjoyed it."
For more information visit: https://www.uwp.edu/therita/artgalleries.cfm
---
The University of Wisconsin-Parkside is committed to high-quality educational programs, creative and scholarly activities, and services responsive to its diverse student population, and its local, national, and global communities. We are a dynamic learning community grounded in academic excellence and focused on student success, diversity, inclusion, and community engagement. The campus serves as a premier comprehensive public institution and a destination of choice, serving as a focal point of local, regional, and global progress.
---
Media contact:
Tannette Elie
Executive Director of University relations
University of Wisconsin-Parkside
elie@uwp.edu