2019 UW-Parkside Traditions of Excellence Distinguished Alumni Awards
Published: May 20, 2019
SOMERS - On Friday, May 17 the University of Wisconsin-Parkside celebrated the accomplishments of its graduates and welcomed alumni back to campus with the Traditions of Excellence Distinguished Alumni Awards event. The university honored seven alumni in the categories of Achievement and Service, recognizing alumni who excel in their chosen field and/or perform exemplary service to the community.
The 2019 UW-Parkside Traditions of Excellence Distinguished Alumni Award recipients are: Dr. Rhonda Brock-Servais '90, Farmville, Va.; Randy Bryant '80, Milwaukee, Wis.; Dr. Corinne Engelman '95, Madison, Wis.; Dr. David P. Hale '80, Tuscaloosa, Ala.; Sabrina Morgan '03, Pleasant Prairie, Wis.; Gina Schueneman, DO '98, Chicago, Ill.; Craig Young '76, Cincinnati, Ohio.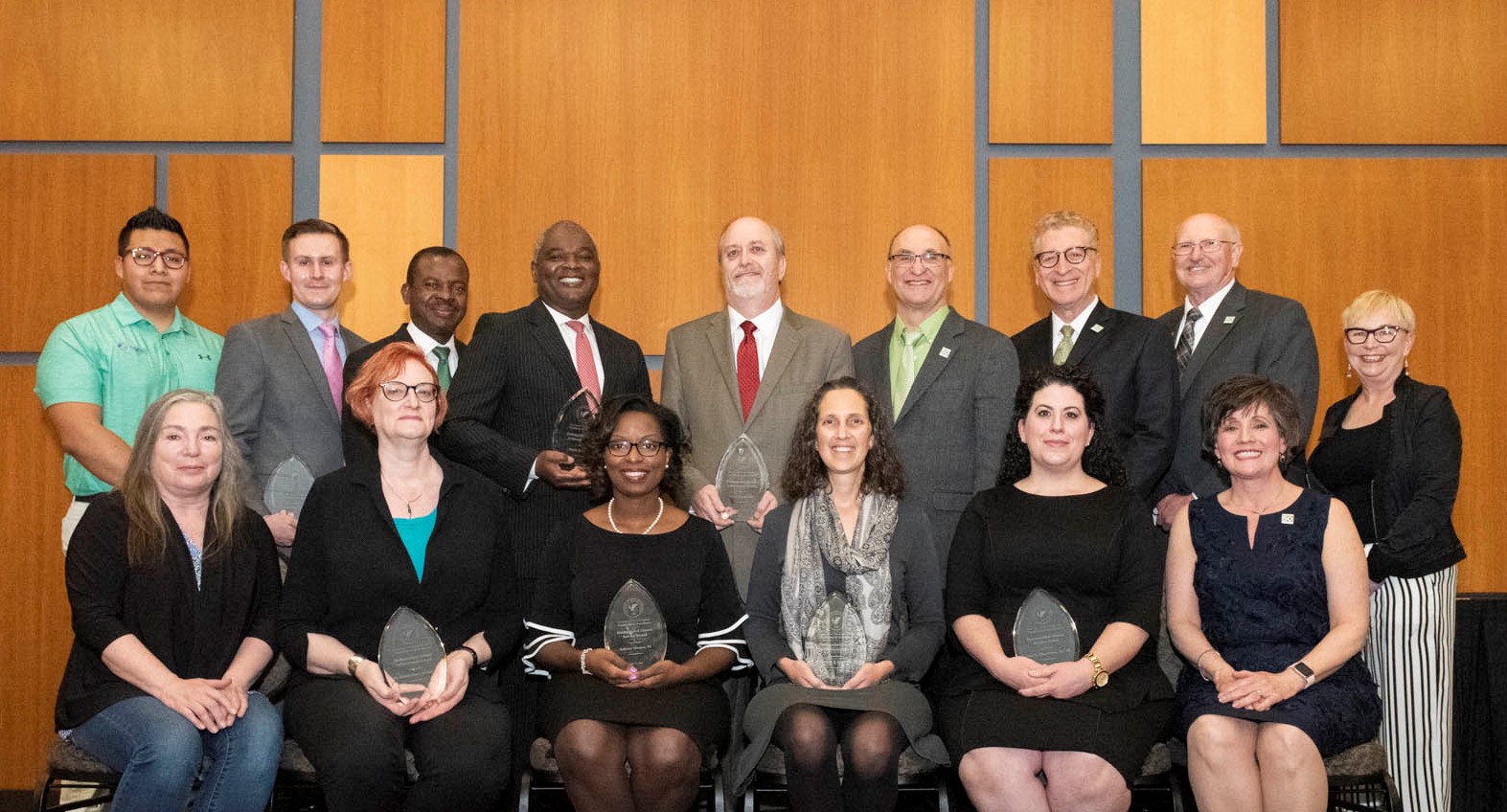 From left to right (standing): Edsel Cruz, UW-Parkside Alumni Foundation President; Michael Young, on behalf of Award Recipient Craig Young '76; Dr. Emmanuel Otu, Dean of the College of Natural and Health Sciences; Randy Bryant '80, Award Recipient; Dr. David P. Hale '80, Award Recipient; Dr. Dirk Baldwin, Dean of the College of Business, Economics, and Computing; Dr. Robert Ducoffe, Provost; Tom Krimmel '72, Associate Chancellor for University Development and Alumni Relations; Dr. Lesley Heins Walker, Dean of the College of Arts and Humanities
From left to right (seated): Dr. Peggy James, Dean of the College of Social Sciences and Professional Studies; Dr. Rhonda Brock-Servais '90, Award Recipient; Sabrina Morgan '03, Award Recipient; Dr. Corinne Engelman '95, Award Recipient; Dr. Gina Schueneman '98, Award Recipient; Chancellor Debbie Ford
The 2019 Distinguished Alumni Award recipients evidence the success of UW-Parkside alumni in education, business, healthcare, technology, and other professions. They play an important role in economic, civic, and talent development on both a national and local level. UW-Parkside alumni have a notable impact on the region, as approximately 70 percent of UW-Parkside alumni continue to work and reside in southeastern Wisconsin and northern Illinois following graduation.
Chancellor Deborah Ford noted that the Traditions of Excellence Distinguished Alumni Awards event captures the spirit of UW-Parkside as the university's fiftieth anniversary year concludes. She remarked, "Many things have changed at UW-Parkside since these alumni were students, but the mission of the university remains true to student success. Our alumni's accomplishments serve as an inspiration to today's students by showing the power of education and how their experience at UW-Parkside can transform lives and entire communities."
The Distinguished Alumni Awards were presented in conjunction with presentation of UW-Parkside student academic achievement awards and other academic honors in advance of the university's Commencement ceremonies on May 18.
About the UW-Parkside Distinguished Alumni Awards
UW-Parkside accepts Distinguished Alumni Award nominations throughout the year and selects award recipients each spring for celebration at the Traditions of Excellence Distinguished Alumni Awards event. Nominees must have earned a bachelor's or master's degree from the University of Wisconsin-Parkside, and are considered based on criteria for the Achievement Award or Service Award. To learn more and to nominate a UW-Parkside alumnus/a for a Distinguished Alumni Award, visit: www.uwp.edu/traditions
2019 UW-Parkside Distinguished Alumni Award Recipients
Dr. Rhonda Brock-Servais '90: Brock-Servais is a Professor of English who teaches primarily Children's and Young Adult Literature, the Gothic, and 19th-century British Literature at Longwood University. Additionally, she is an Associate Professor at Hollins University's summer MA for Children's Literature. She graduated from UW-Parkside with a Bachelor of Arts in English in 1990. Since leaving Parkside, Brock-Servais completed her MA at Georgia Southern University and her PhD at the University of South Carolina where she was twice awarded a Gamecock Faculty All-Star and won the W.T.C. Bates Award for Outstanding Scholarly Essay in her final year. She is an active scholar having authored encyclopedia entries, book reviews, and articles in both journals and book collections, including some students as co-authors.
Randy Bryant '80: Bryant is an executive and global leader with 30+ years of experience in Fortune 100, Private, and Not-for-Profit corporations. He has an impressive record of achieving dramatic results in business operations and profit & loss management success. In his global corporate roles, he was known for his ability to deliver transformational outcomes through innovative strategies and culturally sensitive actions to address market creation, product development, and management. Bryant is President and CEO of Ten Chimneys Foundation, the National Historic Landmark estate of 20th century Broadway legends Alfred Lunt and Lynn Fontanne. He is nationally recognized as a subject matter expert in historic preservation. Bryant earned his Bachelor of Science in Sociology/Anthropology and Labor and Industrial Relations from UW-Parkside in 1980.
Dr. Corinne Engelman '95: Engelman earned her Bachelor of Science in Biological Sciences from UW-Parkside in 1995. She earned her Master of Science in Public Health in 2002 and her Doctor of Philosophy in Epidemiology from the University of Colorado Health Sciences Center in 2006. Since 2007, Engelman has been a faculty member in Population Health Sciences at the University of Wisconsin-Madison School of Medicine and Public Health. Her research focuses on complex diseases, including genetic diseases and Alzheimer's. She is recognized for her research and expertise as manuscript reviewer for numerous journals and grant reviewer for the National Institutes of Health and other organizations; and serves in leadership positions for international genetic and Alzheimer's disease societies.
Dr. David P. Hale '80: Hale is a native of Kenosha who started attending UW-Parkside as a high school senior. He graduated in 1980 with majors in Accounting, Management Information Systems (MIS), and Labor and Industrial Relations. He earned a doctorate in MIS at UW-Milwaukee. Hale spent the last 25 years designing, implementing and executing the University of Alabama's MIS program. Through his efforts, the UA-MIS program was recognized by Bloomberg-BusinessWeek as one the nation's best in preparing tomorrow's IT leaders. ComputerWorld ranked it in its Top 3 Techno-MBA programs. Hale has a fruitful research and outreach record, generating over $15 million in contracts, state appropriations, corporate donations, and grants.
Sabrina Morgan '03: Morgan graduated from UW-Parkside in 2003, double majoring in sociology and communications with certificates in community-based learning and conflict resolution. She earned a Masters of Science in Management from Cardinal Stritch University in 2006. Following positions in the corporate sector and at UW-Parkside, Morgan now works at Gateway Technical College as the Promise Coordinator, assisting disadvantaged youth with college accessibility. She has served on the UW-Parkside Alumni Association Board for the past ten years, and is a member of the Mary Lou & Arthur F. Mahone Foundation Scholarship Committee and numerous other community boards and committees. She received the Kenosha Area Business Alliance Y-Link Future 5 Young Professional Award in 2018.
Gina Schueneman, DO '98: Schueneman is a family medicine practitioner who graduated from UW-Parkside in 1998 with a bachelor's degree in Biological Sciences and a minor in Psychology. She earned her degree as a Doctor of Osteopathic Medicine from the Chicago College of Osteopathic Medicine at Midwestern University. Schueneman has worked at the Advocate Illinois Masonic Medical Center in Chicago since 2007 and currently is the Vice Chair of Family Medicine, Osteopathic Program Director, and Osteopathic Director of Medical Education, in addition to serving as a family medicine physician. She also serves as a Clinical Assistant Professor of Family Medicine for the Chicago College of Osteopathic Medicine, teaching and mentoring medical students.
Craig Young '76: Young graduated from the University of Wisconsin-Parkside in 1976 with degrees in Mechanical Engineering and Mathematics. By the mid-1990s he achieved tremendous success in the software industry as the leading outside software supplier to SDRC and Apple's software subsidiary, Claris. Young formed The Craig S. Young Family Foundation in 1995 to take an active role in philanthropy. He now sits on the boards of Cincinnati Children's Hospital Medical Center, the Red Cross, the Dan Beard Council of the Boy Scouts of America, and the Cincinnati Zoo, among others. Young recently founded the Cincinnati-based nonprofit, Inspiring Service, whose mission is to inspire and empower people and organizations to engage in volunteering.
###
For more information, please contact Linnéa Booher at 262-595-2404 or booher@uwp.edu