UW-Parkside alumni spotlight: Simmi Bharwani '17
Published: April 25, 2023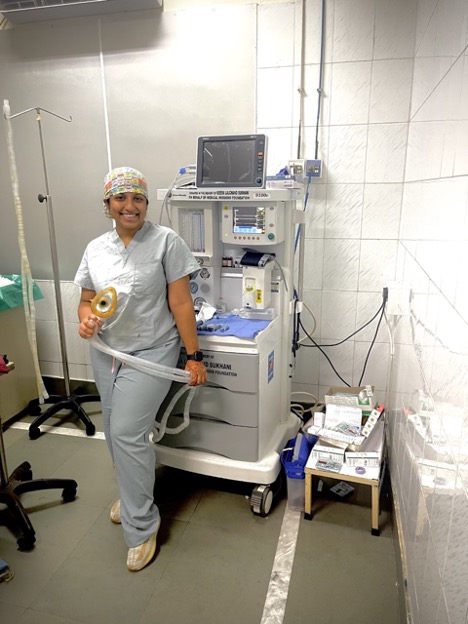 UW-Parkside alum Simmi Bharwani '17 recently returned from her medical mission trip in India, where she was able to provide necessary medical care as a Certified Anesthetist. Her experience on this trip taught her a great deal about the challenges that many individuals face while seeking healthcare in India. Bharwani was able to help with many surgeries while she was there, while also navigating the difficulties of using different equipment and a shortage of supplies.
She persisted and was able to radically improve the lives of many people, some of whom had very little access to healthcare previously. Simmi shared her personal experiences from this medical mission trip and how UW-Parkside helped to build a solid foundation for the rest of her educational path.
Q: What was it like being back in India on a medical mission trip? What were some of the experiences you had while being there as an Anesthetist?
SB: Going back to India for a medical mission trip was a transformative experience; it was truly amazing and full circle. I was born in India and have returned to visit multiple times, but coming for a medical mission trip was a whole new experience that made me see my home country in a different way.
While doing Anesthesia in India, I noticed a lot of differences from my experiences in the United States. In particular, I noticed a disparity in the operating room. The rooms were much smaller and the supplies were very limited; in fact, many of the supplies we used were the ones that we had brought from the US. The anesthesia machines were really different and were ones that I had only read about in textbooks.
All of the patients we worked with were from extremely underserved areas (many of which traveled extremely far for the opportunity for free medical treatment) and had diseases that I haven't been exposed to much in my practice in the US. The surgeon I worked one-on-one with did many facial mass surgeries. One of the patients I treated was living with his facial mass for 40-50 years. The patients were so extremely thankful for our services and it touched my heart to know I had an impact.
Q: What made you decide to go on a medical mission trip?
SB: I always knew I wanted to do a medical mission trip; it was one of the top reasons I went into the medical field. Growing up in India, I saw a lot of healthcare disparities; many of these places didn't have basic medical equipment or healthcare providers. My mom told me when she was pregnant the hospital didn't even have the option to get an epidural. I knew I was so fortunate to be in the US and I was even more fortunate to get a great education so I wanted to make sure that I used my opportunities to go back and help others.
Q: How did this experience affect you? What were some of the lessons that you learned from this experience?
SB: This was such an uplifting and positive experience for me. Being able to practice medicine and do something I love back in my home country was truly rewarding. This experience was definitely eye-opening. Because most of these patients were unable to see a doctor due to distance and cost, they had been underserved and lived with their condition for many years.
The patients were so extremely thankful for the care they received, and it really taught me how everyone, regardless of where you live, is going through something they could use help with. It really helped me be more appreciative of what I have. While doing anesthesia, I noticed that the type of care they provided was a little different than back home. A lot of the medications we use back home are much more expensive in India so they will go without using them so in some procedures the patient will be awake. This really made me appreciative of the medical care we have available in the US.
Q: How did UW-Parkside prepare you for your life after graduation?
SB: UW-Parkside helped build the foundation for my success. The pre-med and psychology courses, along with the amazing professors, have really helped me build a strong knowledge base to help me get into (and succeed) anesthesia school. It was actually my advisors who really encouraged me to go to anesthesia school when I was uncertain. Looking back, it ended up being the best decision I could have made. During my time at Parkside, I was able to go on two medical mission trips as a student. While there, I also noticed a lot of healthcare disparities which even further motivated me to get my degree so I can go back to help others.
Q: What advice do you have for current students?
SB: I would highly advise pre-med students to do some sort of volunteer work with underserved communities. Everyone is always talking about wanting to help others and I personally feel like this is the best way. I also think getting exposed to communities different from your background will make being in the medical field easier to do in the future. I would also recommend looking into becoming an Anesthesiologist Assistant. This is a career I honestly didn't even know existed until my senior year and it is definitely something worth looking into if you are not sure exactly what you want to do.
Simmi Bharwani's dedication to helping provide care to these underserved communities is immensely inspiring and highlights the importance of giving and volunteering. She is an especially inspirational alum, and UW-Parkside is so proud to have been a stepping stone in her journey.