Life Celebration: Anna Maria Williams
Published: May 1, 2015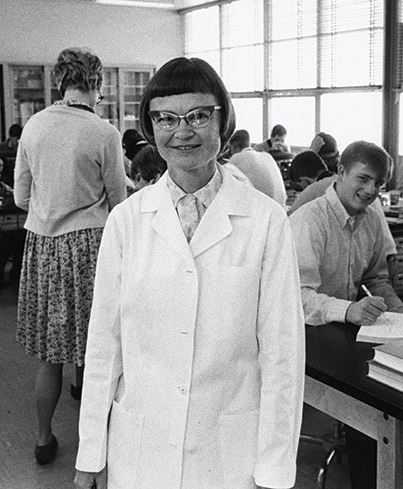 Dr. Anna Maria Williams
Event honored founder of pre-health program
"Today, when we reflect on what Anna Maria Williams means to this university … her dedication, her commitment, her vision … it's easy to see that she is literally all around us." 
With those words, UW-Parkside Chancellor Debbie Ford reminded friends, family, colleagues and former students of Dr. Anna Maria Williams how much she means to the University of Wisconsin-Parkside.
The university and it's College of Natural and Health Sciences hosted a life celebration honoring the teaching, research and service of Professor Emeritus Dr. Anna Maria Williams, Friday, May 1, in the university's Alma Renish Outdoor Classroom. Dr. Williams died April 16 at the age of 87. 
In addition to comments from Chancellor Ford, current and past faculty and students shared stories of Dr. Williams dedication, to the success of her students.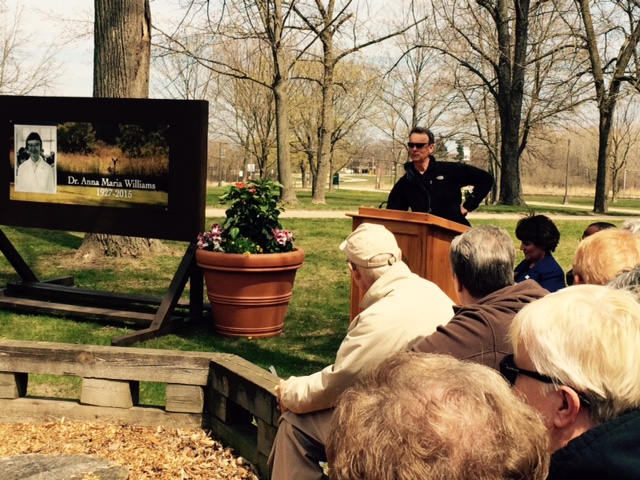 Dr. Tom Wood remembers classroom and life lessons from Dr. Anna Maria Williams during her life celebration at the Alma Renish Outdoor Classroom
Dr.Williams is best known for her years in the classrooms at UW-Parkside. Historically, close to 90 percent of students from the university's pre-med and pre-health programs, which Dr. Williams helped create, are accepted to medical professional schools. That rate is more than double the national average. The large number of alumni who are now highly respected doctors and health professionals is a testament to her devotion to teaching.
In addition to helping build what is the UW System's most proficient undergraduate program for students entering health-care professions, Dr. Williams worked diligently to establish the "Doctors of Our Community" program which introduced high school students to opportunities in health careers by providing access to medical schools and medical professionals.
Through tireless determination, she created the Anna Maria Williams Nature Trail. Today, the UW-Parkside campus is home to more than 100 marked trees on the self-guided walking trail including 67 species native to Wisconsin and more than half of the 50 state trees in the United States.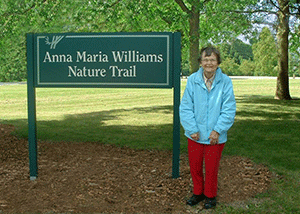 A reception at 3 p.m. in the UW-Parkside Library will feature a display of images and research highlighting her life and career. Attendees will have the opportunity to write and leave notes of remembrance to one of the university's legendary figures … Dr. Anna Maria Williams.
Dr. Williams' family has suggested donations in her memory to the Anna Maria Williams Endowed Scholarship, UW-Parkside Foundation, 900 Wood Road, P.O. Box 2000, Kenosha, WI 53141, or Agrace HospiceCare, Inc., 5395 E. Cheryl Parkway, Fitchburg, WI 53711. Memories can be shared at www.informedchoicefunerals.com.
Related Stories
Chancellor Ford Remembers Anna Maria