AT&T Innovation Award Supports Makerspace
Published: December 3, 2015
AT&T donation will help purchase state-of-the-art technology for student workspace supporting collaboration in the development of new ideas and products
SOMERS -- The University of Wisconsin-Parkside was presented with a $5,000 AT&T Innovation &Investment Award today to help purchase state-of-the-art technology for the UW-Parkside Makerspace. The goal of the Makerspace is to create a student workspace that helps foster collaboration, idea sharing and creativity.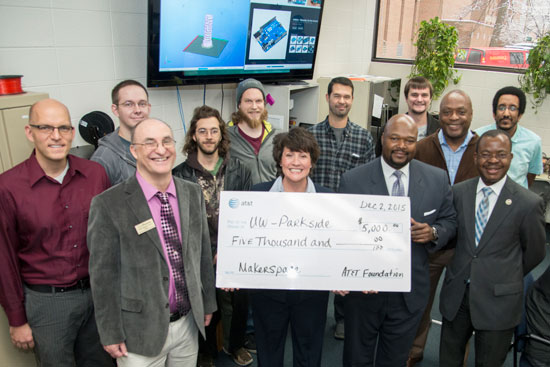 (L to R) UWP Computer Science Professor Derek Riley, Dean Dirk Baldwin, Chancellor Debbie Ford, AT&T Dir. of Government Affairs Dextra Hadnot, UW-Parkside Foundation Vice President Tim Mahone, and Dean Emmanuel Otu join UW-Parkside Makerspace students during the AT&T Innovation Award ceremony
UW-Parkside's Makerspace utilizes advanced technology that allows students to explore and create innovative projects. The AT&T donation will enable technology purchases including embedded computing platforms that will allow students to create embedded computing devices and develop robotics and "Internet of Things" projects.  
"We are excited to have state-of-the-art technology in our Makerspace, thanks to continued support from AT&T," said Chancellor Debbie Ford. "Through our Makerspace, UW-Parkside students not only have access to technology not previously available, but are also able to work together, explore new ideas and foster innovation."  
AT&T has provided $10,000 total to support UW-Parkside's Makerspace. Last year, AT&T provided a $5,000 donation to enable the University to create the new Makerspace. Located in Molinaro Hall at UW-Parkside, the Makerspace is a community workspace where people with common interests, often in computers, technology and science, can meet and collaborate on the development of new ideas and products.  
"We are proud to support UW-Parkside's Makerspace and help cultivate innovation and new technologies and ideas on campus," said Scott T. VanderSanden, president of AT&T Wisconsin. "As a company, AT&T is committed to helping advance learning and developing innovative thinkers for our future workforce."  
UW-Parkside's Makerspace includes space for presentations and prototyping, and also provides a social environment that encourages and supports collaboration, idea sharing and creativity.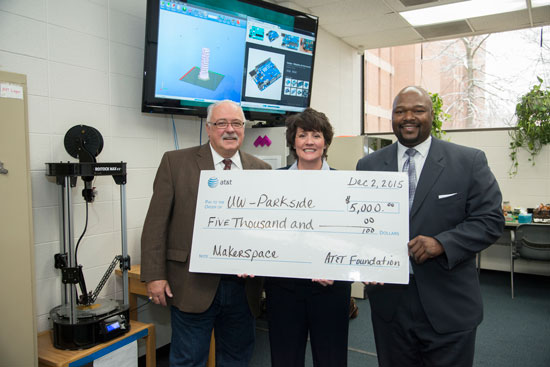 (L to R) Wisconsin Assembly Rep. Tom Weatherston joins Chancellor Debbie Ford and AT&T Director of Government Affairs Dextra Hadnot for the AT&T Innovation Award presentation
"With its Makerspace, UW-Parkside is leading the way by using technology and collaboration to not only develop innovative thinkers, but also facilitate knowledge sharing," said State Senator Bob Wirch. "It is wonderful that the university can purchase new technology for the Makerspace to help enhance the educational experience for students."  
"This is exciting news for UW-Parkside," said State Representative Peter Barca. "Thanks to this donation, UW-Parkside will be able to broaden the Makerspace to offer new technologies that cultivate learning for students and help develop new ideas."  
The AT&T Wisconsin Innovation &Investment Award program provides funding to local organizations that enhance and give back to their communities. The program is focused on awarding grants to organizations and programs that improve the community by advancing education, enhancing the environment, promoting economic development or delivering other community services.
Kenosha News Coverage